When we were looking for wedding rings, we found wedding rings that we could make by hand ourselves, which are often less expensive than ready-made rings, and most of all, they look fun! However, there are actually many people who are worried about whether they can make the rings beautifully by themselves, or whether the quality and warranty are good enough even if the price is low. But there are actually many people who are worried about whether they can make it beautifully themselves, or whether the quality and warranty will be good enough at a low price. Wedding rings are not an inexpensive purchase, and there are many options to choose from. In this article, we compare handmade wedding rings and ready-made wedding rings to help those who are concerned about handmade wedding rings.
Price of handmade wedding rings vs. ready-made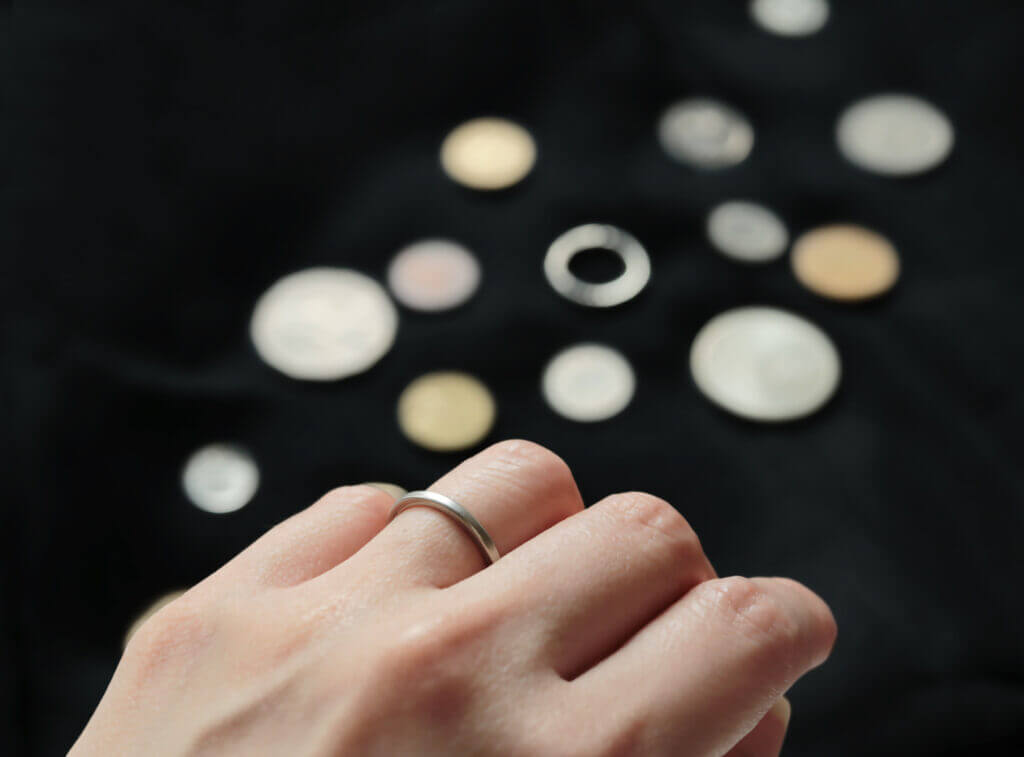 Handmade wedding rings and ready-made prices
The average price for a pair of wedding rings is about 250,000 yen.
*Reference: Zexy Marriage Trend Survey 2020 / National Estimates
About 250,000 yen for a pair is an average, so there are couples who look for much cheaper, and there are also those who choose wedding rings that cost more than 250,000 yen for a single piece. If you do not have a specific brand or budget in mind, it would be nice to find wedding rings at a lower price than the average if possible, as long as the quality can be maintained. Many stores offer handmade wedding rings that cost less than ready-made rings.It is. If you want to include the price of wedding rings in your consideration, we recommend that you also include handmade wedding rings in your research.
No need to feel guilty about saving money on wedding rings.
You may have negative feelings about saving money and buying inexpensive wedding rings, but there is nothing wrong with a properly looked for and chosen wedding ring. Wear it with confidence. The important thing with wedding rings is not the price, but whether they like it or not.
Why handmade wedding rings are inexpensive
The main reason for the relatively low market price of handmade wedding rings is the low cost of getting them to the customer.
Specifically.
1. low labor costs
2. lower tenant fees
This is one of the main reasons why handmade wedding rings are more affordable than ready-made rings. Handmade wedding rings are priced lower than ready-made rings because selling expenses other than the cost of materials are reduced. This does not mean that the quality is inferior.
Handmade wedding rings reduce labor costs.
The main reason handmade wedding rings are cheaper is that they are less expensive for the customer, although this varies from store to store. In the case of ready-made rings, the designer first designs the ring, which is then produced in a factory or workshop, transported to the store, and then sold by a salesperson. At least three or more roles come into play. In the case of handmade wedding rings, the customer and craftsman work together in the workshop to design, produce, sell, and purchase the ring, thus reducing labor and transportation costs.
Handmade wedding rings can keep tenant fees down.
Handmade wedding rings often save costs in terms of tenant fees. Since many handmade wedding ring stores are both stores and workshops, it is less expensive than having a separate factory/workshop and store, and there are no tenant fees to department stores. Therefore, prices for handmade wedding rings are often set based solely on the cost of materials and production to make the rings.
The higher the brand, the higher the price tends to be, because costs other than the actual cost of the ring, such as tenant fees and advertising costs, are included in the price of the ring.
Handmade wedding rings and ready-made designs
Trends in ring design
For handmade wedding rings, there are two methods of manufacturing: forging and casting (casting). Forging is not suitable for creating detailed designs. With the casting method, it is possible to create detailed designs. In the casting process, a design is made by cutting a soft material called wax, and by applying a detailed design when cutting, the finished ring will also have a detailed design.
Ready-made wedding rings are also available in both the forging and casting processes. Regardless of which method is used, in the case of ready-made rings, the details of the design are created by the designer from the beginning and made into the product. If you find a ring that you can relate to the designer's attention to detail, it will be a wedding ring that you will always love. Otherwise, for example, if you have a favorite character and want to express the world view of that character in your wedding ring, or if you want to keep the world view in mind down to the smallest design detail and wear it, we recommend ready-made rings.
Arranging ring designs
Since ready-made products are intended to be worn as they are, the range of arrangements that can be made is limited. In the case of handmade wedding rings, arrangement is part of the design. Therefore, there are many ways to arrange it. You can put a diamond on the front of the ring or not, or you can change the material. You can also freely fasten a birthstone or diamond as a secret stone inside. The number of birthstones is also colorful and lovely, even if you fasten more than one if you wish.
Check store samples and website.
Both handmade wedding ring stores and workshops and ready-made stores have samples in their stores, so you can visit them before actually making or purchasing your ring. There are also many places where you can check designs on their websites, so it is more efficient to go out after narrowing down a few options.
Quality and strength of handmade and ready-made wedding rings
Quality does not mean that handmade wedding rings are inferior to ready-made products. Every store and brand believes in the quality of their products, which is why they sell them with a guarantee.
The difference in strength is more due to the manufacturing method than to the difference between handmade and ready-made wedding rings.
Rings made by the forging process are made by pounding and forging metal, so they are stronger than rings made by the casting process, whether handmade wedding rings or ready-made rings.
Both handmade wedding ring stores and ready-made stores offer both forged and cast rings. Since it is often difficult to tell the manufacturing method just by looking at the finished rings, ask the store staff directly if you are concerned about the process.
Guarantee of handmade and ready-made wedding rings
Warranty and after-sales service vary from brand to brand, regardless of whether the ring is ready-made or handmade. Since wedding rings are worn for a long time, it is especially important to check the availability of resizing and cleaning services.
For ready-made brands and handmade wedding rings produced domestically, resizing takes only a few weeks, but for foreign brands, resizing may take several months.
Even in the same store or brand, some items can be resized while others cannot, depending on the material and design.
In any case.Do not hesitate to check well before purchase.is important.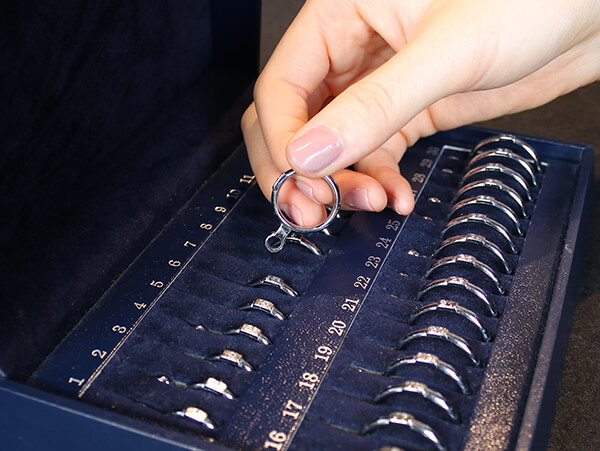 How wedding rings are made. Handmade wedding rings and ready-made rings
Fun until the ring is made.
With handmade wedding rings, you can enjoy the live experience of seeing the platinum or gold material and wax prototype become a ring in your own hands. The moment the rings are completed will also give you a sense of accomplishment.
In the case of ready-made rings, you will not be able to see the actual ring until the one you ordered arrives in your hands. If you have strong feelings about your wedding ring, you can enjoy the time without it in front of you with anticipation, but if you did not choose it very actively, it is likely that you will not be able to enjoy it until the time without the actual item.
Delivery time until the ring is ready
The delivery time for ready-made wedding rings is approximatelyTakes one to two months.Most of the stores are located in the area.
Wedding rings, even ready-made ones, are not always readily available.
There are three main reasons why a wedding ring cannot be taken home that day.
1. most of the rings in the store are samples.
2. not having the right size for you because of the sample
3. inability to have engraving done on the spot
Even ready-made stores specializing in wedding rings usually do not allow you to take them home on the day of purchase.
It is not uncommon for foreign brands to take longer than domestic brands, or to take up to three months to get their products because they are flown in if they are not in stock in Japan.
However, there are cases where the store may have the ring you want in stock. If you are in a hurry, do not need engraving, are willing to sell samples in the store, and your size fits, some stores allow you to take the ring home the same day, so if you need a wedding ring ASAP, consult with the store staff.
On the other hand, handmade wedding rings can be taken home the same day at the earliest. If the ring cannot be finished on the spot, the delivery time may be several days to several weeks. The casting process usually has a longer delivery time than the forging process, so ask the store owner.
For the type of workshop where you mold your own prototype from wax, some stores offer a course that is divided into two days.
At MITUBACI, you can take your wedding ring home the same day it is made. This is a great option for those who are in a hurry.
When to Receive a Wedding Ring. Handmade wedding rings and ready-made rings
It is an important wedding ring, so both ready-made and handmade wedding rings are appreciated when you receive it.
In the case of handmade wedding rings, I am happy because what started out as a ring has become a sparkling wedding band.
With ready-made rings, it is inevitably rare to be able to try them on in the perfect size, so it is nice to see a wedding band that fits nicely on your finger when you receive it. If it is a high-brand wedding band that you have been admiring for years, just looking at the package will make your heart skip a beat.
In any case, the moment of receiving the wedding ring remains an exciting and special moment.
After the rings are in your hands. Handmade wedding rings and ready-made rings
Reflecting on the time spent making rings
Stores that offer handmade rings generally allow photography and video. Even if you are not able to take the pictures yourselves, the store may be able to take them for you. Please be sure to memorialize this once-in-a-lifetime experience. It would be great to share the happy memories with family and friends who came to the wedding by playing the photos and videos taken at the wedding.
At MITUBACI in Sangenjaya, Tokyo, you are also welcome to take photos and videos of the ring making process. Some customers come to the store with three friends and ask to be photographed.
Unveiling to friends
In some cases, when you have just gotten married, your friends will compliment you on your wedding ring. If it is a well-known brand or a brand that you and your friend like in common, you will be able to talk about it. If it is a handmade wedding band, it will be a topic of conversation and pride to know that they made it themselves. If your friend likes making things, you could introduce them to a workshop where they can make their own wedding rings.
No regrets?
It seems that there are not many people who regret because they are handmade or because they are ready-made. Those who regret buying when they are young tend to choose at random because of the short time available before the wedding or the betrothal, or because the sharp or eccentric designs that they choose because they are young no longer match the fashions of their older age. Also, some couples seem to regret when one of them decides one way or the other.
If you're in doubt, handmade wedding rings are the way to go.
The only ring in the world
With handmade wedding rings, you can create your own, one-of-a-kind ring. The surface pattern that we create ourselves will not have the uniformity of a factory or craftsman's work, but it will be a ring that is unique in the world. We also recommend exchanging rings with your partner. A ring made for you by your beloved partner will be a one-of-a-kind treasure.
Treasure the time you spend together making rings.
The time spent together creating a ring together is irreplaceable and will be a memory that will last a lifetime. The experience of creating wedding rings in a workshop using specialized tools and machinery is an extraordinary experience for many people. Watching the metal material transform into the shape of the ring in their hands is an interesting and unforgettable experience. Many people choose a simple shape for their wedding rings, but the memories associated with the ring turn a simple ring into something special. The process of making the ring, especially since it is an important ring that will be worn for the rest of one's life, shows the serious, hard work of the usually smiling partner. Also, the process of engraving the ring and putting the pattern on the ring may reveal a surprisingly meticulous side of your partner. Or, you may find that the person you thought was meticulous has a strong, decisive spirit for the real work.
MITUBACI Handmade Wedding Bands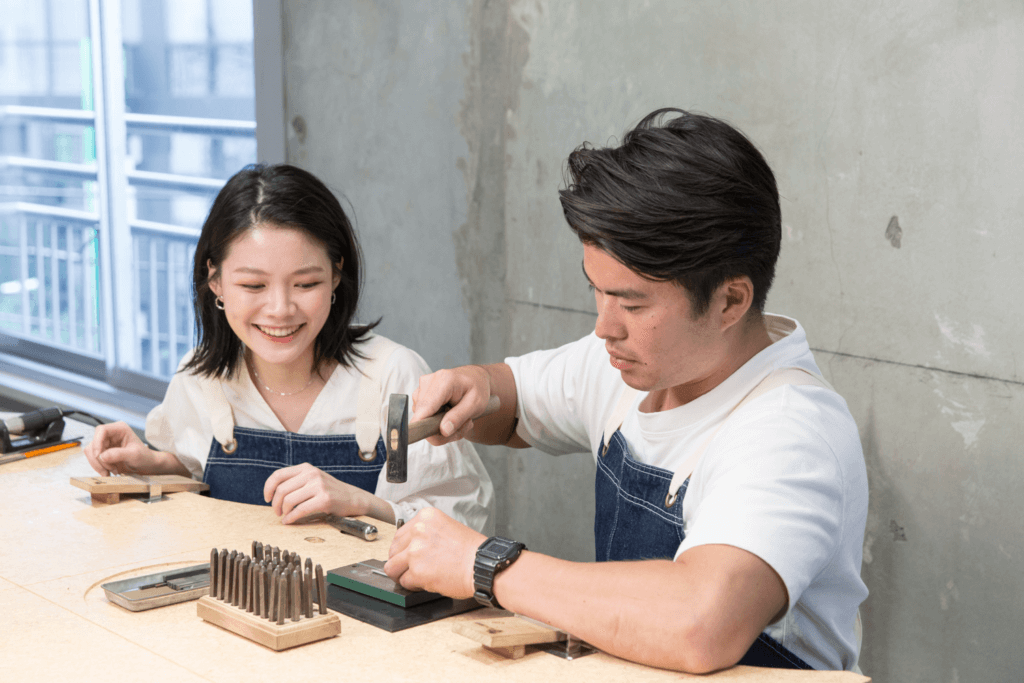 MITUBACI is a handmade wedding ring workshop located in Sangenjaya, Tokyo.
We can make handmade wedding rings using the forging process. The rings are available in Pt950 platinum and five types of K18 gold. You can choose from 5 types of diamonds for the gemstone to be placed in the front, and we also offer 12 types of secret gemstones. Please try to find your favorite particular combination as if it were custom-made.
MITUBACI handmade wedding rings can be taken home on the same day. The process takes about 3 hours from your visit to completion.
If you wish to add optional gemstones, please allow 30 minutes for the craftsman to place the stones, or 4 hours if multiple stones are to be placed.
*Stoning (the process of attaching birthstones or diamonds to rings) is a process that requires engraving skills, so all the work is done by craftsmen. You may wait in the workshop or go out for lunch or coffee break.
Popular materials at MITUBACI
MITUBACI's popular materials are Pt950 platinum and K18 champagne gold. Champagne gold is MITUBACI's original gold material with a light gold color.
The original gold is also available in lime gold. Please visit our store and try it on for a different look and feel when you wear it.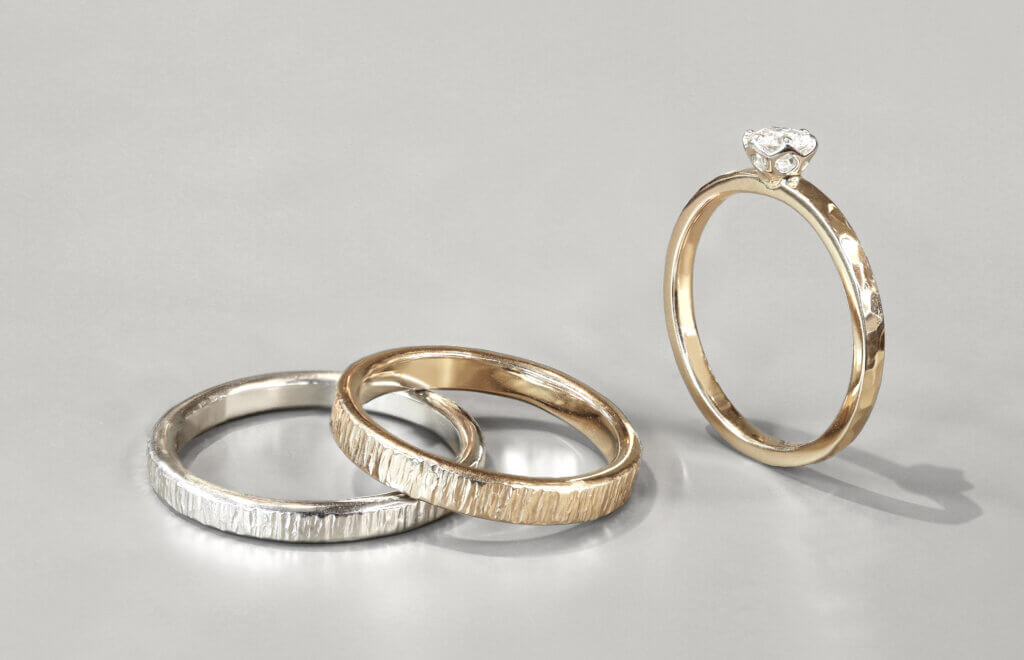 MITUBACI Rates
The most reasonable "accent" ring (1.7 mm ring width) costs 59,400 yen per piece (tax included), and a set of two rings costs less than 120,000 yen, so even with a limited budget, you can create a wedding ring to your own taste.
Professional craftsmen will assist in the production, so not only couples who usually enjoy making things but also those who have never done much DIY and have never worked with metal engraving before can tackle the project with confidence.
MITUBACI Aftercare
MITUBACI also guarantees maintenance for many years. First-time resizing is free of charge. Cleaning is available free of charge, so please bring your jewelry to us if you are concerned about scratches.
For customers from outside of Tokyo, we will send them to us by courier service for maintenance.
If you have any other problems or concerns while using our products, please feel free to contact us at any time.
Please refer to this article for comments from customers who have actually had wedding rings made.
Please make an appointment to visit our store.
In addition to wedding rings, we also offer workshops for engagement rings. Please feel free to contact us for a preliminary estimate and consultation.
You can also use our contact form or email us at contact@mitubaci.jp.
Stay safe, and we look forward to seeing you again.
If you're not sure between handmade and ready-made wedding rings, why handmade is the way to go?