MITUBACI is a modern rustic space that enables one to experience making their own engagement ring. The base price of the handmade engagement ring workshop covers the materials of the ring. This includes hand engraving, one center diamond and jewelry box. Customers may also consider crafting their wedding bands concurrently!

MITUBACI takes pride in our jewelry-crafting quality and methods and ensures that wedding jewelry forged with us can last for a lifetime.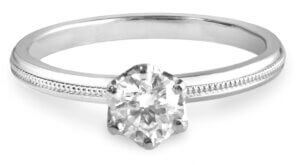 In MITUBACI's engagement ring workshop, you will handcraft the ring portion of the ring. You can choose either platinum or colored gold as the material; MITUBACI's most popular material is platinum, while the popular colored gold is our original champagne gold. A diamond will be set by our craftsmen on the spot on the ring you have made. You can choose from 0.2ct, 0.3ct, or 0.5ct diamonds. All diamonds come with a certificate of authenticity for your peace of mind.
Just like the example shown above, you may wish to apply Senban Finishes to achieve a professional result.
MITUBACI engagement rings can also be delivered on the same day. This is also available for those who are in a hurry, such as those who want to propose on their anniversary next week, or those who want to bring the ring to greet their partner's parents this weekend. The ring is simple and straight, so we recommend that you stack it with your wedding band. We can also make three handmade engagement and wedding rings on the same day.
HANDMADE ENGAGEMENT RING
THE MAKING
Our artisans who have profound experience in order-made jewelry will guide you through the entire workshop on a one-to-one session for individuals and one-to-two session for pairsです。. From the metal selection to hand engraving, shaping and soldering, applying texture, and diamond setting, the whole process takes around 3 hours. The base price of this workshop includes a standard 0.2 carat diamond, and the best part is being able to create your one-of-a-kind jewelry in the world, complete it and wear it on the very same day!