Make-from-home
Hammered Texture Wedding Bands
Our well-loved MITUBACI handmade hammered texture wedding bands workshop can now be experienced in the comfort of your home! This course caters to those who wish to make their own quality wedding bands at their pace without worrying about time and those unable to visit our atelier.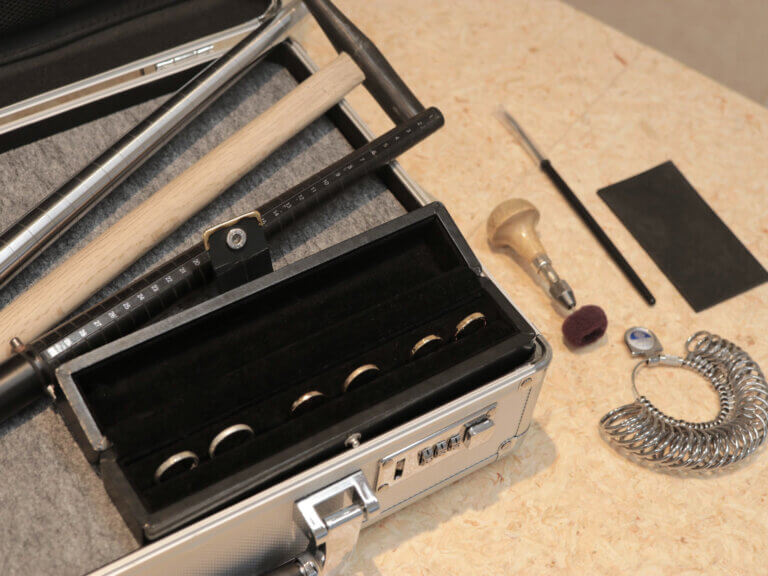 3 SIMPLE STEPS!
How To Use Our Jewelry-making Kit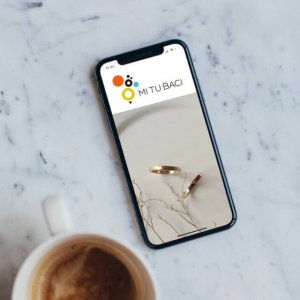 Order a jewelry-making kit
Order a kit and a trunk containing tools and ring samples will be shipped in 5 days.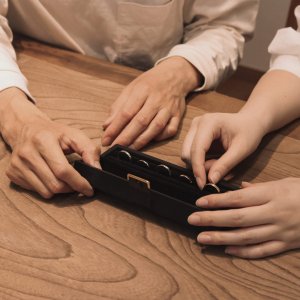 Decide on ring material and size
Measure your ring size with the finger gauge in the trunk and choose your favorite material (Platinum950 or 18kGold).

Scan the QR code provided and fill in the required information. MITUBACI veteran artisans will create a plain finish wedding band accordingly to the details you provided, including engravings (if any). Your rings will be shipped out within 5 days upon order and be delivered to your home.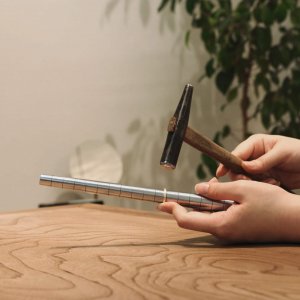 Apply textures and polish or mattify
Once you have received your plain rings, it is time for the main event: hammering. Use the hammer and texturing mandrel provided to texturize your plain rings.

After applying the hammered textures, you may choose to polish your rings with the polisher or mattify with the midget buff. The processes from hammering to applying finishes take around 30 minutes. We have prepared instruction videos to guide you along your DIY process.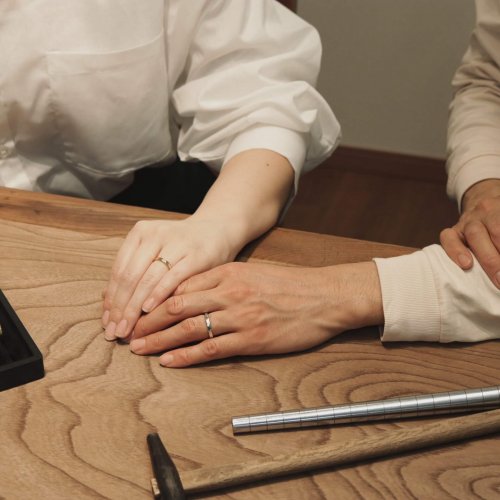 Handmade wedding bands completed!
Now you have a perfectly sized original and handmade wedding band while staying in the comfort of your home!
Please remember to return the tools to MITUBACI using the delivery slip provided within 10 days of receiving your plain rings.
Shipping costs will be borne by MITUBACI.
Our jewelry-making kit comprises a two-tiered trunk with tools required for making hammered texture rings. The upper tier contains sample rings for you to take a closer look at the metal color and finishes, and a gauge to measure the size of your finger. The lower tier contains the hammer, texturing mandrel, ring sizer mandrel, and tools used to polish or mattify your rings.
INSTRUCTIONAL VIDEOS
& CRAFTSMEN'S SUPPORT
We have prepared a detailed instructional video covering every jewelry-making step to support you throughout. If you have any questions or concerns, please feel free to talk to our craftsmen online via Zoom for help.
Choose from 3 colors of metal. Whether it's classic platinum or shades of gold, all metals are of the same base price.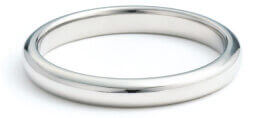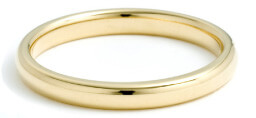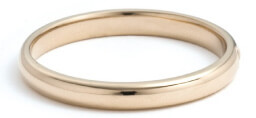 Fondness Grew with Every Hit
DESIGN TEXTURES FROM HOME
The charm of this course is getting to make your very own wedding bands of high quality at your convenience. The hammered texture is the vital element in creating originality, as the textures turn out very different in different person's hands. Pouring feelings and effort into every hit of the hammer makes your fondness for your ring grow. You may decide if you want a polish finish, a matte finish, or a mixture of both!
Engravings Managed by Artisans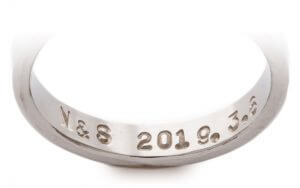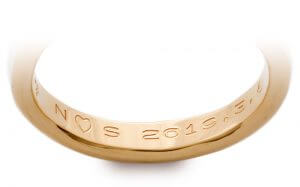 Similar to MITUBACI workshops, we provide free engraving services for your jewelry. Choose either engraving with metal stamps or engraving machine. For this make-from-home course, our artisans will engrave the details in advance.
Out of all ring widths tried on by our customers at MITUBACI, 2.5mm width appears to be the most universal and compatible with all ages and gender. Larger ring sizes (size 21 to 30) are considered special orders and will incur an additional cost of 10%. Please consult with our artisans for more information.
MITUBACI jewelry-making kit is put together as an effort to produce zero waste. Everything besides the delivery slip is reusable: with a trunk that could be used repeatedly and also functions as the main packaging, and digitizing instruction manuals and warranty cards. For the sake of our planet home and future generations, we strive to conserve our planet's precious resources and seek better ways to protect our home.
MITUBACI handmade wedding rings workshop can now be experienced at home! This kit caters to those unable to visit MITUBACI due to various circumstances, such as long traveling distance and having a tight schedule. It allows you to work at your own pace and make your rings at the comfort of your homes or even as a part of your wedding ceremony programs! (Please note that the kit will be shipped in two batches.)
KIT'S CONTENT
1st batch of shipment: sample rings and tools
(shipped within 5 days upon date of purchase of kit)
Ring samples (rental)
Finger gauge (rental)
Texturing mandrel (rental)
Ring sizer mandrel (rental)
Hammer (rental)
Polisher (rental)
Midget buff (rental)
Ring box (gift)
2nd batch of shipment: plain rings
(shipped within 5 days after confirmation of metal choice and ring sizes)
A pair of plain finish rings (2.5mm width in 18k gold/platinum)
THE MAKING
Measure your ring size with the finger gauge.
Try on the ring samples and decide on your ring metal.
Scan the attached QR code, enter your ring details, and our artisans will prepare plain rings accordingly and ship it to your specified address.
Apply textures and finishes to your plain rings with tools provided in the trunk and you're done!
Please return the tools, finger gauge, and ring samples to MITUBACI (MITUBACI will borne the cost of delivery.)
Handmade Wedding Bands


FAQ