Today, we would like to introduce Mr. T's wedding ring from Tokyo, which has a hammered finish called snowflake, which looks like light snow.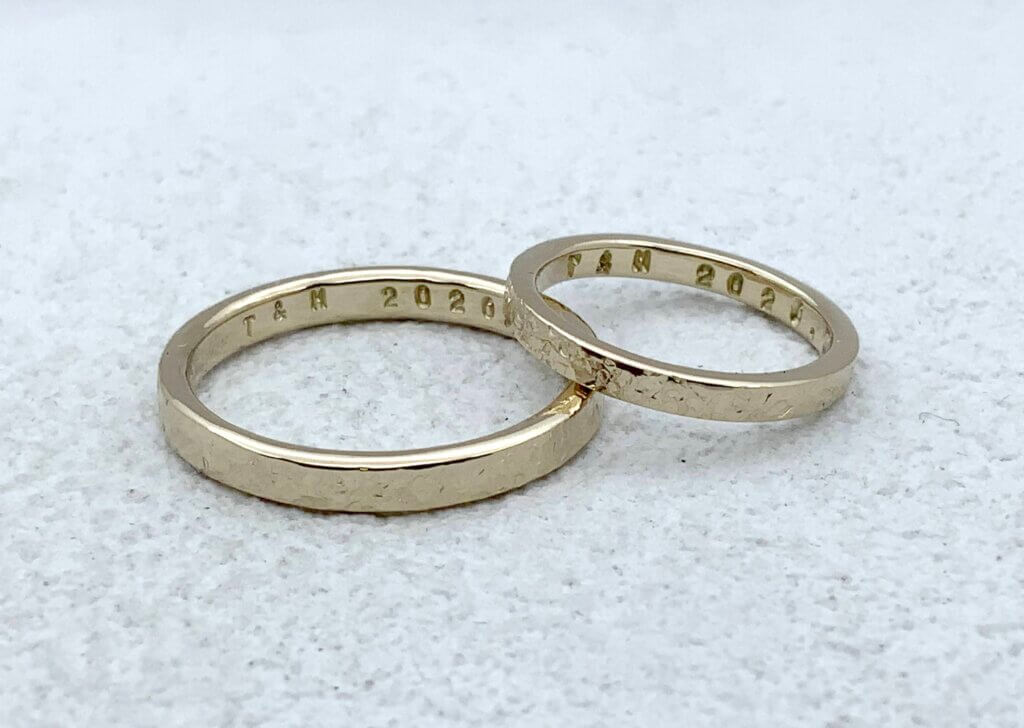 Ring details:
Left: 18k champagne gold 2.5mm width with snowflake texture and inner hand engraving
Right: 18k champagne gold 2.0mm width with snowflake texture and inner hand engraving
MITUBACI's 18k champagne gold is an original shade of gold produced in-house.
Our champagne gold has a lighter shade than yellow gold, and a warmer tone than platinum, and blends easily with the color of the skin.
It is well-loved by both men and women and matches easily with all sorts of outfits, making it the most popular metal choice at MITUBACI.
When opting for inner hand engraving, you will first decide what you want to engrave and practice before attempting the actual engraving. Some common engravings are names or initials, wedding anniversary dates etc.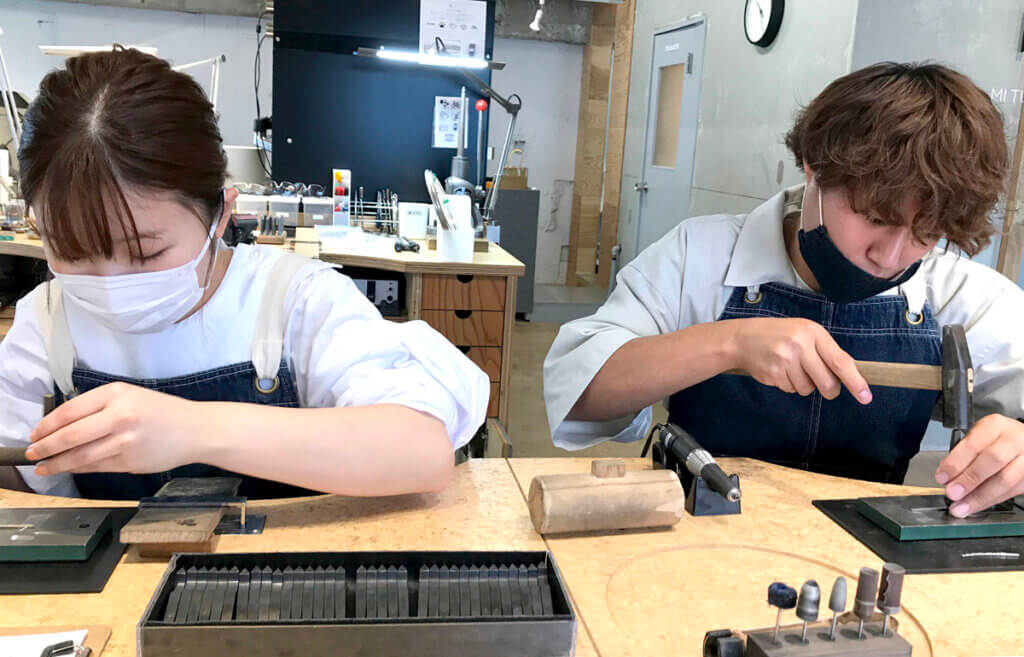 In this couple's case, engraving is the first process they experienced. It is also probably the process that requires the most concentration.
Next, you will be using a burner to solder your rings. Some people may feel nervous, but rest assure that our craftsmen will be by your side to guide and support you.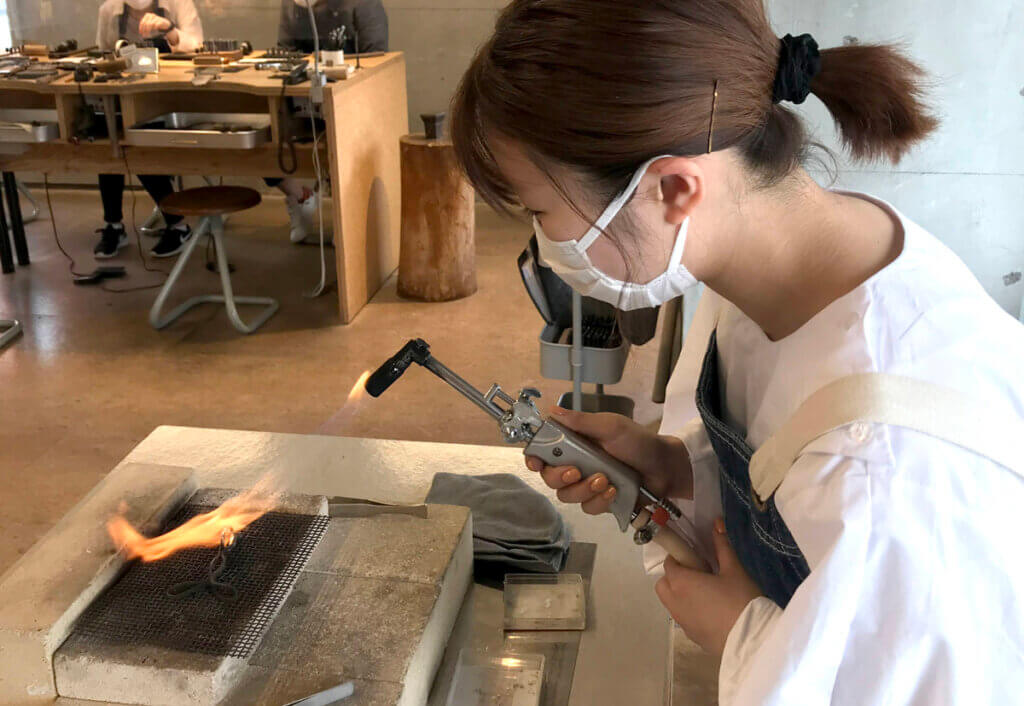 Then, the ring is shaped, polished, and finished with textures.
T-san chose the snowflake texture.
The snowflake texture gives a subtler shine than our hammered texture.
It warms our hearts to see couples exhibiting their chemistry and helping each other out.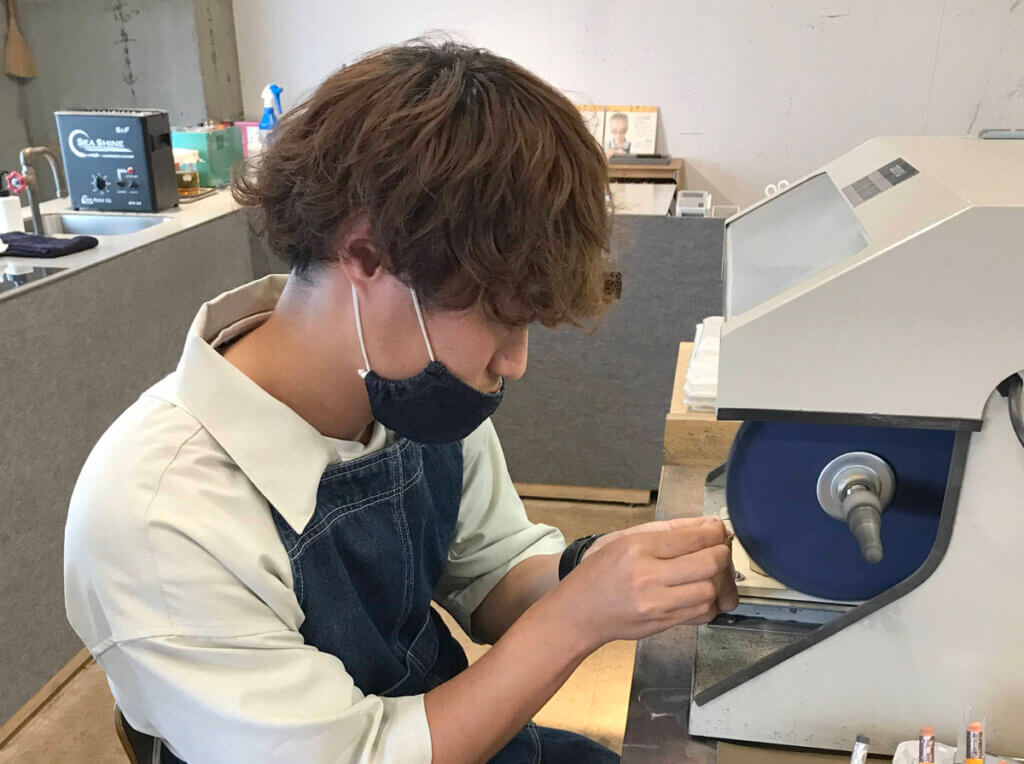 The final process is polishing your wedding rings to shine with the buffing machine.
We hope your shared experience working on your wedding rings adds wonderful moments to your married life.
A message for our artisan:
We were nervous as it was our first time making jewelry, but thanks to your guidance we enjoyed ourselves very much!
Thank you for the wonderful experience!!

Dear T-san, thank you for choosing MITUBACI. Please visit us again!
*This article is published with the consensus of the customers.
Customer Review: Wedding Band with Light Snowflake Textures