At MITUBACI, customers get to choose to make their own wedding bands or leave everything to our experienced artisans.
Here, we will share more about why we recommend making wedding bands by yourself!
5 Textures To Choose From

Our handmade wedding bands can have their surfaces personalized to your liking with the following 5 textures:
Plain, Hammered, Snowflake, Matte, Foresta
As for the surface patternYou can read more about it here.→directional marker or indicatorhttps://www.mitubaci.co.jp/news/2934/
Five different colors of gold to choose from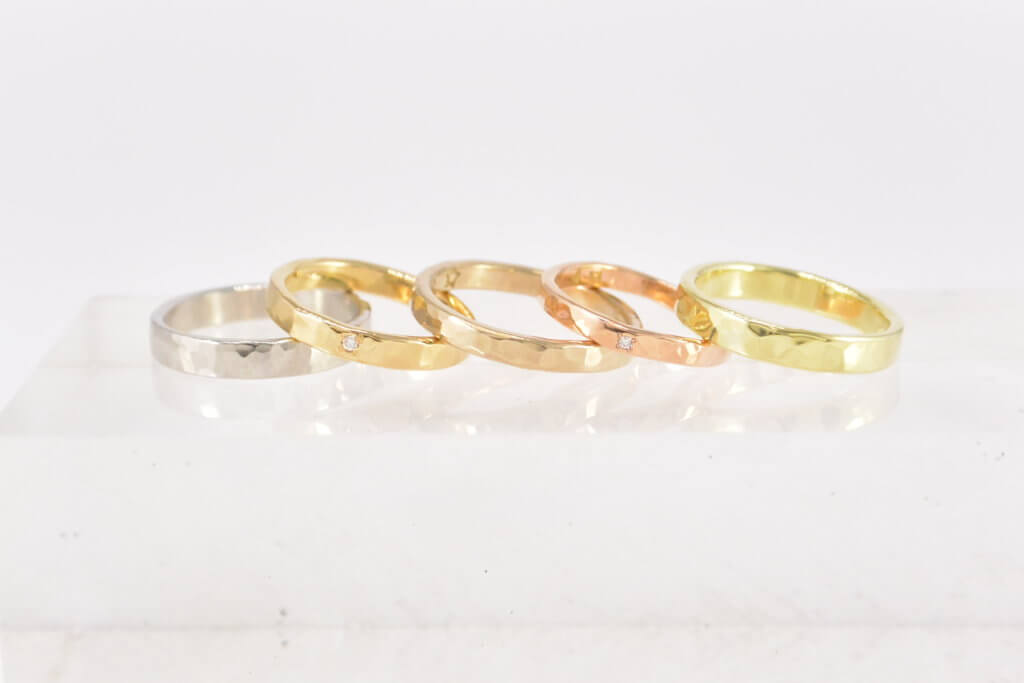 Choose the one that best suits your taste.
At MITUBACI, you can choose from five different materials for your ring.
18k Yellow Gold
18k Rose Gold
18k Champagne Gold
18k Lime Gold
Platinum 950
Champagne gold and lime gold are MITUBACI's original color gold.
You can engrave your own letters.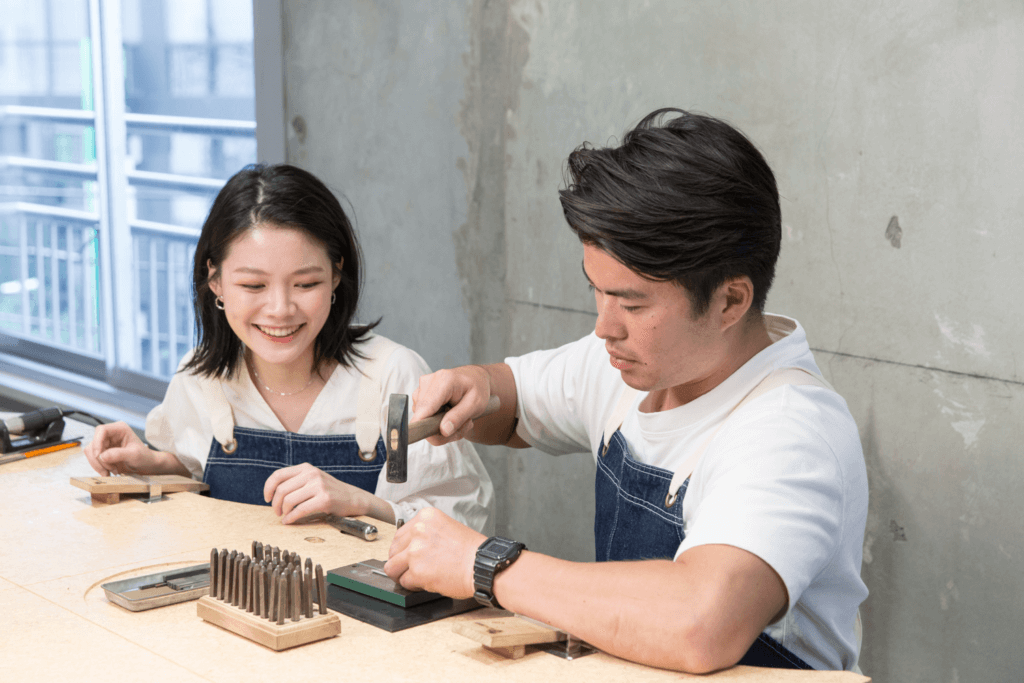 You can have upper case Roman letters, numbers, and symbols engraved on the ring.
Many people put each other's initials or the date of registration.
You will practice engraving before making the actual ring, so please give it a try.
There is no additional charge for engraving.
Original MITUBACI engraving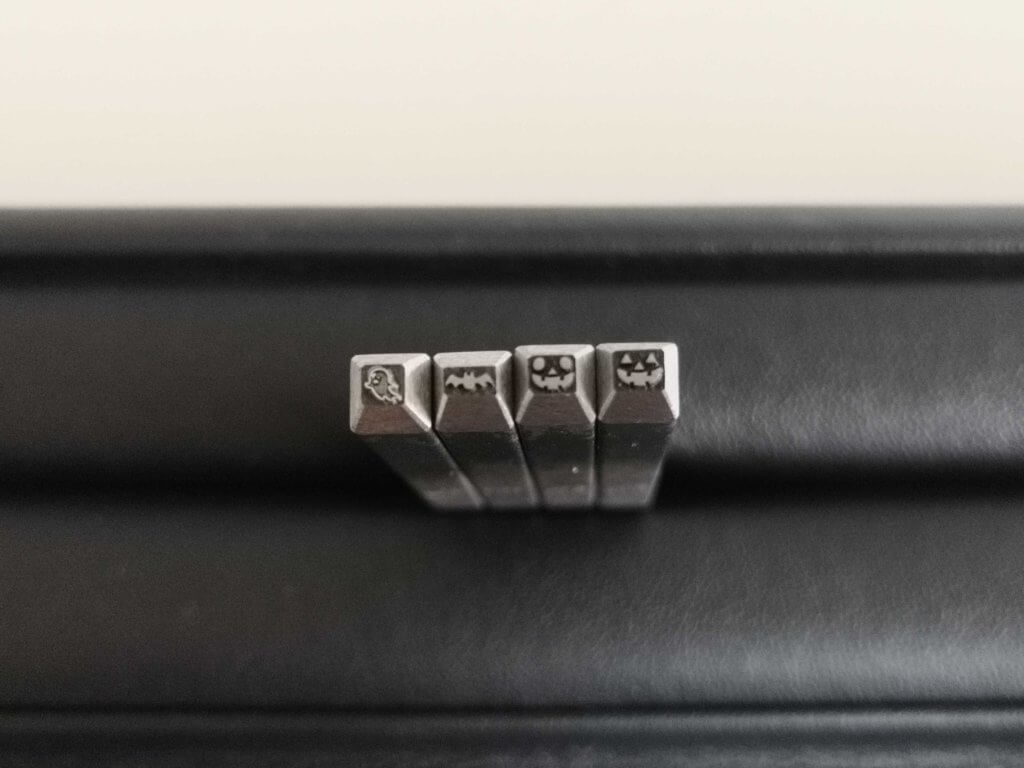 MITUBACI produces original engravings.
Some items are made according to the season, such as for summer or Halloween, so you will have more vivid memories of the time when you made them.
Rings can be produced interchangeably.
It is also nice for partners to exchange rings with each other.
A one-of-a-kind ring made for you by a loved one will be indelible.
Create rings with diamonds, birthstones, or any other gemstone of your choice.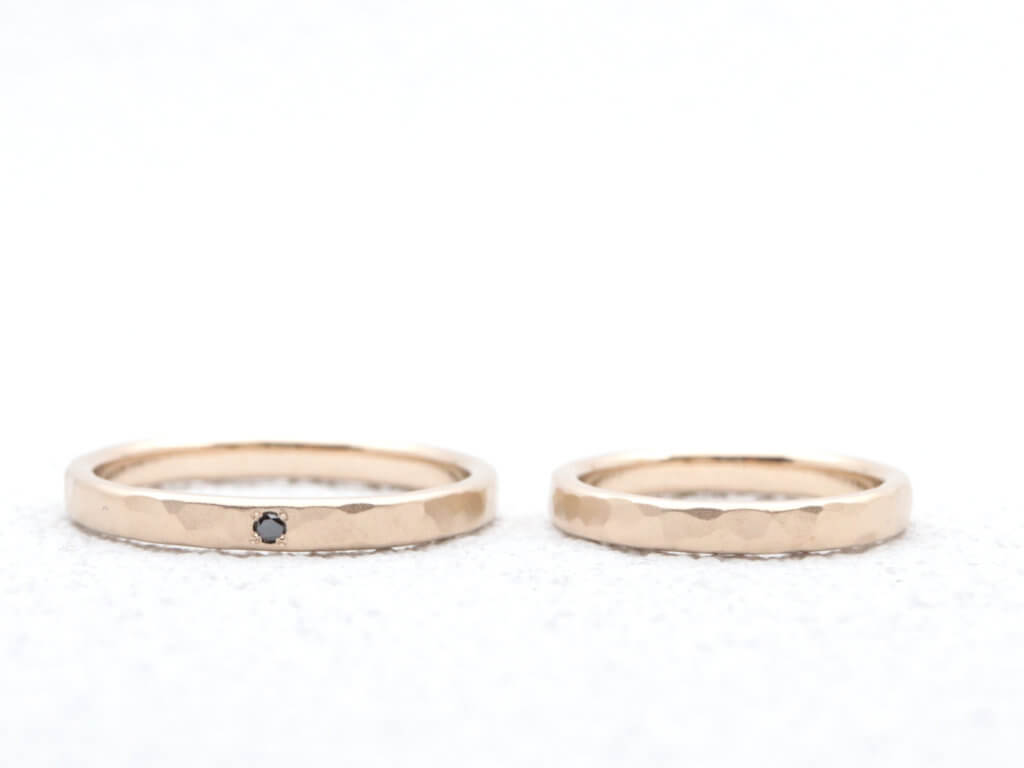 At MITUBACI, you choose the gemstone of your choice, and our craftsmen do the stone setting.
(An optional fee of 8,800 yen per stone will be charged.)
The gemstone is set as a secret stone on the surface or inside of the ring.
Reasonable price
Wedding rings are available in both K18 gold and 950 platinum for 59,400 yen and up per piece.
Engraving of text is also included in this price.
At MITUBACI, the price is determined by the width of the ring, not its weight, so you know the price before it is made.
For more information on prices, please contact here.⠀https://www.mitubaci.co.jp/marriage/
Can be taken home on the same day
MITUBACI handmade wedding rings can be taken home on the same day they are made.
If you wish to optionally have a diamond affixed to the ring, it can also be delivered on the same day.
(The diamonds will be fastened by a craftsman, which will take about an hour, during which time you may leave the house).
Perfect size can be made.
I think the biggest advantage is that we can make the ring on the day of the event, matching the size to the customer's finger.
Most wedding rings usually take about a month to make to order.
We will measure you when you select your ring, even if it is ready-made, but your size may change by the time you receive it.
as a cause
...Fingers were swollen due to physical condition.
...Size changes with the seasons.
The width of the ring I ordered is different from the width of the ring gauge that measured my size, and it is not comfortable to wear.
These include.
In the case of MITUBACI's handmade wedding rings, we will measure your size on the spot and create the ring in the width you actually choose.
You can create the ring while adjusting the size with the actual ring.
We can also make sizes that are difficult to order, such as size 8.5 or a little smaller than size 10.
The comfort of a ring will vary depending on the width of the ring, even if it is the same size.
You can take pictures of the handmade process.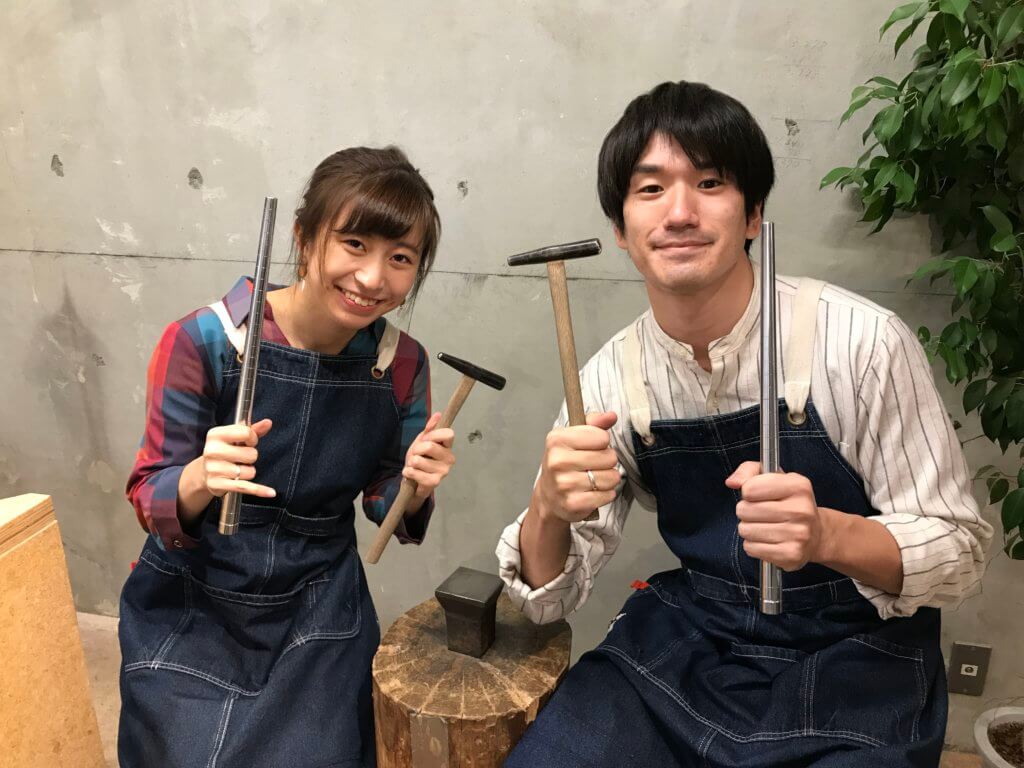 It is possible to vividly record the scene while the ring is being produced.
Our staff will take pictures of your work and share the photo data with you via Google Photos.
Of course, customers are welcome to take their own pictures.
If you've got a camera that you're particular about, by all means, take lots of pictures!
Through the process of making rings, which is not a common experience, couples can create memories that are unique to them.
Support by skilled craftsmen
The tools, machines, and materials used in ring making are all things you would not normally come into contact with, so you may be worried about whether you can make the ring properly.
But it's okay!
Work that the customer finds difficult is done with the support of our craftsmen.
All MITUBACI craftsmen are professionals who have specialized in making wedding rings for many years.
Please do not hesitate to let us know if you have any concerns.
You can be assured that your ring will be produced with peace of mind.
In a Nutshell
Some people don't normally wear rings, but we think they will become attached to their rings when they see the process of turning them from a straight plate into a shiny ring through polishing.
Many people who have had their wedding rings made at MITUBACI have been wearing them for years, both men and women!
Please feel free to contact us if you have any questions.
To make a reservation for MITUBACI's handmade wedding rings, please click here.
Reasons Why Handmade Wedding Band Is So Wonderful