The 3 Most Popular Hammered Textures
What Are Hammered Textures?
The umbrella term for textures achieved when applying hammer directly onto rings and bangles is known as "tsuchime." At MITUBACI, there are different types of hammer (kaneduchi) specifically prepared for our handmade jewelry workshops.
手作り結婚指輪の魅力の1つが槌目として知られているテクスチャーです。
The hammered textures are loved and popular due to their uniqueness. Even with the same hammer, it produces varying results in different people's hands, making every handmade ring the only one in the world. Couples, friends, and families can also choose to make the jewelry for one another, giving more special meanings to the handmade jewelry—one filled with love and thoughts of one another.
Another fun thing about the hammered texture is the rhythmical clinking sound that resonates when the hammer comes in contact with the ring on the metal rod.
At MITUBACI, there are a few types of original hammers prepared by our artisans to create different kinds of hammered textures on your handmade jewelry. With 3 hammered designs to choose from, you may pick your favorite style when you sign up for our workshop!
お選びいただける槌目の種類は全部で3種類あります。種類が豊富なMITUBACIのテクスチャーの中でも、特に人気の3種類の槌目について、人気順にご紹介します。
1st in Popularity—Hammered Texture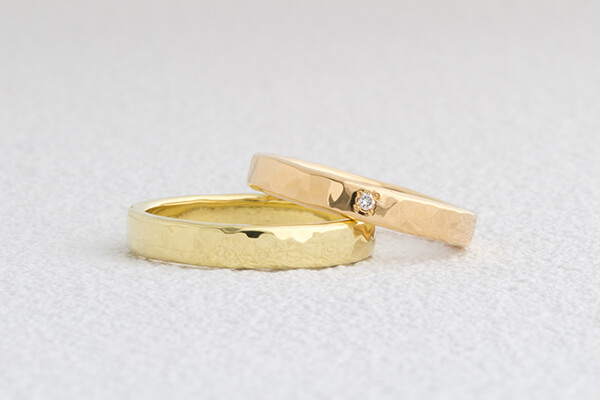 1番人気は「槌目(つちめ)」水面のような輝きを表現できるテクスチャーです。
The hammered texture (tsuchime) comes in first in popularity ranking. This texture is created with a round-tip hammer and reflects light gently like the water surface and elegantly shimmers at all angles.
Be it handmade wedding bands workshop or silver jewelry workshop, a large percentage of our customers opted for this hammered texture. Learn more about the hammered texture in the article below:
先端が丸くて、つやつやになっている、可愛らしい金槌を使います。
詳しくはこちらのブログにも記載していますので、みてみてくださいね。
2nd in Popularity—Foresta Texture
The word "foresta" in Japanese refers to the woods. As its name suggests, this texture resembles the tree bark and can be achieved through hammering.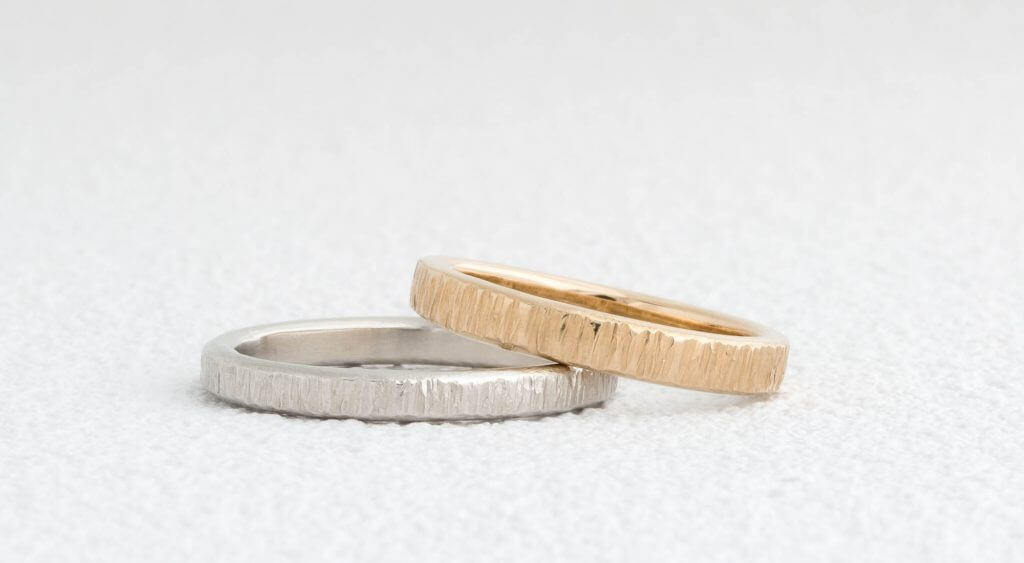 This texture is loved by those who want a look that is closer to nature. It is created with a flat, pointed-tip hammer specially made by our artisans. This design is also easy to match with various outfits and occasions. Find out more about the making of foresta texture in the article below:
普段指輪を付け慣れない方でもつけやすいデザインです。
こちらで使う金槌はオリジナルでご用意している金槌で、先端は細長くて平たい、めずらしい形をしています。
加工や道具についてはこちらのブログに詳しく書いています。
3rd in Popularity—Snowflake Texture
最後にご紹介するのは「スノーフレーク」という槌目です。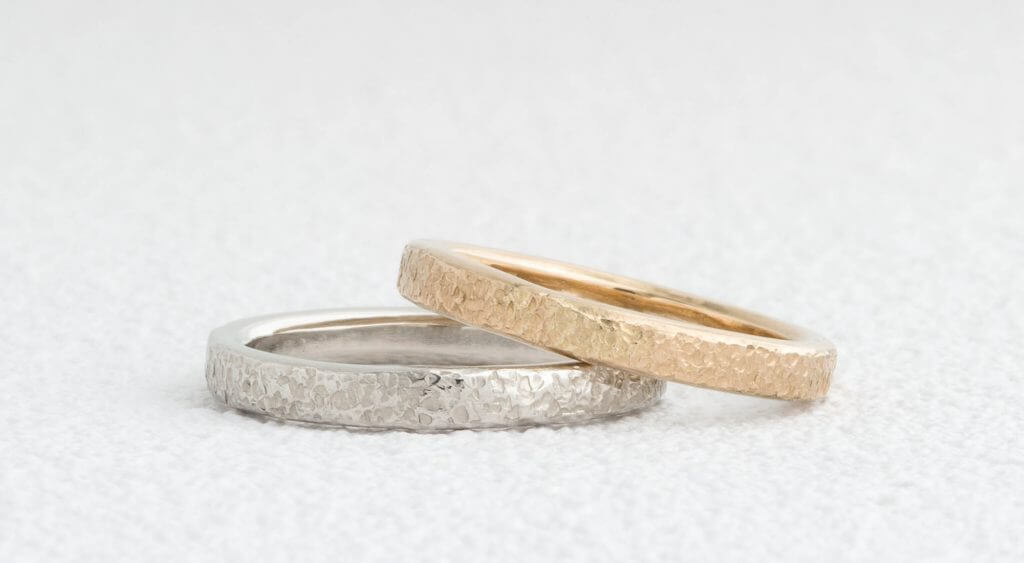 The snowflake texture resembles the accumulated and undisturbed surface of snow, and it complements rings that are slimmer in width. Read the article below for more information on the snowflake texture:
細身の指輪に施してもすてきです。
こちらのブログでも詳しく書いています。
Do you have a favorite among these textures?
Thank you for reading this article! Feel free to drop us an inquiry, or click the "Book Now" button to make an appointment: BOOK NOW
Our Instagram will be updated every now and then, so please stay tuned!



The 3 Most Popular Hammered Textures