The thought of losing your wedding band is daunting. Most common ways people lost theirs are when they:
went on a trip and misplaced their rings at the lodgings,
changed into their sports attire and placed their rings in their pocket only to find them missing after some time,
stopped wearing the rings when they care for their children but before they realised they have misplaced their rings.
Here are some points to remember to prevent losing your wedding ring:
In this issue, we will tell you how to avoid losing such wedding rings and what to do if you lose them.
Set a Specific Spot To Put Your Ring at Home
Some people wear their rings almost perpetually, even to bed or to shower but most of us take them off. When not wearing your ring at home, decide on a spot to put or keep your ring to avoid misplacing it. You may consider using a jewelry dish or a ring holder.
Some people may also remove it when taking a bath.
I think the place and timing for removing and putting on the ring in your home is pretty much the same, so make sure you put it in the right place!
⠀
Set a Specific Spot To Keep Your Ring when Out and About
Most people lose their rings when they are out and about. When one has no choice but to remove their ring outdoor, safely put them away in wallets or coin pouches. On the contrary, if one were to leave their ring in jeans or coat pockets, they may lose the ring when putting on or taking off their apparel.


On the other hand, if you put it in the clothes you are wearing, such as jeans or a coat pocket, you do not want to put it in any of your clothes, because you may not know which clothes you put it in and leave it, or you may unknowingly drop it when you take it off or take it to the cleaners.
Be Extra Careful when at a Hotel, Onsen, and during Sports Activities
We may be obligated to remove our rings for various reasons when going on a holiday, going to onsen or doing sports activities. On these occasions, cultivate a habit to store your ring safely in wallets or coin pouches. In the event where you are required to remove your ring urgently, place it somewhere noticeable to you and easy for you to remember.
If it is a place you always go, as much as possible, in the same place, such as the purse or bag mentioned above.
If it must be placed suddenly to ring, place it in a place where you can easily notice it.
In the event where you lose your rings, as long as you let us know the content of your engraving, we will be able to retrieve the data of your rings.


MITUBACI offers a free engraving service that allows customers to do the engraving themselves.
Wear Your Ring Every Day!
Wearing your rings every day is the best way to know you still have them. When wearing your wedding band becomes a habit, you will easily notice if it is misplaced or missing. That way, you won't have to wonder if you have misplaced them somewhere.
If you gradually stop wearing your wedding ring, only when you go out somewhere, only when you go out to eat, only when you meet someone, and so on, before you know it, you can't find it anywhere in your house! It can happen.
Wearing a ring every day, it is easy to notice if you misplace it because of the discomfort of not wearing it. On the other hand, a ring that is worn only occasionally is more likely to be misplaced when out and about, or to be taken off unconsciously because of the discomfort of wearing it.
Wear Your Ring Only when the Size Fits
Finally, ensure that your ring size still fits. Many lose their rings because they put them on even when it doesn't fit perfectly anymore. At MITUBACI, we help our customers to ensure that the size of their rings are right.
If the ring is too loose or too tight, it will inevitably become uncomfortable to wear, and this is one of the main reasons why people tend to remove the ring, stop wearing it, or lose it.
With wedding rings handmade at MITUBACI, we can check the size of your finger while making the ring, so we can make sure it is the perfect size for you.

In the event that you wish to resize your rings, please opt for our free one-time ring resizing after-sales service!
On the other hand, if you were to lose your wedding ring, here are some things you can do:
Search Everywhere Thoroughly
Huh! My wedding ring is missing!
More often than not, our heart skips a beat, and we feel the chill in our bones when we realized we might have lost something important. When this happens, calm down and try to recap the last time we saw our ring and retrace our steps to narrow the scope of the search.
In such a case, first calm down and slowly and unhurriedly trace your memory back to the last place you remember wearing it. Once you know the time and place where you were wearing the item, you can narrow down the scope of your search.
If your ring is completed at MITUBACI, and you cannot find it nor recall where you lost it, please contact us immediately. Providing us with the characteristics of your wedding ring, such as the engraving details, allow us to retrieve the data of your ring.
There is also the possibility that you have misplaced your ring in bags which are not used frequently, in coats or trousers, especially those stored away with the change of seasons. You may also want to visit police stations to check if your ring is in the lost-and-found items.
And if you have some idea of where and when, but just can't find it, contact the police in the area to inquire about lost property, just in case. Perhaps someone has picked it up and delivered it to you.
Tell Your Partner
How do you tell your partner that you lost your wedding ring? This is probably one of the hardest things to do. We have had customers who did not want their partner to find out and approached us in secret.
I almost lost mine, so I know how it feels.
Some customers actually come to MITUBACI for advice without telling their partners that they have lost their rings.
However, it is still best to tell your partner as soon as you realized that you have lost the ring. Perhaps, your partner may know where you have misplaced it. Also, it is easier to let your partner know when the chances of finding it are still high.
It is really unfortunate that you lost it, but to prevent it from becoming more of a negative memory for both of you, tell your partner first, preferably as soon as you think you have lost it. It may be easier to tell your partner when you think you may still be able to find it.
Speak To Your Jeweler
If you cannot find your wedding ring no matter how hard you looked, contact your jeweler to get a replacement. Warranties may differ across brands, but for most, you may be able to get a discounted price for a ring remake. This time, ensure that your ring size fits comfortably (a misfit is a common reason why people lose their ring!) Let your jeweler know if you wish for your new ring to match your partner's ring's worn look.
The response will vary from brand to brand, but there may be a discount for repurchase. If a warranty card was included with the product when it was purchased, it would be a good idea to check the contents of the card first.
Also, since we are at a loss, if the ring you lost was loose or tight, re-make it in the correct size. (As I mentioned in the first half of this article, loose or tight is one major cause of lost rings!)
And if you are concerned about the feel of your partner's ring compared to your newly made ring, ask for a refinishing as well.
Consider Made-to-Order Bespoke Jewelry
If your original jeweler no longer produces the same design or it is no longer around, consider another jeweler with made-to-order jewelry services to recreate the wedding ring. If your partner's ring has the same design, show the jeweler to get the replacement as close to the original design as possible.
In such cases, you can use your partner's ring as a model and have it made at a store specializing in custom-made rings, reproducing it as closely as possible.
Make a New Pair of Ring with Your Partner
Take this chance to commemorate your anniversary and make a brand new pair together with your partner! We have had couples who attended our workshop with their children too!
We ask everyone to put as much original engraving as possible on the wedding rings made by MITUBACI, so that it is easy to tell the characteristics of the ring in case it is misplaced or reported to the police.
Also, if you lose your ring, please contact us right away so we can save the information we have on it when we made it for you!
If you would like to have the same ring made again, you can have it made at a 15% discount.
As wedding bands made at MITUBACI can be brought home within the day itself, it is possible to avoid telling your partner about the missing ring at all. Rings made at MITUBACI comprises original engraving details that are identifiable when retrieved as a lost-and-found item. Besides, we keep records of every ring made with us, so please inform us if you have lost yours. Replacement rings made with us also get 15% off its original price.
Also, there are many couples who come to MITUBACI because they lost their rings, or because their husbands lost their rings many years ago, or because they lost their rings together, and they want to make new rings by hand this time! Many couples come to MITUBACI with the idea of making a new ring together by hand!
Or you could take the kids and the whole family out to make rings!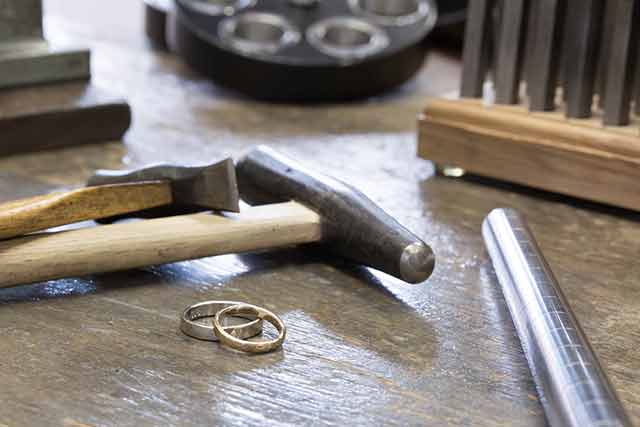 ⠀
---
Thank you for reading this article! 
Our Instagram will be updated every now and then, so please stay tuned!



How To Not Lose Your Wedding Ring and What To Do When You Lose Them