When you hear the words "wedding band with birthstone," it sounds very special. It would be wonderful to have a wedding band with your or your partner's birthstone or favorite gemstone. We would like to introduce some recommended ways to put birthstones in wedding rings.
I want a handmade wedding band with a birthstone in it.
When we are offering handmade wedding rings, we are often asked the question, "Can you put a birthstone in the ring?" We sometimes receive the question, "Can you put a birthstone in the ring?
At MITUBACI, birthstones can be placed inside wedding rings.
Here are some recommended ways to include birthstones.
Popular Blue Sapphire Something Blue Wish
Generally, the gemstone in a wedding band is a diamond on the outside of the ring and a "something blue" blue sapphire on the inside of the ring.
A gemstone that is placed inside the ring is also called a secret gemstone.
Something blue
This is one of the "Something four," a legend that says the bride will be happy.
Something blue is considered to be the color that brings happiness, and it is good to wear one thing that is blue.
Many people follow the "Something Blue" legend and add a blue-colored gemstone, a "blue sapphire," to the secret gemstone.
Blue sapphires are wonderful, but at MITUBACI, we recommend that you put in your favorite gemstone (birthstone) freely to make your handmade wedding ring unique to you, without being particular about "something blue".
Birthstones for wedding rings at MITUBACI
Here is a list of birthstones that can be inserted in MITUBACI. The characteristics of the gemstones are also mentioned for your reference.
January — Garnet
The red pomegranate stone is called garnet.
The appearance in the rock resembles a pomegranate fruit.
It is a deep red gemstone.
February - Amethyst (Amethyst)
It is purple in color, as written in its Japanese name, shikkou (purple crystal).
The purple color is caused by the presence of a small amount of iron in the crystal.
March — Aquamarine
It is a light, pale, light blue gemstone.
This also has a light blue color due to the slight iron content.
April — Diamond
It is the hardest mineral. For this reason, it is often used as a gemstone to be affixed to the surface of wedding rings for everyday use.
The cut also gives off a strong radiance, so even small stones like the secret stone sparkle and shine.
MITUBACI offers a choice of ice blue diamonds, green diamonds, and black diamonds in addition to the more common clear diamonds.
May — Emerald
The deep green color of this gemstone, like fresh green, makes it the perfect birthstone for May.
June — Moonstone
Although it is a transparent stone, it is characterized by a soft glow known as silirror.
July — Ruby
Although rubies and sapphires differ in color, they are actually the same mineral, corundum.
The dark pink ones are called rubies and the others are called sapphires.
August — Peridot
It is a fresh olive green gem.
September — Sapphire
As explained above, corundum other than dark pink is called sapphire.
Although orange, light pink, and green sapphires are also available, MITUBACI uses the common blue sapphire.
If desired, pink sapphires can also be included.
October — Tourmaline
Tourmaline comes in a variety of colors, from cold colors such as blue and green to warm colors such as pink and orange.
MITUBACI uses pink-colored gemstones.
November — Citrine
Yellow topaz is called citrine.
It is a sun-like gemstone with a yellow-orange hue, which explains why it is called the stone of luck, bringing wealth and prosperity.
December — Tanzanite
Tanzanite means "stone of Tanzania". It is a transparent blue-purple stone, a color between blue and purple. It is a very beautiful stone with a color like the sky, different from the blue of sapphire or the purple of amethyst.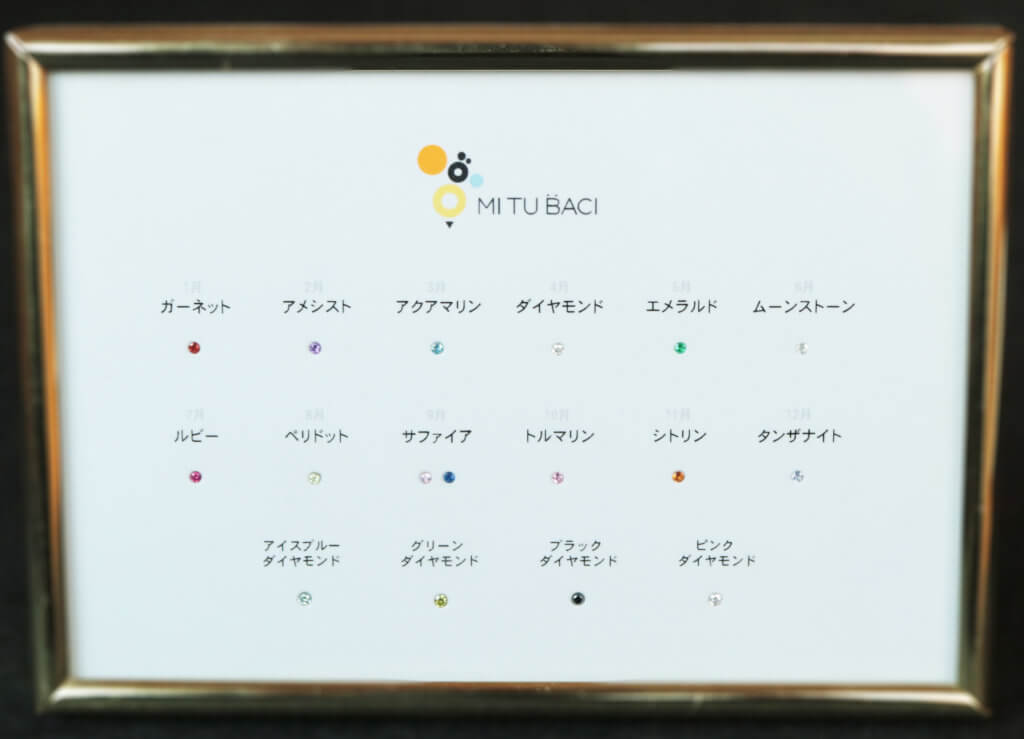 How to choose a birthstone for a handmade wedding band
Although it is called a "birthstone," MITUBACI allows you to choose freely regardless of the month you were born in.
1. Insert the birthstone of the other party.
The wedding ring you always wear.
When the birthstone of the partner is placed inside it, there is such a sense of security that "we can always be together even when we are apart.
2. Insert your birthstone.
Many of you may like your own birthstone, which you are familiar with.
In this case, of course, you can put your own birthstone.
3, Insert the birthstone of the month of the registry.
How about a jewel for the month of your registry so that you can always remember happy times?
I am sure that the two of you have many precious memories other than the day you joined a registry, such as the day you were proposed to, the day you started dating, or the day you met. Please choose a jewelry that suits you both so that you can always feel those moments.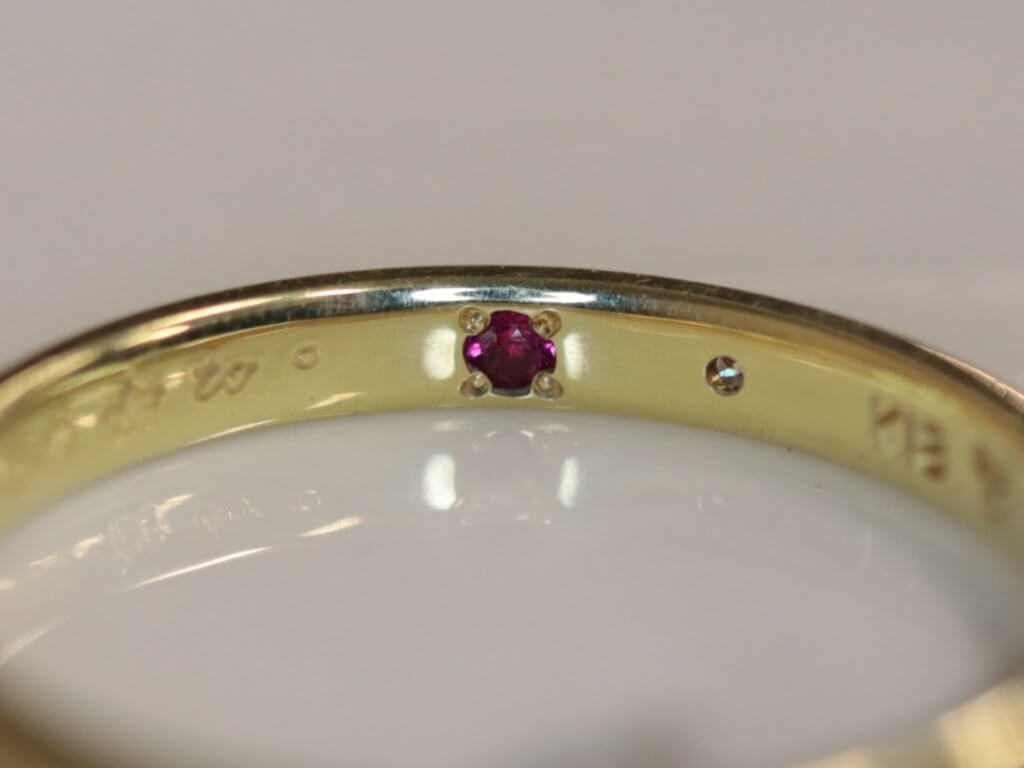 4, Add birthstones in your favorite color or image of the two of you.
The secret stone is located inside the ring, invisible from the surroundings, and is meant to be a talisman.
You can choose "ruby because I want to put my lucky color, red.
Also, "aquamarine because we both love the ocean," and "orange jewelry because he proposed to me while watching the sunset," all of which were actual cases.
It is also wonderful to include jewelry that evokes the path the two of you have taken together.
5, Think in terms of imprint and combination
The inside of the ring can be engraved as well as the secret stone.
Clasping the couple's birthstones side by side after the engraving of their names and wedding anniversary makes it look as if the couple is cuddling, making it the perfect secret stone for a wedding band.
In addition, the
0 (partner's birthstone) & 0 (your birthstone)
and it is also nice to combine the engraving of "&" with each birthstone instead of engraving your name.
Of course, you can also choose to have only the birthstone without engraving.
6, Put it in the outside of the ring.
Can I put my birthstone on the outside of the ring? We sometimes receive inquiries asking, "Can I put my birthstone on the outside of the ring?
We may be able to include not only diamonds, but also hard stones such as rubies and sapphires. Please feel free to contact us.
How to clasp a birthstone, when clasped as a secret stone on a handmade wedding band
When adding a birthstone to a handmade wedding band, our craftsmen will take the ring once the ring has been made by the couple.
Our craftsmen will add a birthstone as a secret stone and complete and deliver it to you in about an hour.
The secret stone is placed inside the wedding band in an indentation where the birthstone is placed, and the birthstone of your choice is placed on top. Four claws are then formed to hold the birthstone securely in place.
This is a difficult task, but it can be done by experienced craftsmen.
Price of birthstone
For MITUBACI, it costs 5,500 yen whether it is placed on the front or inside of the ring.
Generally, the market price for a secret stone seems to be around 5,500 yen.
In a Nutshell
We hope we have conveyed to you that there are many different ways to add birthstones to a handmade wedding band.
Birthstones are not required to be included, but are optional.
If you want the surface of the ring to sparkle, you can choose a diamond on the front, and if you want a calm wedding band because of your work, or if you do not like sparkles, you can choose a secret stone with a birthstone, depending on your lifestyle and preferences.
No two gemstones are alike.
There is a limit to how much color and brilliance we can convey on our website, so please come visit us at MITUBACI and see for yourself!
If you do, please consult with our craftsmen so that we can create a handmade wedding band that is uniquely yours!
Wedding rings handmade by ourselves with birthstone in secret stone.