What is the delivery time for an engagement ring? How long does it take to get it to me?
When you decide to propose, beautiful scenery and a bouquet of flowers are important, but you also want to have an engagement ring. So how long does it take for the engagement ring to arrive? Here is an overview of how long it takes for an engagement ring to reach you.
When is the engagement ring due and when should it be made in time for the proposal?
Let's look at the different types of engagement rings to see how long it takes to get your engagement ring.
Delivery time for engagement rings selected from ready-made and showcase
If you're buying a ready-made engagement ring, you'll need toTakes one to two months.Most of the stores are located in the area.
Engagement rings, even ready-made ones, are not always available immediately. This is a real misconception that a lot of people have. Unlike clothes or bags, rings, even ready-made ones, are not something you can take home the same day you go to the store. Most people buy engagement rings especially for the first time, and many people who do not normally wear jewelry buy them, so it is understandable that they do not know this, but it is important to be careful.
There are three main reasons why they cannot be brought back.
1. the items in the store are samples
2. nothing fits
3. engraving
For these three reasons, most stores specializing in engagement and wedding rings will not allow you to take them home on the day of purchase.
It takes time to size the engagement ring you choose and then engrave it.
For engraving only, the delivery time is one week in the shortest case, and about one month in the most cases. It is not uncommon for overseas brands to take longer than domestic brands, or to take from one to three months because they are flown in if they are not in stock in Japan.
In some cases, the store you visit may have the ring you want in stock. If you are in a great hurry, do not need engraving, are willing to sell samples in the store, and your size fits, there are stores where you can take the ring home the same day. If you are in a hurry, consult with the store.
If you think you can buy ready-made products right away, please be aware that even if you go to the store on a whim, the delivery will be made at a later date.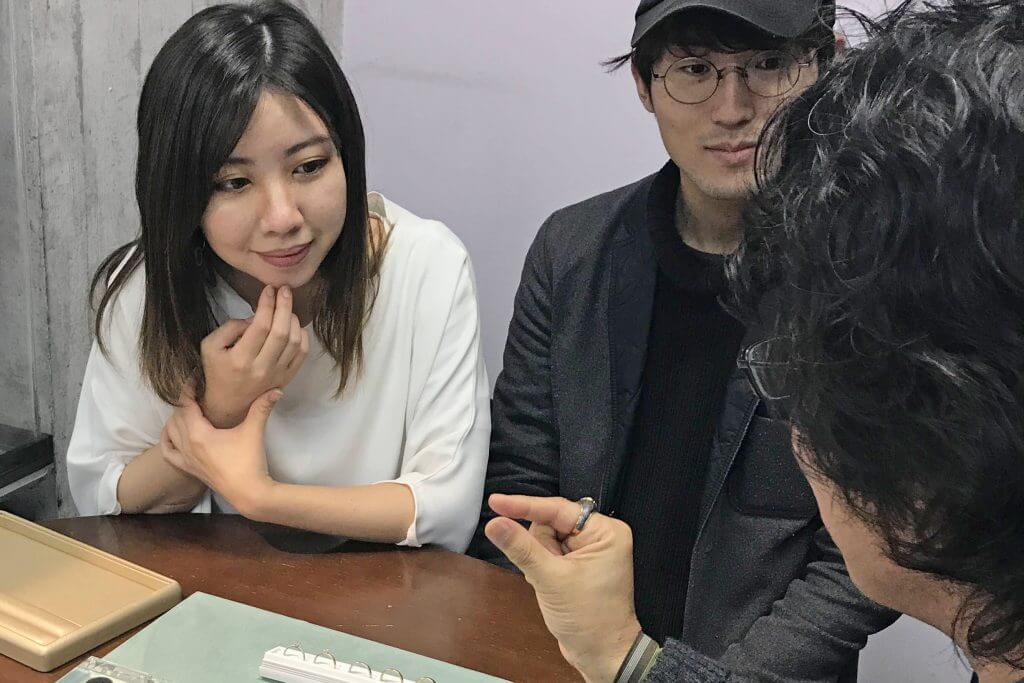 Delivery time for semi-custom and combination engagement rings
Semi-custom engagement rings until delivery.Takes one to two months.In many cases.
In this type of engagement ring, the customer selects an engagement ring of his or her choice from a list of pre-designed rings, then selects diamonds and the type of metal (type of base metal) within the range of designs that can be made with that design, and creates and orders any combination of rings he or she likes.
Platinum is the most popular base metal (jigane), but pink gold and yellow gold engagement rings are also popular, as are fashion rings, which are easy to use on a daily basis.
Depending on the design of the engagement ring, the size (carat weight) of the diamond can be changed, or a small diamond called a melee diamond can be added next to the main large diamond. In Japan, most stores offer diamonds in sizes as small as 0.2 carats, and only a few offer semi-custom engagement rings with 1- or 2-carat diamonds.
Some products can be personalized with a birthstone, called a secret stone, inside. It would be nice to have your partner's birthstone or even a blue sapphire as one of the "something blue" stones.
Semi-custom engagement rings are an easier challenge than full-custom engagement rings and can add originality to your engagement ring depending on the combination. Since you decide on the combination you want when you place your order, there is no need to make multiple trips to the store. This system makes it easy for even busy people to order.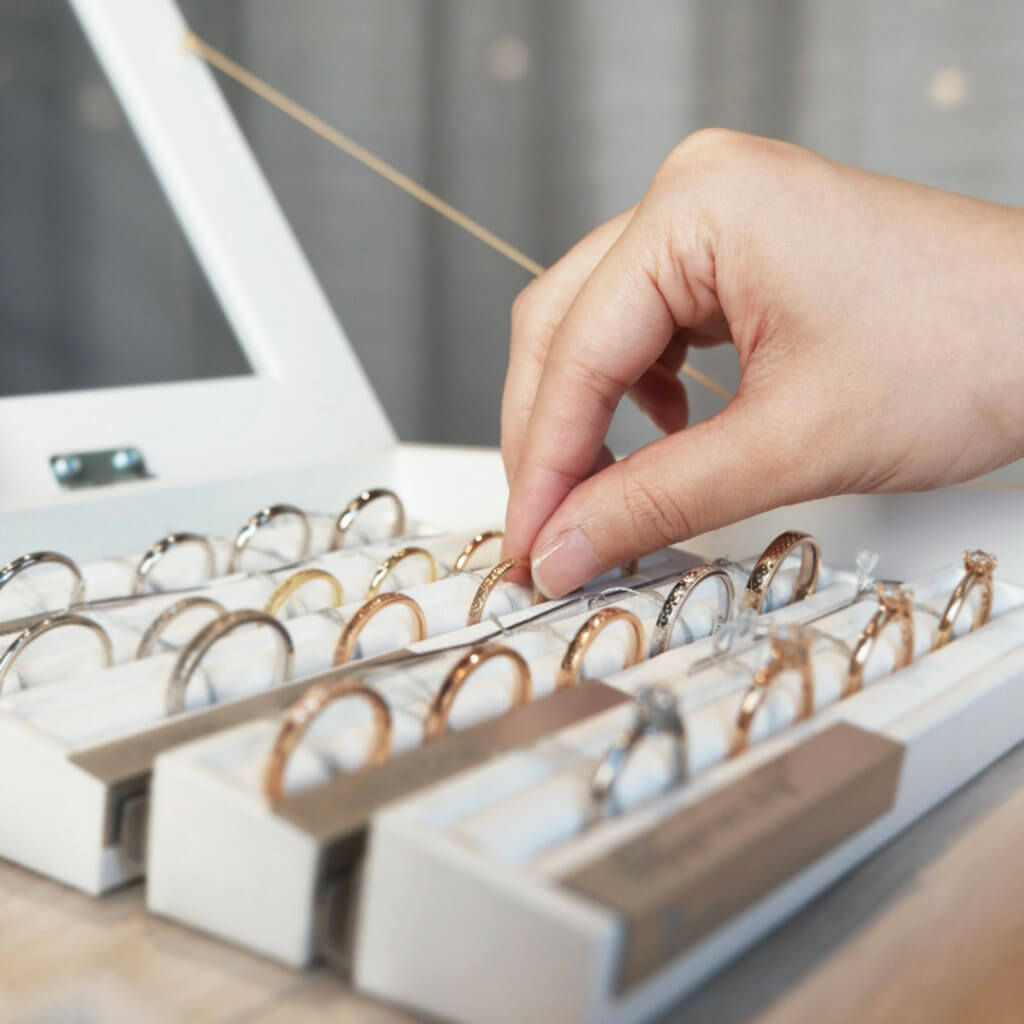 Delivery time for engagement rings that are 100% custom made and designed and made to order.
For a full-custom engagement ring, it usually takes two to three months from the time of order to delivery.
Full-custom engagement rings take time to order as well. It may take a month or two to order as well, since the order is made after meeting with the designer, confirming the design, and checking the diamonds.
All together, it takes a minimum of three months and a maximum of six months to a year from the time you first visit the store to the time you receive the finished ring. Since there are many opportunities to visit the store, it is not recommended for busy people.
It will take more time, but it will allow you to create your ideal, one-of-a-kind engagement ring. You can order an engagement ring with a large diamond of 1 carat or more, which is often seen overseas. This will satisfy those who prefer a glamorous look. Even if the design is simple, an engagement ring with colored diamonds, such as pink or yellow diamonds, which are rare, will be a special engagement ring that will not be shared by others.
Engagement rings that incorporate the couple's memories into the design, such as a design of their favorite airplane or a design inspired by the sunflower fields they visited together, are also wonderful.
Delivery time for handmade engagement rings and one-of-a-kind rings
Handmade engagement rings have the shortest turnaround time of all the ones we have seen. The shortest turnaround time is the same day, but depending on the store, it may be difficult to finish and deliver the ring on the same day, so it is best to allow one to two weeks to receive the ring.
At MITUBACI, you can take it home the same day you arrive.
The ring part, which is the base of the engagement ring, is made by the customer. It takes approximately three hours to create the ring. Even if you have never made a ring before, our skilled craftsmen will be happy to assist you.
The process of fastening the diamond to the ring itself, known as "Ishidome," requires the skill of a craftsman, but since MITUBACI has professional craftsmen on hand at all times, the ring can be delivered on the same day if you allow 30 minutes to an hour. This is also a good option for those who are in a hurry.
You can wait in the workshop or go out to eat.
Of course, we recommend handmade engagement rings for those who want their partner to wear a one-of-a-kind engagement ring that they made themselves, but we also recommend handmade engagement rings for those who want a quick delivery, but need a proper engagement ring in a hurry.
'I booked restaurants and bouquets for the proposal because I thought I could afford it right away.'
We're meeting both of our families this weekend, so I need an engagement ring right away."
Surprisingly, there are many people who want to prepare engagement rings as soon as possible, such as
Click here to learn about our handmade engagement ring course.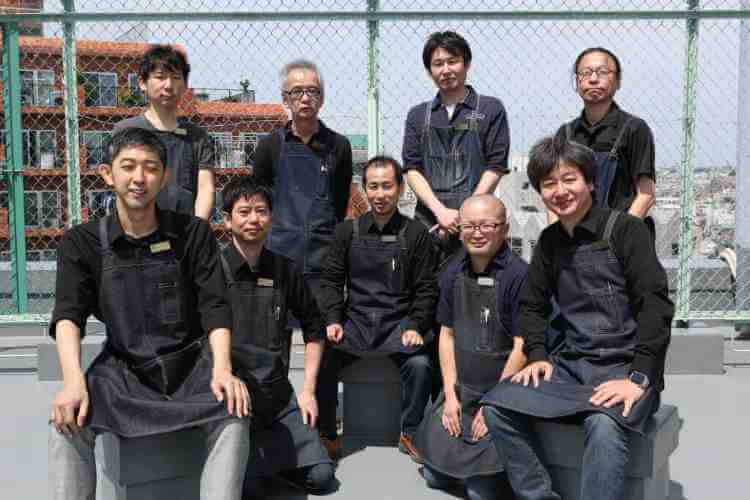 Preparation before preparing the engagement ring
I know how long it takes to get my engagement ring after ordering it, but can I just go to the store out of the blue?
There are a few things you will need to do before ordering, so be prepared to do a few things before you go out.
Size Confirmation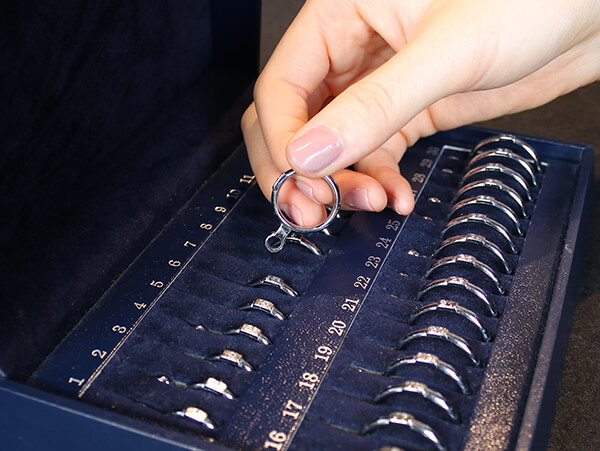 To purchase an engagement ring, you need to know your partner's ring size. Since engagement rings are usually worn on the ring finger of the left hand, check the size of the ring finger of the left hand.
They come in different sizes for left and right hands, too, so be careful if you're preparing a surprise!
For the same ring finger, the size of the dominant hand is often larger. For example, a right-handed person may have a size 11 ring finger on the right hand, but a size 9 ring finger on the left hand. It is common for the same person's ring finger to differ by about two sizes.
The most reliable way is to go to the store with your partner and have your finger size measured on the spot.
At the store, you can be assured that a professional engagement ring stylist will actually take your measurements.
MITUBACI's handmade engagement rings are made by measuring the ring size on the spot and matching the rings during production, making it possible to create a perfectly sized engagement ring.
We can also make half-size engagement rings in increments of 0.5, such as size 8.5. We can also make rings that are slightly larger than size 10 or just over size 11, which are hard to figure.
However, if you do not go to the store with us, cannot go to the store with us, or if it is a surprise, you may measure it yourself.
To measure the size of a ring, a tool called a "ring gauge" is used. Recently, you can buy one on the Internet. However, some ring gauges are not very precisely made, so if you use a ring gauge that you purchased yourself, we recommend that you bring it with you to the store.
You can determine the size by comparing the ring gauge used in the store with the ring gauge at hand.
If you can bring the ring your partner is wearing to the store, you can also use that ring to determine the size. Most stores have a "size stick" to measure the size of the ring. You can find out the size of the ring by having the size of the ring measured with a size stick.
MITUBACI offers free rental of ring gauges.
Click here to contact MITUBACI
Click here to see the results of measuring the size with something you have on hand other than a ring gauge.
Confirmation of preferred style
You may be the one who buys the engagement ring. However, it is your partner who will wear it. Make sure you know your partner's preferred style, design, and needs before you go to the store.
The design is the most difficult part. If you usually wear simple, cool clothes, it may be difficult to use an engagement ring with a cute motif such as hearts or ribbons. On the other hand, some people want to try a different style because of the engagement ring. If you have a chance to talk with your partner, try to secretly research them.
Perhaps your partner has a brand that you have always admired. Some people have a very specific image of this brand and this design someday, so in that case, let's try to fulfill your partner's wishes as much as possible.
Confirmation of engraved contents
Inside engagement rings can often be personalized with a message or initials. If there is a message or date you really want to include, choose an engagement ring that can be engraved. The length (number of letters) of the engraving depends on the store, type of ring, and size. Since engagement rings are often designed to be delicate, the number of characters is often limited. If you are particular, you may want to confirm this by e-mail or phone in advance.
MITUBACI handmade engagement rings can be engraved free of charge if the customer chooses to do so themselves. In addition to free engraving, we also offer laser engraving and laser engraving with handwritten messages or data. If you have a logo mark that you have designed together, please consult with us.
Click here to contact MITUBACI about engraving
In a Nutshell
We have found that buying an engagement ring takes a surprisingly long time. If you have plenty of time and want to have a special engagement ring, consider a full-custom engagement ring. If you want to give a one-of-a-kind engagement ring that you made yourself or are in a hurry and just need an engagement ring quickly, consider a handmade engagement ring.
An engagement ring is a once-in-a-lifetime purchase. We hope you find the perfect engagement ring for you and your partner, including the delivery time.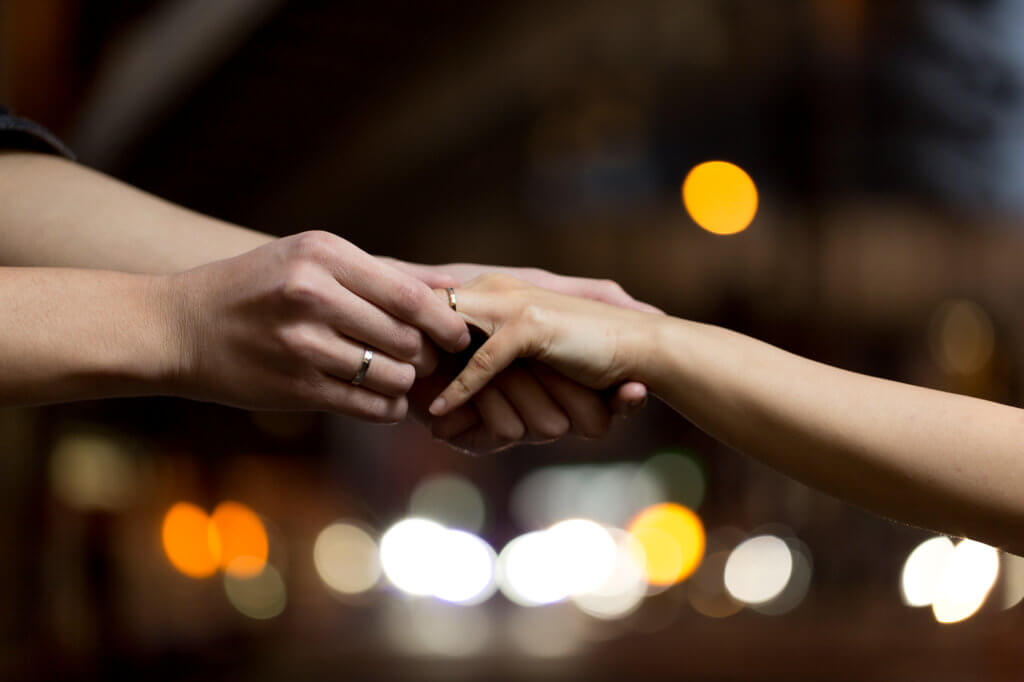 MITUBACI.BOOK NOW
MITUBACI Frequently Asked Questions
What is the delivery time for an engagement ring? How long does it take to get it to me?