Recently, there have been more handmade jewelry workshops opening.
Budgets generally range from 80,000 yen to 120,000 yen for a pair.
The price for a pair of handmade wedding bands usually depends on the amount of metal used. As such, the cost for wedding bands which are thinner in thickness and width are a lot cheaper.
At MITUBACI, the width of our wedding bands start from 1.7mm onwards. This ensures the durability of your jewelry even when worn for long hours every day. Our thinnest ring, Accent, starts from ¥59,400 per ring, while a pair costs ¥118,800.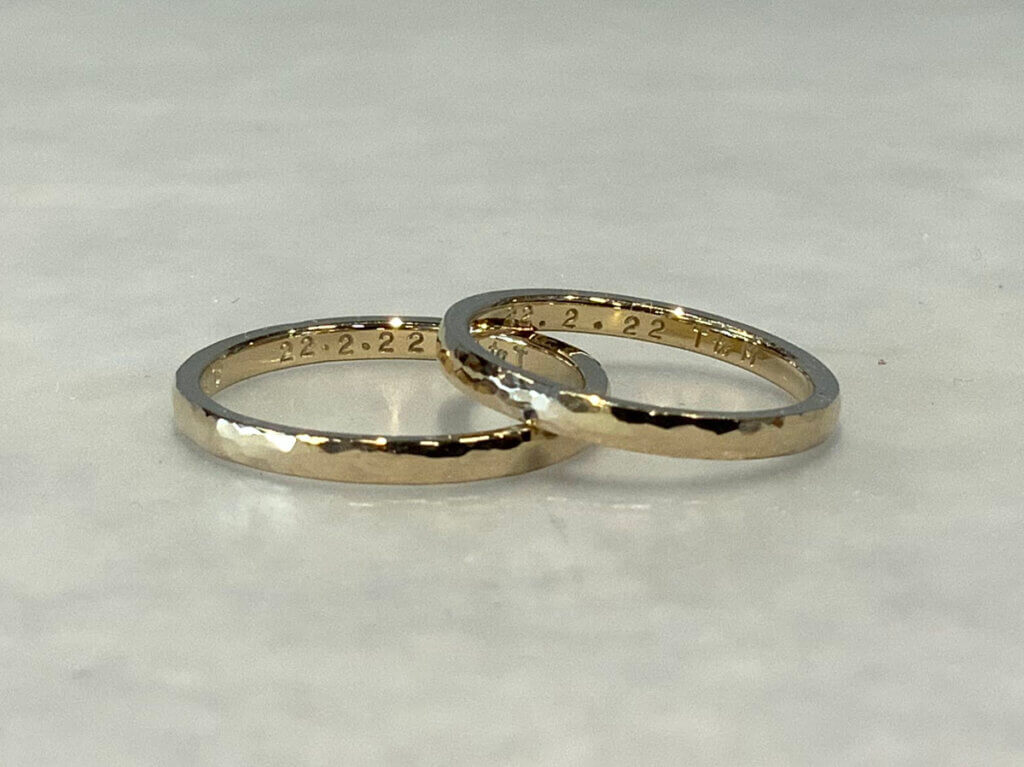 The Accent ring, while slender, feels sturdy when worn.
Your choice of material and texture of the jewelry, manual hand-engraving with metal stamps or the engraving machine, and the fluctuation of precious metals' market pricing do not incur additional costs.
We will do our best to ensure that you are informed of the cost before your visit.
If your budget is in the ¥80,000 range, you might want to consider opting for widths of up to 2.5mm.
Our 2.5mm width bands start from ¥77,000 per ring. Adding on diamonds or a secret stone on the inner band will cost an additional ¥8,800. The final cost will end up being ¥94,600 even if you opt for both.
Alternatively, you can opt for the senban finish as well.
A machine known as a lathe is used to achieve the senban finish. This gives the ring an even and high quality finish.
The cost of this add-on differs on the finish, but for simple finishes like Oval, Alps, and Male costs an additional ¥5,500.
Please do not hesitate to let us know your budget. We will do our best to assist you in making your dream wedding bands.
Handmade wedding rings made on a budget of 80,000-120,000 yen