Recently, more and more people, both men and women, are getting married at the age of their choice and in their own time. Also, when we talk to some of our customers, we find that a certain number of them are looking for wedding rings even if they have not just gotten married, because they lost theirs or did not buy one when they got married. Many of these customers are in their 40s, 50s, and 60s. However, I have the impression that the number of wedding ring websites that cater to people in their 40s, 50s, and 60s is small compared to the number of people looking for a wedding ring. This article is intended as a reference for those in their 40s, 50s, and 60s who are looking for wedding rings.
What kind of people are looking for wedding rings in their 40s, 50s and 60s?
The following customers who have visited MITUBACI and have spoken with us are in their 40s, 50s, and 60s and are looking for wedding rings.
I was just about to get married.
I didn't buy it when I got married because I didn't think I needed it.
When I was old enough to get married, I didn't have much income, so I didn't buy it.
When I got married, I thought everything was fine and chose the right things.
I liked it when I was in my 20's and bought it, but I don't like it so much now.
I lost it.
The size no longer fits and I was told at the store that it cannot be resized
We know that you have come to the store with many different thoughts and feelings.
MITUBACI mainly offers workshops that you can take home on the day of the workshop, but you can also contact us in advance by e-mail or LINE, so please feel free to contact us even if you are shy about discussing in person or don't have time to go to the store.
Find your first wedding ring.
If you are looking for a wedding ring for the first time because you decided to get married or have been married before but did not purchase a ring, you are looking for a wedding ring. You may be looking for a wedding ring, but you may not know where to look for one that you and your partner will like from among so much information. If so, please take a look at this page.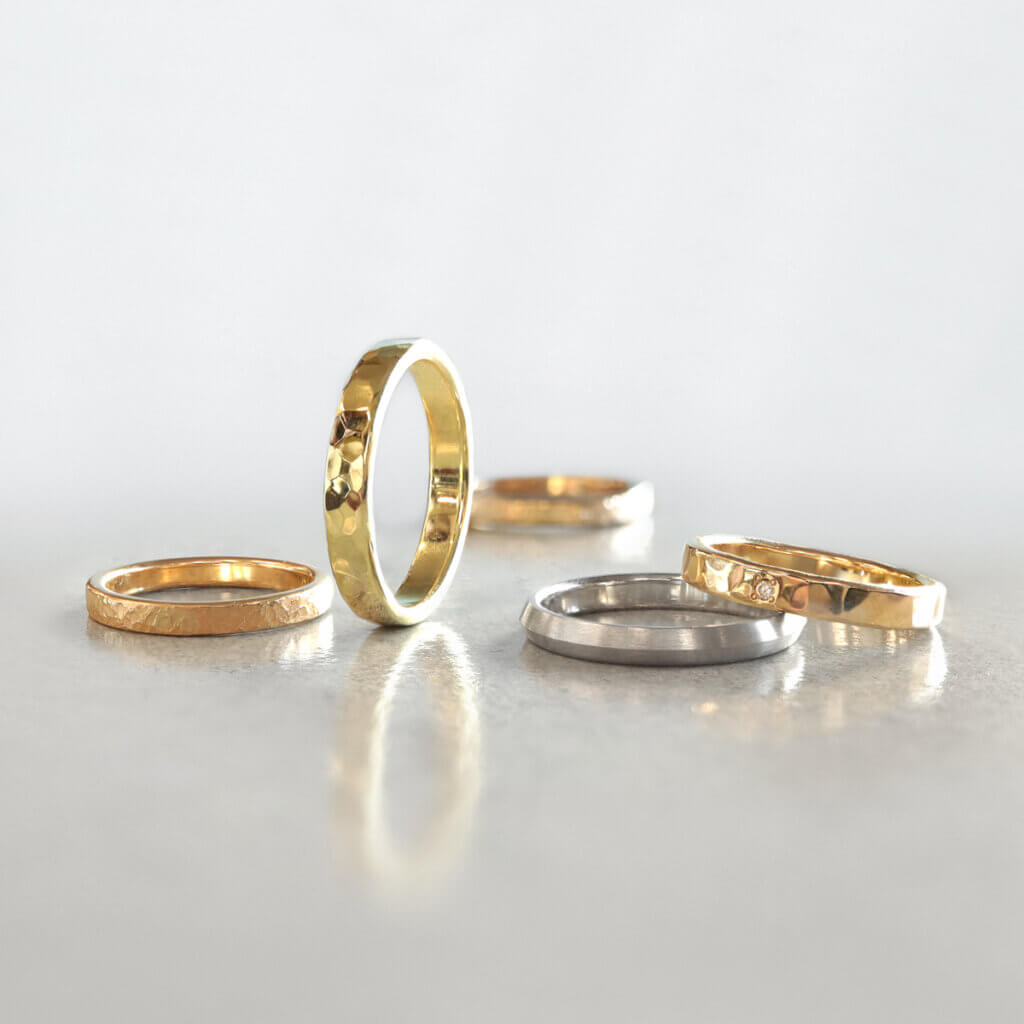 Look at bridal rings from your favorite brands.
Most jewelry brands offer wedding and engagement rings.
Although available, many stores have separate showcases or sales areas from fashion jewelry, so even if you like the brand and frequent the store, you may not see much if you are not considering bridal jewelry. Hopefully you will find bridal jewelry that you can like in your favorite brand, but if it doesn't feel quite right, consider other options.
Find at bridal jewelry specialty stores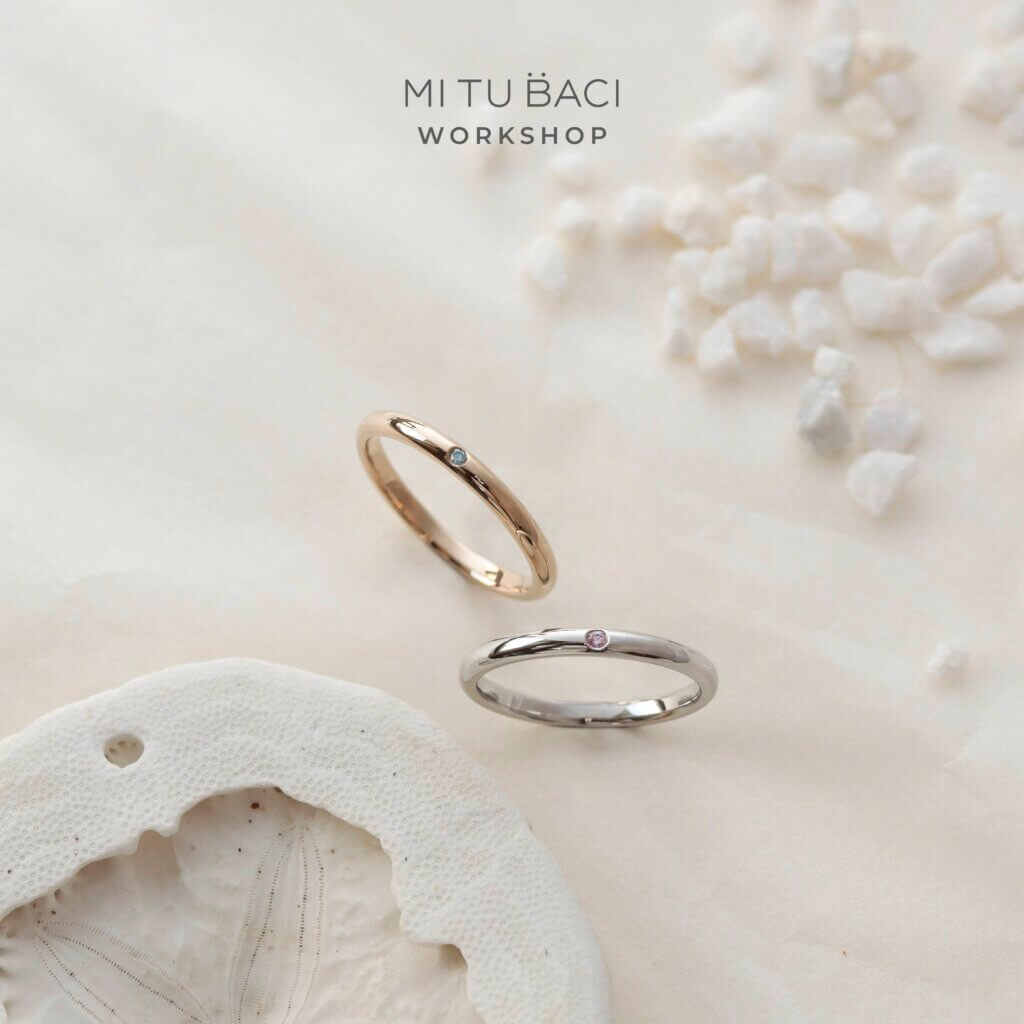 There are jewelry stores in Japan that specialize in bridal jewelry. Even if you are a jewelry lover, you are not likely to stop by these stores unless you have a wedding occasion.
Bridal jewelry specialty stores have a proven track record of providing wedding rings to a wide range of customers, so they can be trusted to follow up on deadlines, maintenance, and other issues unique to bridal jewelry.
Some bridal specialty stores offer private rooms or allow you to order online, so if you are uncomfortable going to a store and being served in the presence of other couples, please inquire.
Handmade wedding rings made in a handmade wedding ring store.
If you don't have a particular brand you like, and rings from bridal specialty stores don't ring a bell, we recommend handmade wedding rings.
Handmade wedding rings are the best wedding rings because you can also enjoy the process of making the rings.
MITUBACI is especially recommended for those who prefer a simple but well-made handmade wedding band. Forged rings are smooth and beautifully crafted. Since the rings are made with professional craftsmen who have been making wedding rings for many years, there is no need to worry about quality. Our craftsmen will help you with the difficult parts, so please feel free to visit our store.
If you are concerned about the eyes of other customers, we have private rooms available.
For more information about MITUBACI's private rooms, please see this article.
Looking for a second wedding ring, second time to look for a wedding ring.
If you have the first wedding ring on hand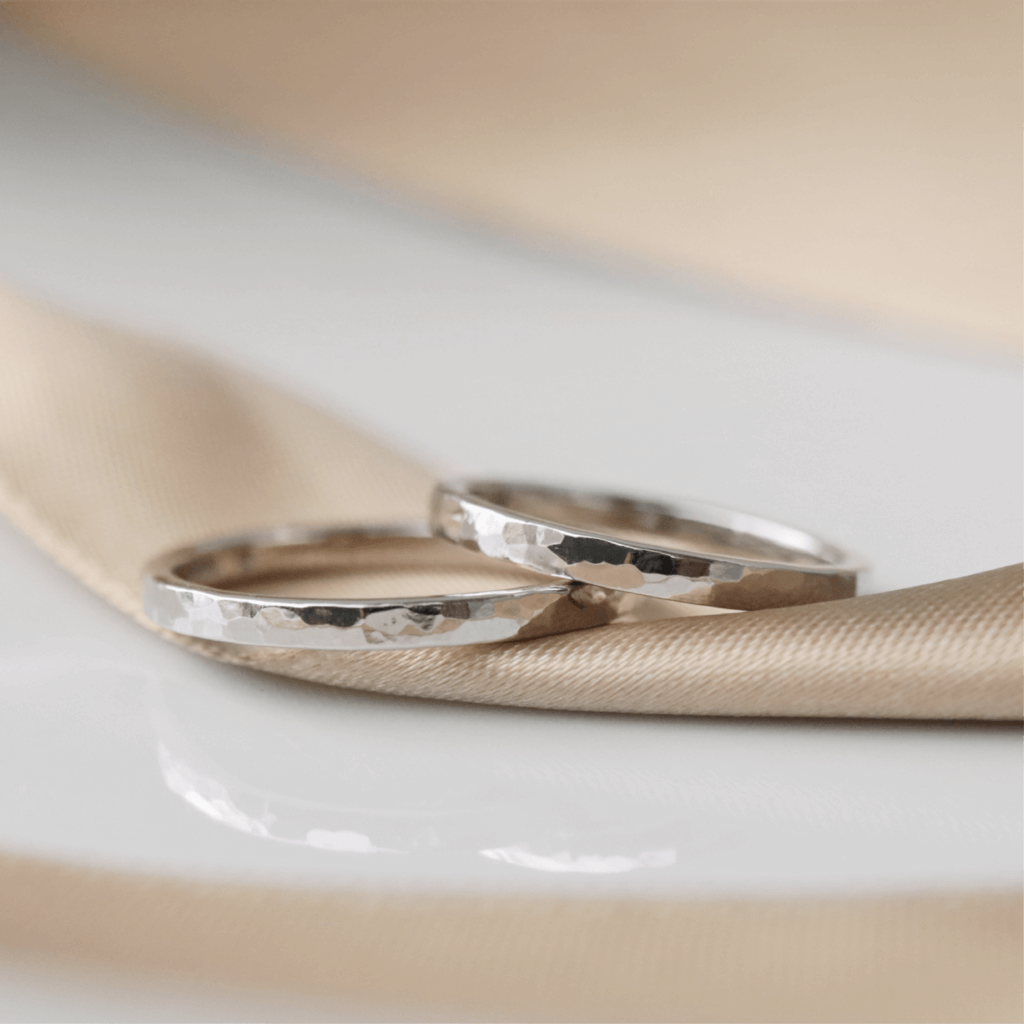 Find rings that can be stacked.
If your partner has lost it, or if you have a wedding band that was purchased 20 years ago but need a new one, consider a slim wedding band that can be stacked with the first one.
It is also recommended to keep the existing wedding band and add volume and brilliance with a new ring.
Simple, slender and straight rings are easy to stack.
MITUBACI recommends the thinnest 1.7mm width ring.
Find a ring to wear on the ring finger of the right hand.
If this is your second wedding band, you can try wearing it on another finger, not just the ring finger of your left hand. The recommended finger is the ring finger of the right hand. In Germany and Spain, they wear the wedding ring on the ring finger of the right hand. (I learned this from a German customer).
If you are going to wear it on the ring finger of your right hand, you can look for a design that you like as much as you like.
MITUBACI's sparkling hammered patterns and foresta can be made in a thicker width and in your favorite gold color to create a special and wonderful ring.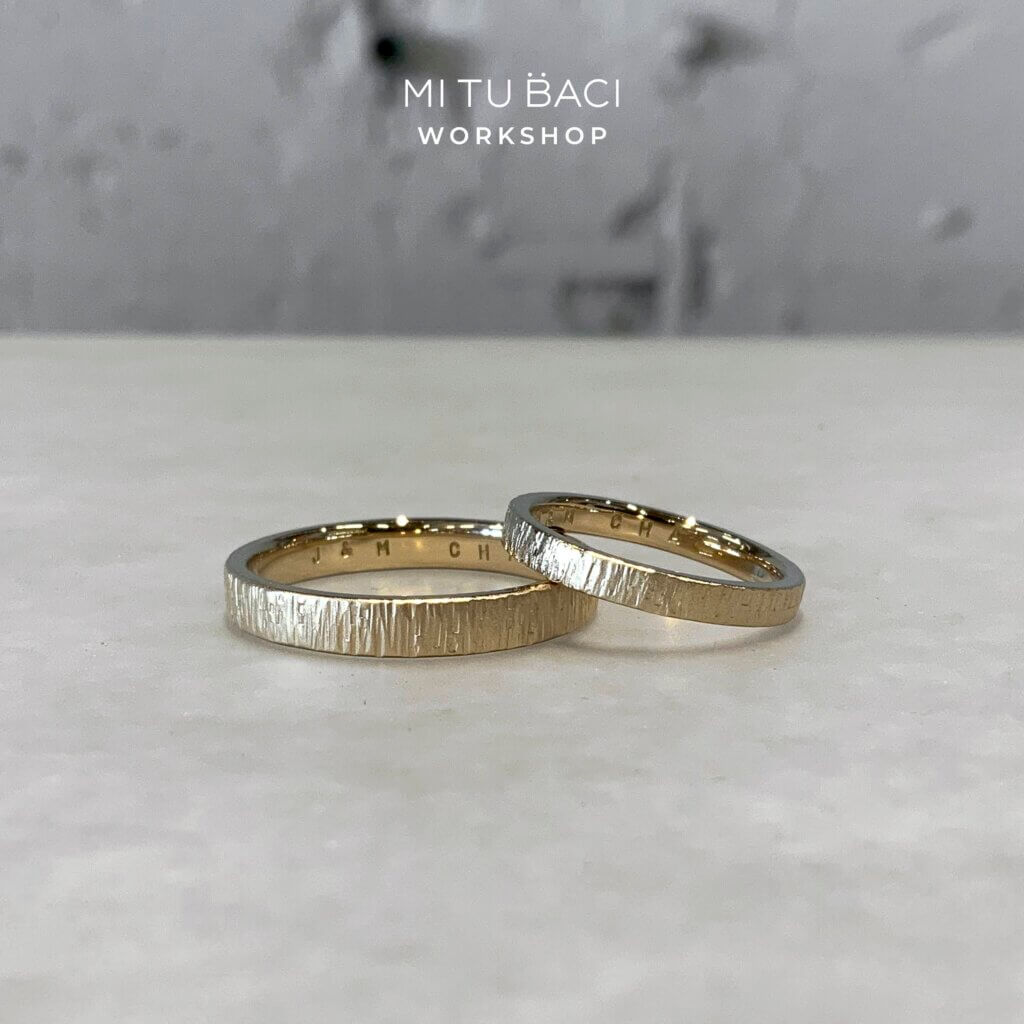 If your partner doesn't have a particular need for a second ring, we can book a reservation for one; we think it's fun to make one ring for two.
If the size does not fit or you have lost it
Inquire if the same ring is available for purchase.
In some stores, it is possible to purchase the exact same ring. If you have looked for the same ring, but still want the same one, please inquire at the store.
Find a ring that fits you now.
If you purchased your previous ring more than 20 years ago, we recommend that you look for a new ring that will suit you now.
Perhaps many of your favorite outfits and tastes have changed from when you purchased the product more than 20 years ago. Even if your tastes haven't changed much, what looks good on you has probably changed little by little. Please try to find the ring that best suits you now.
We also recommend handmade wedding rings to create a new, personalized ring.
Engagement ring and wedding ring budgets and annual income vary from person to person.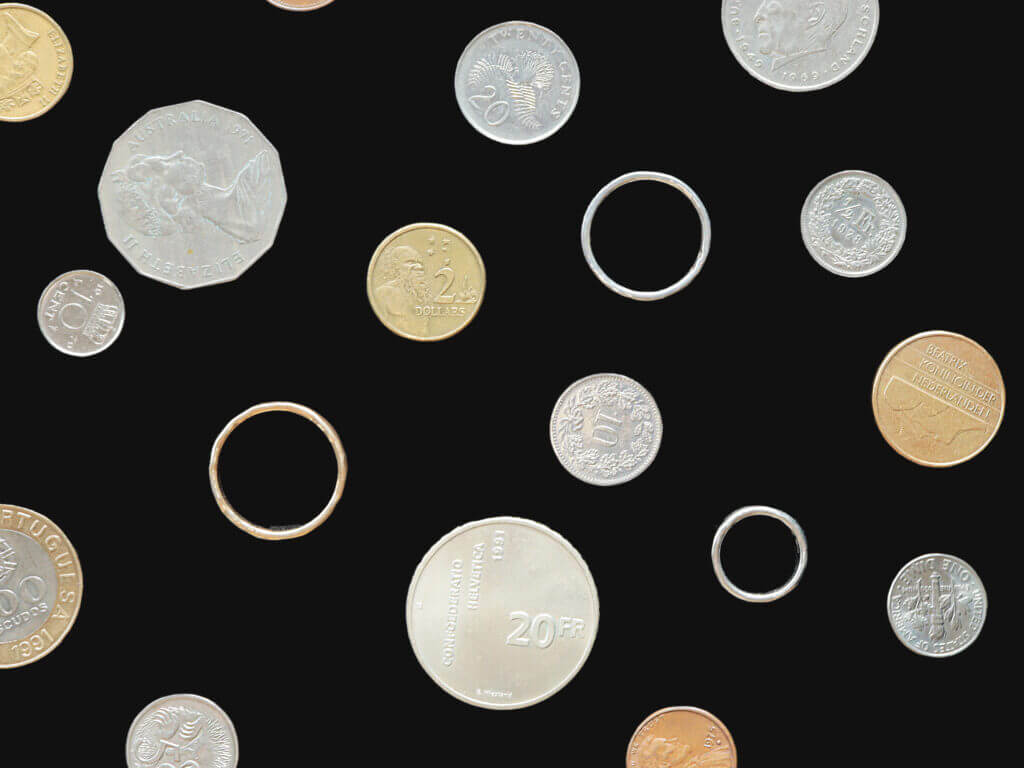 Three months of monthly income is a catch.
A decade ago, it was said, "An engagement ring is worth three months of your monthly income!" However, this is not a very good rule of thumb. The hurdle to proposing a marriage is much higher when you have to prepare three months' worth of monthly income. I think it is a good opportunity to discuss your budget for engagement and wedding rings with your partner, with whom you will be sharing your life, and to understand your attitude toward money.
There are some statistics that say that the budget for wedding rings should be a few percent of your annual income, but we recommend that you look at a variety of stores without worrying too much about this.
By looking at many stores and products, you will be able to get an idea of the designs and types you like and the approximate market prices.
Also, regarding annual income, I think that many people in their 40s, 50s, and 60s have an idea of what they spend on savings and jewelry, regardless of their income, so I hope that you will not be too influenced by statistics.
These days, many stores have prices available on the Internet, and if you don't see the price listed, you can often get the price by calling or e-mailing the store without going to the store.
Worried about the price of handmade wedding rings?
In some handmade wedding ring stores, the price of the rings is not indicated because the price is determined by the weight of the finished product or by the market price of the day.
MITUBACI wedding rings are priced by width, not by finished product. You can simulate everything on the web, so you know exactly what the price will be before you come to the store.
---
Thank you for reading this far, and I hope it helps those of you in your 40's, 50's and 60's who are looking for wedding rings.
Finding and handcrafting wedding bands in your 40s, 50s, and 60s is also recommended.