With outings restricted to prevent the spread of infectious diseases, a variety of things can now be done at home.
Workers can now work as teleworkers without having to come to work, take classes without having to go to school, attend lectures and live performances without having to go to the venue, and other things that were unthinkable a few years ago are now possible without leaving the office, thanks to communications technology and the ingenuity of those who provide them.
MITUBACI, located in Sangenjaya, Tokyo, also closed its workshops when the state of emergency was first declared.
We were very sorry to have to turn down a customer who wanted to make wedding rings, although we were closed.
Therefore, MITUBACI has created a kit that allows you to make MITUBACI's popular hammered wedding rings at home.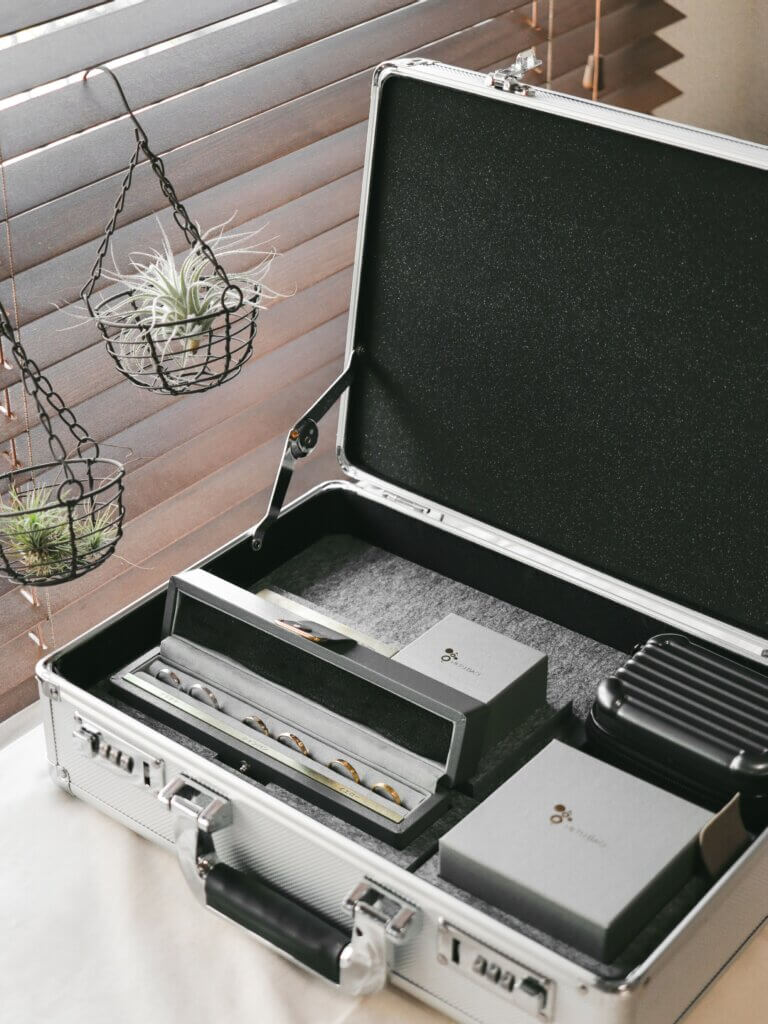 KIT'S CONTENT
When you order a handmade wedding ring DIY kit, you will receive one solid trunk.
It's a pretty heavy trunk with a lot of tools stuck in it, so watch out!
Handmade kit, 1st stage
The trunk is stacked in two tiers, with the first tier containing
Sample ring
Ring Gauge
Ring Case
Shipping slip for kit return (cash on delivery)
And there is a QR code for a how-to guide.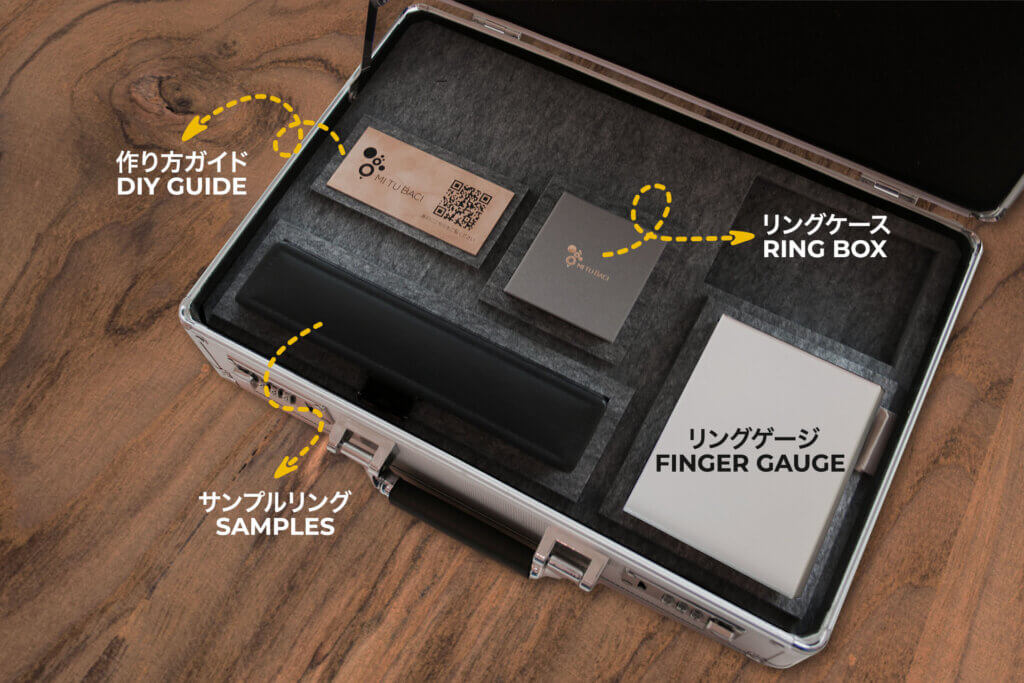 sampling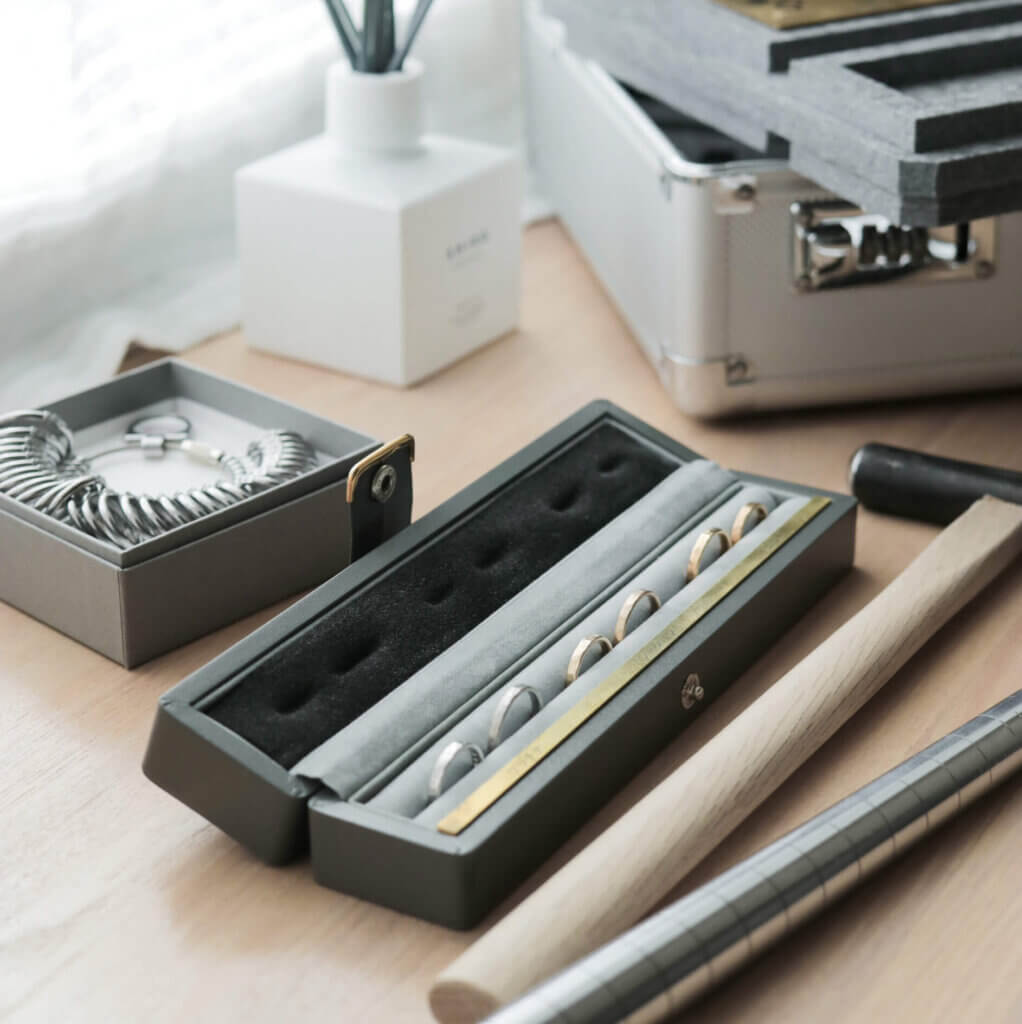 Sample rings are rings that are plated on silver rings, unlike the actual wedding band material, to give them the look of the real thing.
Samples of each material are available in glossy and matte colors.
ring case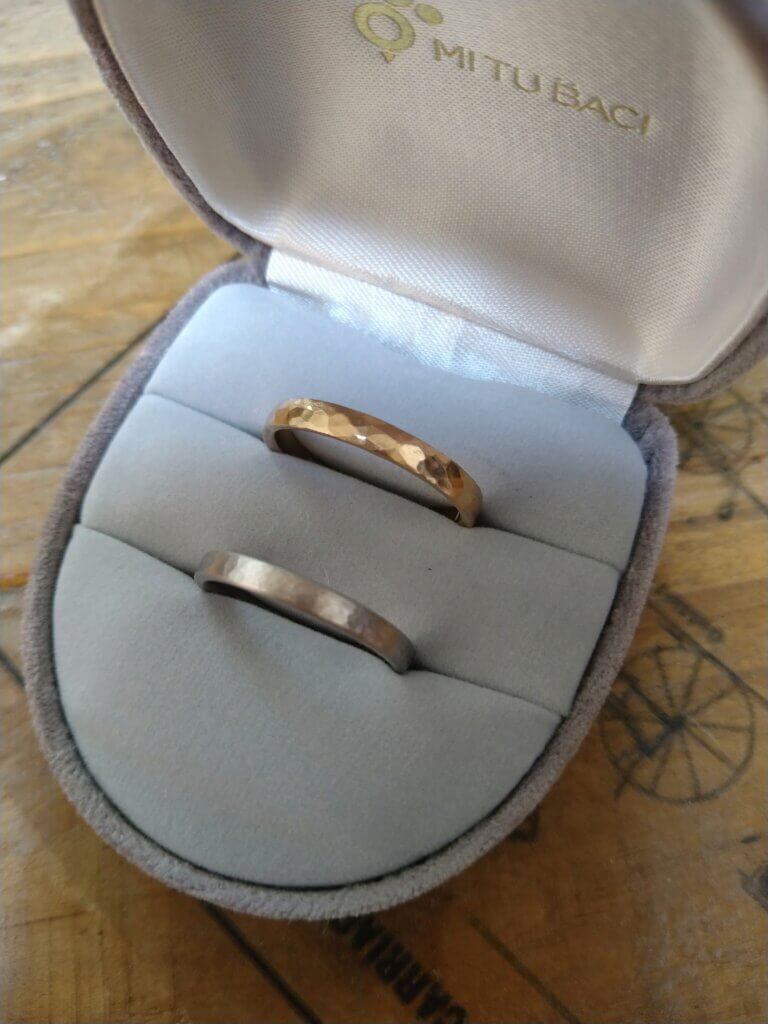 The ring case is a gentle gray case made of betsin material with the MITUBACI logo stamped in gold foil, a MITUBACI original case.
The inside is also a soft gray cushion to protect your precious wedding ring.
ring gauge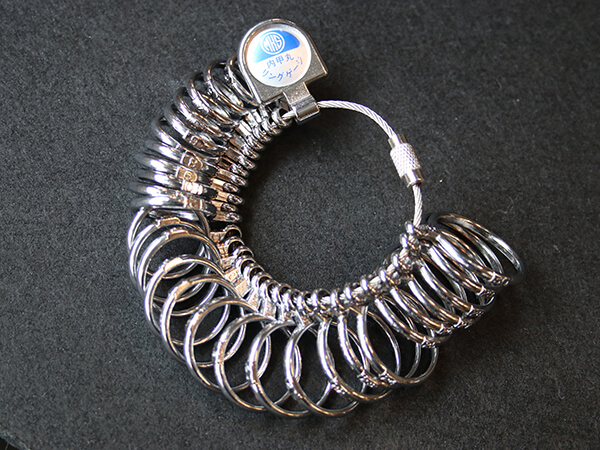 A ring gauge is a tool to measure your size. We recommend that you try it on more than once, as the thickness of your finger can change depending on the time of day and your physical condition.
Of course, there is a preference for comfort, but if you feel pain when gripping your hand in a "goo" shape, we recommend a slightly larger size.
On the other hand, if it slips out easily, it may lead to loss, etc. We recommend a smaller size.
If you are concerned about how to measure with a ring gauge, please contact us.
Handmade kit 2nd stage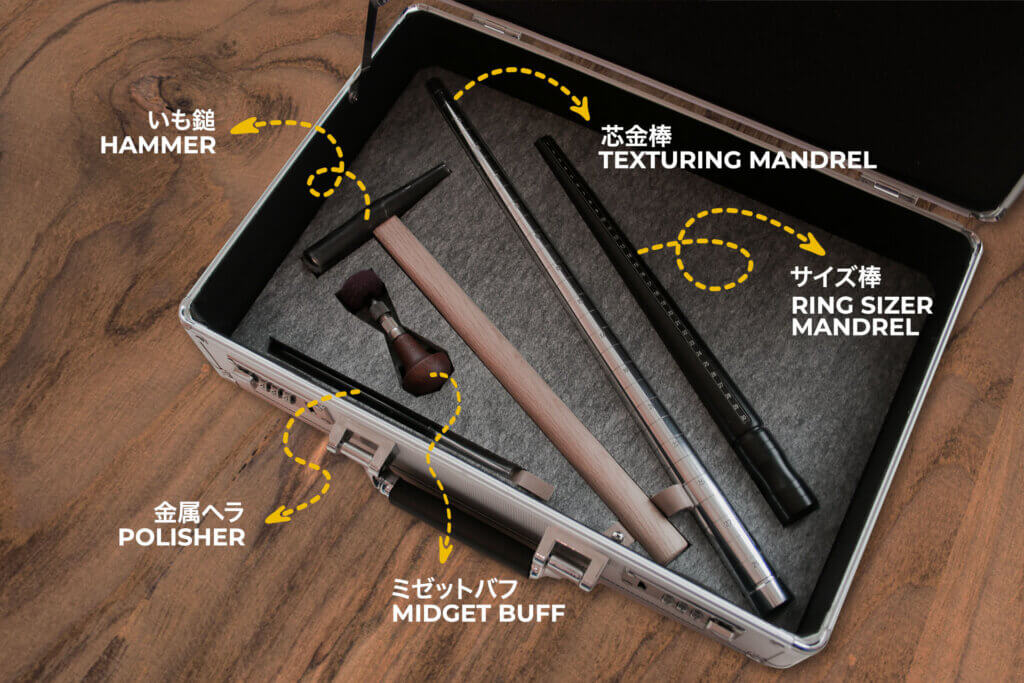 The second level of the trunk contains tools for making rings.
Size bar
Core bar
small wooden hammer used to hammer back numbers of times (from the Edo period onward)
Metal spatula
Midget Buffing
rod used to ward off calamities (usu. made of holly olive)
The core rod is the heaviest tool in this trunk. I was surprised at its weight when I held it for the first time.
The ring is passed through the ring and a hammered pattern is applied.
(speaking of) sweet-potato hammer
This hammer is used to hammer a hammered pattern on rings. It is a cute hammer with a smooth rounded tip.
metal spatula
A metal spatula is used to achieve a glossy, shiny finish. Be careful with the pointed tip.
midget buff
Midget buffs are to be used for matte designs. It has a small trowel-like object attached to the tip. If you want a glossy finish, you will not need to use it.
Popular hammered design
Surface finish is hammered pattern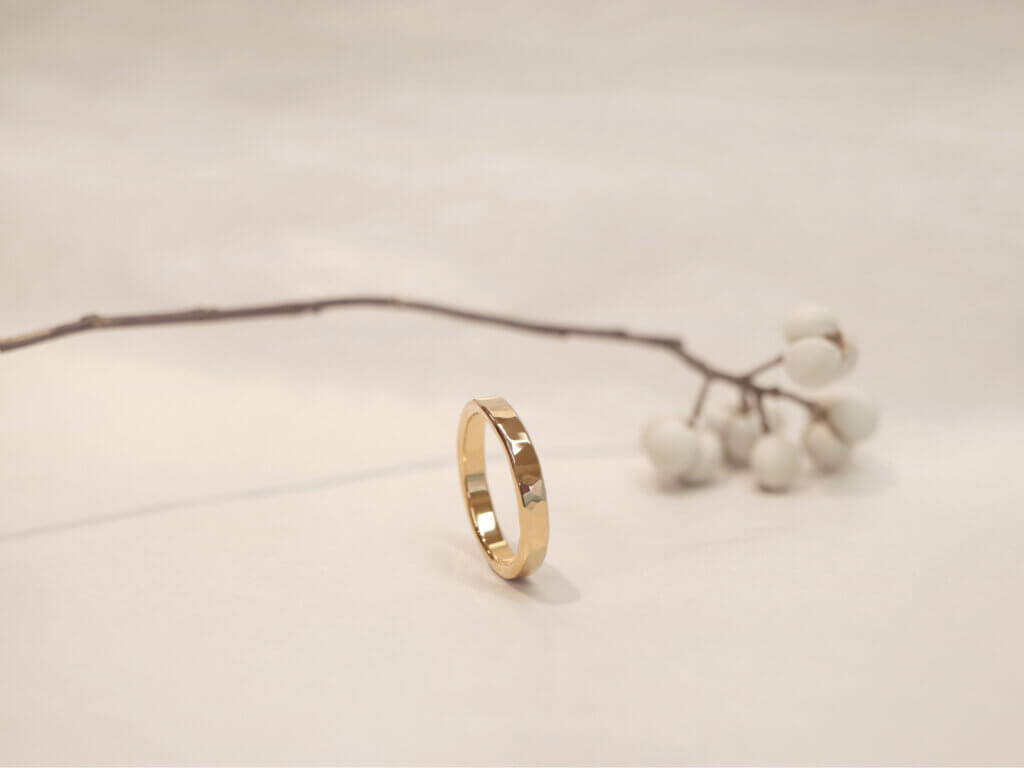 Available in a handmade DIY kit is a hammered design.
This is MITUBACI's most popular design, which sparkles and reflects light diffusely. We will deliver a plain ring made of the material you ordered to your home, and you can hammer in the hammered pattern yourself using the hammering hammer included in the kit.
Ring width is popular "standard" 2.5mm width
The width available in MITUBACI's handmade DIY kits is the "standard" 2.5mm width. This is the most popular width and not difficult to make.
Please consult with us if you require other widths.
Three materials to choose from: platinum and gold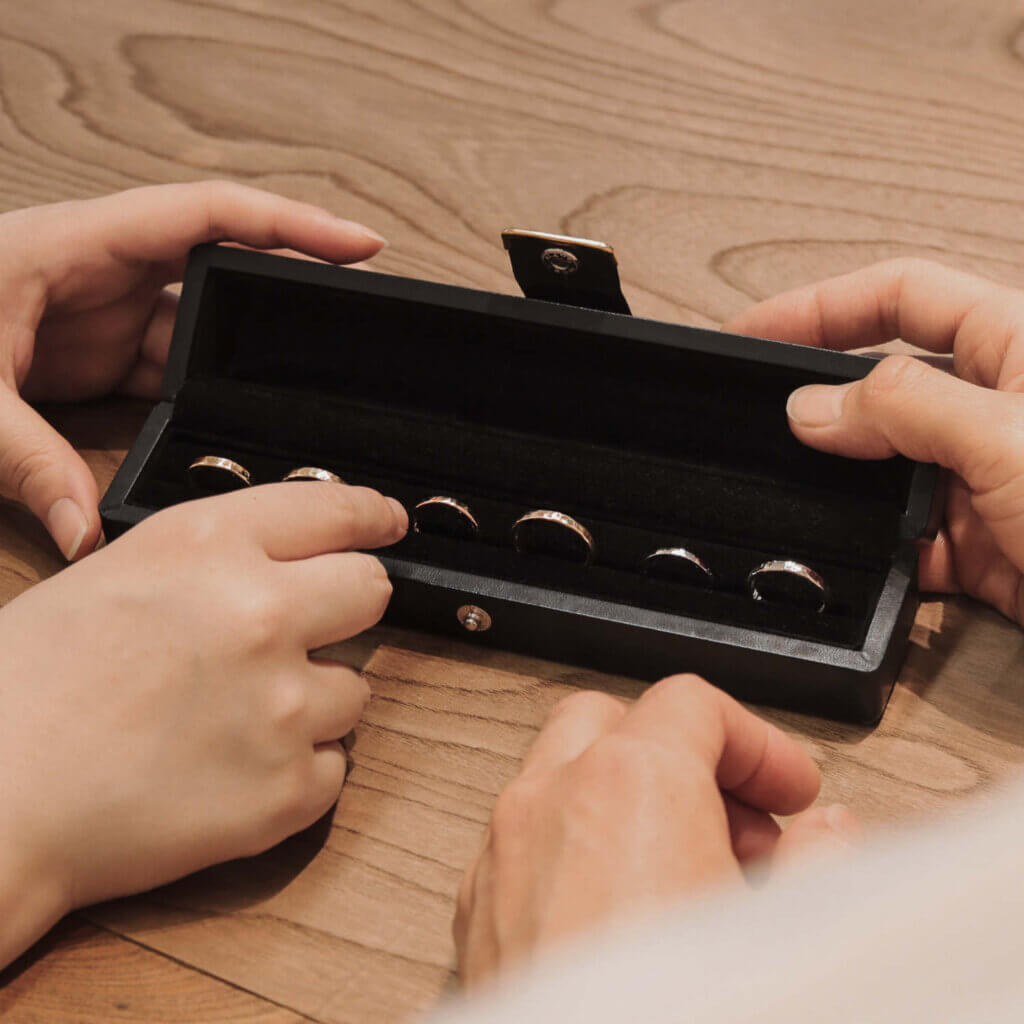 There are three materials to choose from: Pt950 platinum, K18 yellow gold, and K18 champagne gold.
It does not have to be the same material as your partner. Each of you can choose the one you like best. Even if they are made from different metals, they can be finished with the same hammered pattern to give a matching look. We will send you a sample ring first, so please check it and discuss it with your partner.
Reliable forging process
As in the workshops held at MITUBACI's store, the wedding rings in the kits are made using the forging method.
Forged rings are stronger than cast rings because the metal is forged.
For more information on the forging process, please contact here.⠀
Engraving of rings
We offer free engraving on the inside of the ring. We offer two types of engraving: handmade, hand-applied engraving, or machine engraving, which is done with a retro machine.
*Unlike stores, hand-engraving is done by a craftsman before delivery.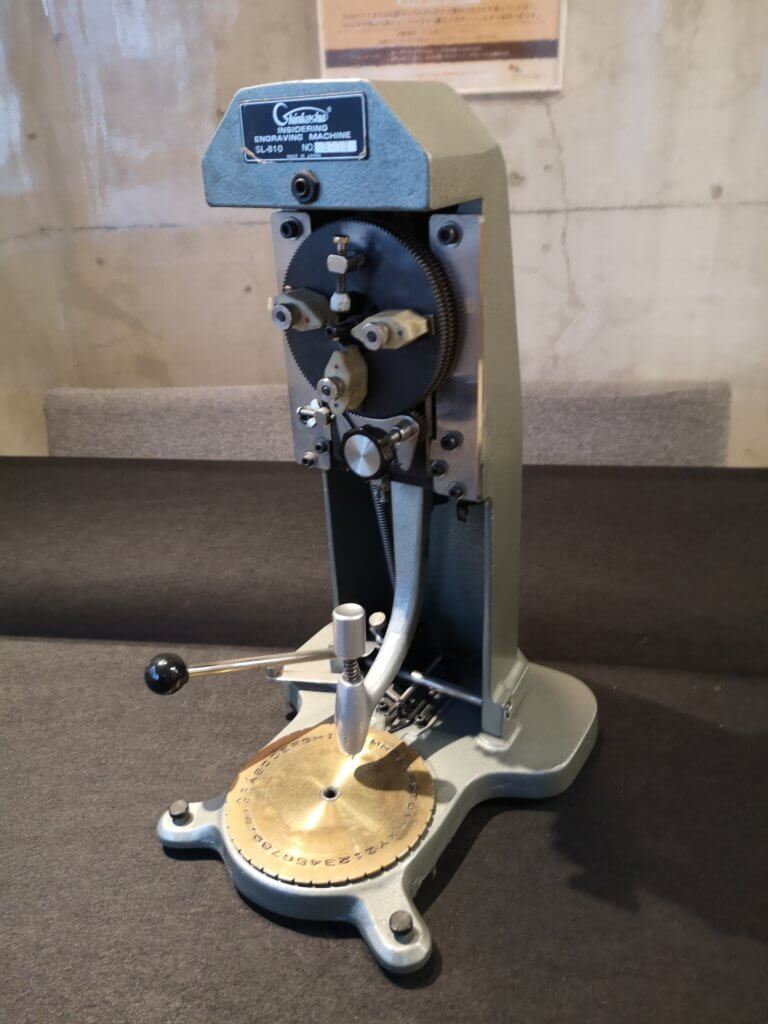 Amount is with the store.
The price is the same as if it were produced in a store.
How To Use Our Jewelry-making Kit
Our handmade wedding ring kits are easy to make in three easy steps.
1. order a kit
2. inform size and material
3. making the ring
Completion!
1. order a kit
Order a handmade wedding ring DIY kit from the MITUBACI website. The kit (trunk) will be shipped within 5 days of your order. Again, be careful, it's heavy!
2. inform the size, material, and engraving details
Please look at the sample rings in the trunk you received and let us know the material you want. A ring gauge is also included in the package, so please let us know your size as well. At the same time, please let us know how you would like the text engraved and the contents of the engraving. We often receive requests for dates and initials as the engraving content.
We are often asked, "How many characters will fit?" We often receive inquiries such as "How many characters can I put in the ring? Please consult with us individually as it depends on the size of the ring and the engraving method.
3. making the ring
We will ship plain rings in mini-trunks within 5 days of your contact. The plain rings we send here are made to be hammered. Therefore, the rings are made smaller so that they can be hammered and gradually stretched to the desired size. Please watch the video on how to make it as you make it.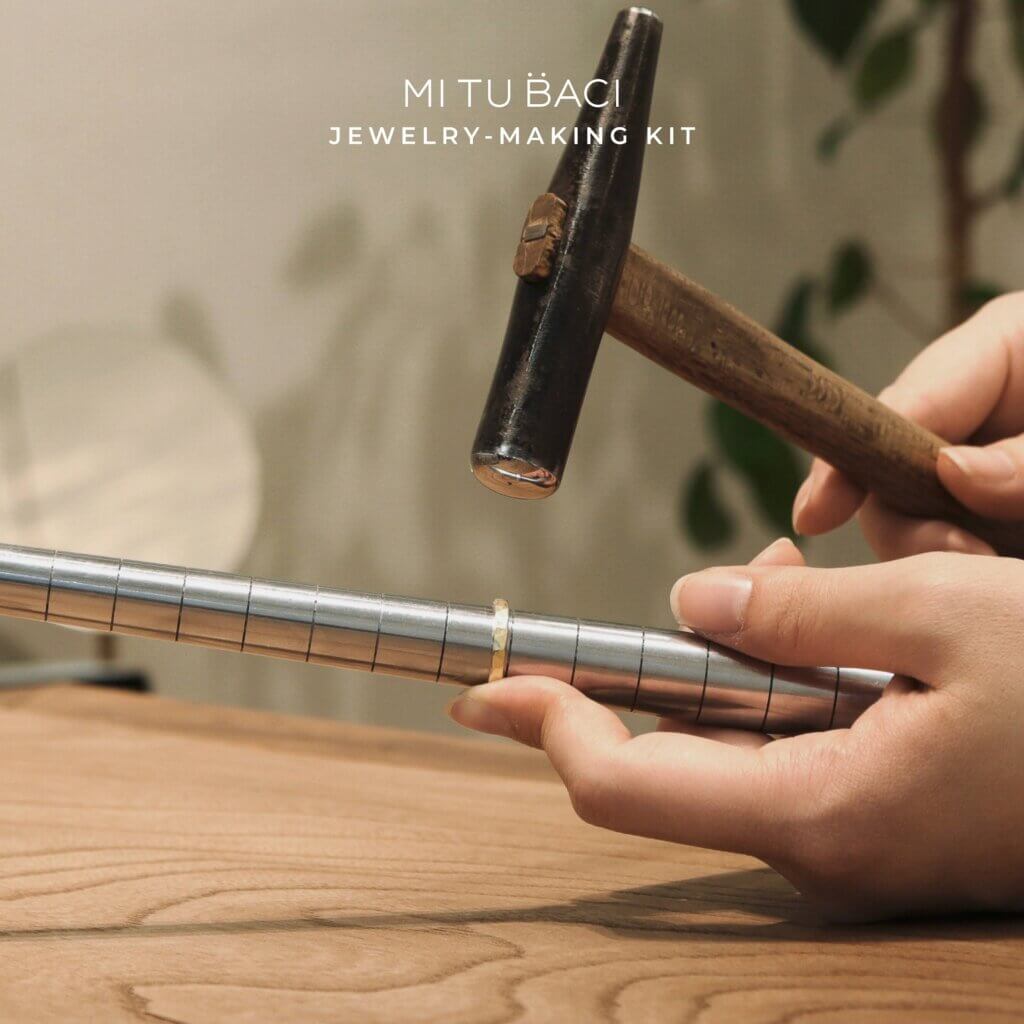 When the ring is ready, please return the trunk with the enclosed freight collect slip.
Don't worry if you make a mistake.
We try to remove as much as possible the elements of failure from our kits, but in rare cases, we may have oversized the kits.
If this is the case, please contact MITUBACI immediately. If it is difficult to communicate only by phone or by e-mail, please feel free to contact us via zoom or other means of image and voice sharing.
after-sales service
MITUBACI wedding rings are covered by a perpetual warranty. As with all our store creations, the first time you have your ring resized is free of charge. We will also lend you a ring gauge, a tool to measure your size, free of charge. Please feel free to ask us about cleaning and daily care.
Customer Reviews
Here are some customers who actually made rings with MITUBACI's handmade wedding ring kits.
Customer Review: Make-from-home Hammered Texture Wedding Bands
Customer Review: Make-from-home Hammered Texture Wedding Bands
In addition to those listed here, we have received inquiries from Okinawa and Shikoku.
This service is available for those who live too far away to come to MITUBACI in Sangenjaya, Tokyo, those who are pregnant and worried about going out for a long time or far, and those who are too busy to come to MITUBACI during business hours for two people.
Toward Zero-Waste
MITUBACI's handmade wedding ring kits were designed with as little waste as possible in mind. (Zero Waste)
Devices that do not use cushioning materials
The handmade wedding ring kit uses a sturdy trunk. In addition, hard felt is cut out in the trunk to match the tools and cases to prevent them from moving and bumping into each other inside. We avoid using plastic cushioning materials that quickly deteriorate and are discarded.
No paper instructions
There is a QR code on the trunk so that all instructions for ordering and making the rings can be completed on the website. You will be able to access the linked website and video here to create your wedding ring. Once the ring is completed, there are no paper instructions that are discarded. We have also digitized the delivery slips and other documents that used to be issued on paper.
We will continue to think about what we can do at MITUBACI for the future.
---
If you are interested in our kit for making handmade wedding rings at home, please click the button below to visit our product page.
If you have any questions, please feel free to email us at contact@mitubaci.jp!
Handmade wedding rings that can be made at home using a kit.