Some people may be attracted to the warmth of handmade wedding and engagement rings made by the couple, but may not have a store nearby or may be concerned about the quality if they actually make the rings themselves.
At MITUBACI, our experienced craftsmen will tailor rings for you at our workshop in Sangenjaya, Tokyo.
MITUBACI is a long-established workshop established in 1970, which opened in 2011 as an online specialized bridal store.
Later, we renewed the store as a handmade jewelry store where customers can make their own jewelry, but in 2022, in response to customer requests, we also launched an online custom-made service called "artisan-tailored wedding and engagement rings.
What is online ordering of wedding rings?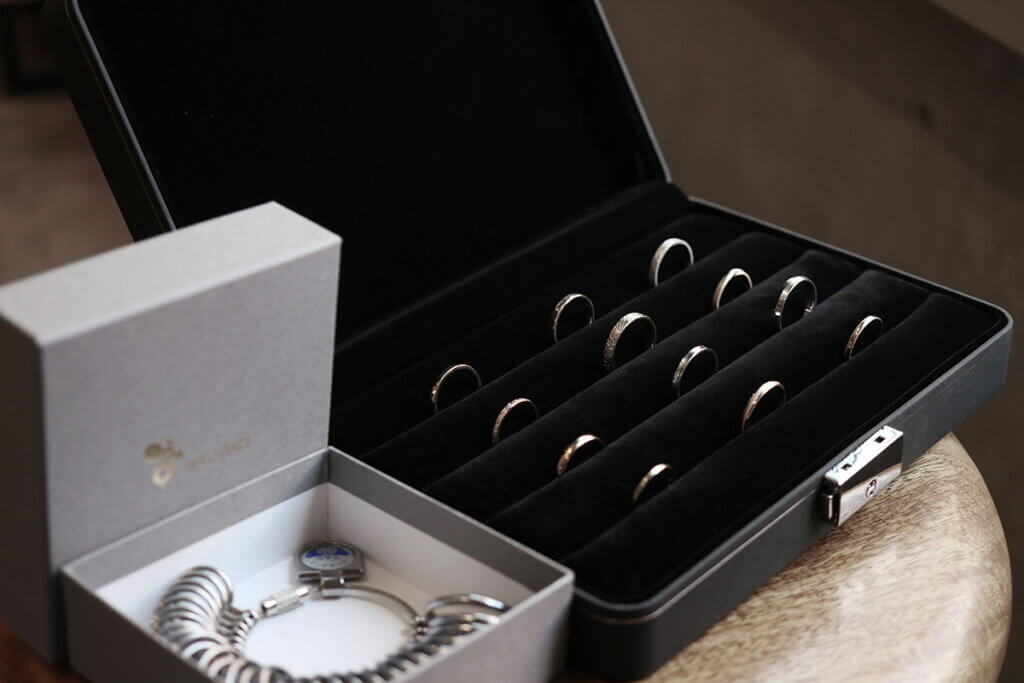 With MITUBACI's artisan-tailored wedding and engagement rings, all you have to do is decide on the design and material, place your order through our website, and we will deliver the rings to your home with free shipping.
You may pick up your order at your preferred date and time up to three weeks after you place your order.
Since we use a dedicated simulator, the price is clear, and we think you will be able to purchase with confidence.
If you have any questions about placing an order by mail order, you can also have an online consultation to speak directly with a craftsman or rent a sample ring.
When renting a sample ring, we will include a ring gauge to measure the ring size.
Wedding and engagement ring designs that can be ordered online

In general, rings that are custom-made online tend to be simple wedding and engagement ring designs in a semi-custom format.
Plain wedding rings are at the top of MITUBACI's popularity rankings.
Craftsmen use a machine called a lathe to create a glossy finish, and the rings are easy to wear regardless of age or location.
We recommend ordering it as a set with an engagement ring, as it is easy to match.
At MITUBACI, you can choose the material, ring width, hammered finish pattern, engraving, and whether to buy with or without diamonds.
Since you can choose from all the designs in our handmade wedding and engagement ring courses, we recommend ring materials in MITUBACI's original colors, such as champagne gold and lime gold, for those who like to be fashionable.
Champagne gold, in particular, is an exquisite color that looks yellow or platinum depending on the angle, and is deeply popular among both genders.
The hammered finish, which is the most popular finish in our stores, is also a finish where the craftsman's unique skill shines through, as he is able to evenly strike a hammered pattern over the entire surface. It shines gently and sparkles like waves, making it very beautiful.
Advantages of ordering online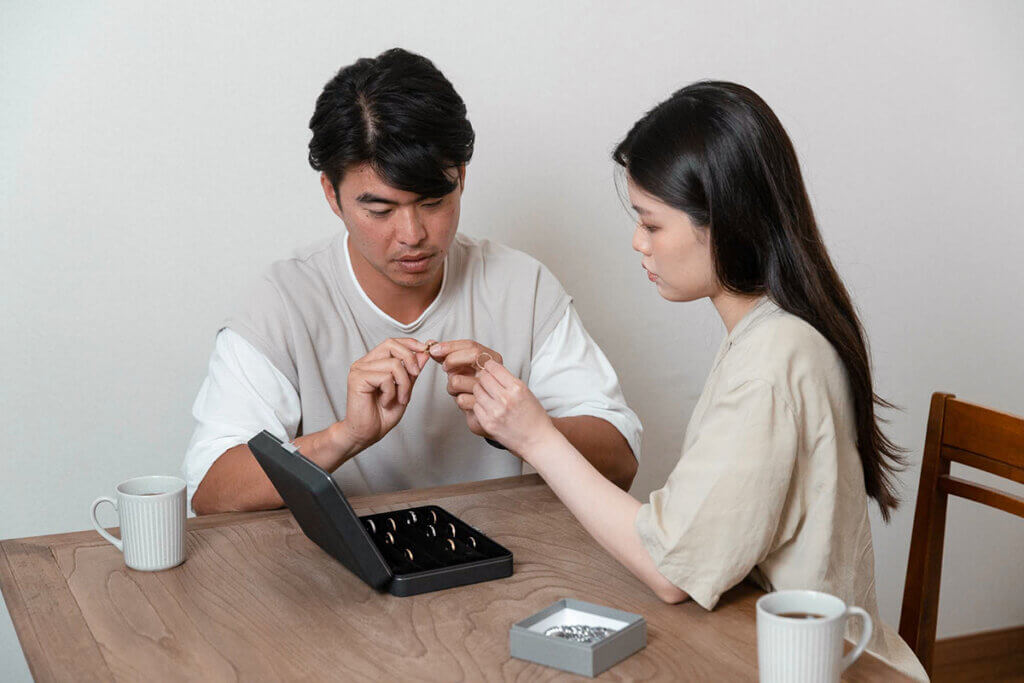 We think the best advantage is that you can relax and order at your favorite time and place from the comfort of your home.
It is appreciated not only by those who live far away, but also by those who have difficulty going out of the prefecture due to concerns about infectious diseases, those who are pregnant and cannot travel far, and those who are both too busy to make it to the store in time.
The reasons for not being able to come to the workshop vary from person to person, but so far we have received orders from as far away as Hokkaido, Okinawa, and Kyushu, as well as from relatively close by places like Chiba and Yokohama.
Even those who don't like the atmosphere of bridal jewelry specialty stores will be happy to be able to make their selection in the comfort of their own home.
Also, people who like handmade items but are concerned about the quality if they make it themselves because it is something they will wear for a long time can order with confidence.
On the other hand, for those who cannot come to the store but would like to create and experience wedding ring making from home, we also accept orders for handmade kits for DIY wedding rings.
For more information. here⠀
Disadvantages of ordering online
One of the disadvantages of ordering online is that if a brand does not offer sample rings for rent, you may not be able to see the actual ring, which may be different from what you imagined! There is a possibility that you may end up with a ring that is different from what you imagined.
In the case of a simple ring, it is unlikely that there is any difference between the ring and the image, but it is a good idea to check not only the ring itself but also the photos of the wearer carefully.
Also, if the size does not fit, you will not be able to wear it if it cannot be fixed, so please check carefully whether the brand allows re-sizing.
It is often possible to borrow a ring gauge.
MITUBACI offers 12 ring rentals.
By wearing a sample ring, you can check the thickness and width of the ring, so you can choose what you want without having to worry about the ring being completely different from your image! You will be able to choose what you want without having to worry about the ring's thickness, width, etc.
How to choose a brand
Some people may feel uneasy about purchasing expensive items like wedding and engagement rings through online shopping.
If so, check out the four points.
Stores.
If there is a store or showroom, the address is publicly available, the contact information is clear, and the phone is often answered during business hours.
If you have any problems, you may be a little worried if your contact is only by e-mail or if there is no storefront, so please check with us.
Check out our reviews
Check the reviews of that brand carefully.
Recently, Google Maps has been gathering a lot of information, so please check both good and bad reviews there to see if the brand is safe or not.
Clear price
In the case of custom-made and semi-custom orders, it is sometimes difficult to understand the price because the fees are stacked. It is also necessary to confirm that there are no differences in perception between the two parties in the case of design changes from what was initially discussed.
Be sure to check the final amount using a simulator or through email communication.
Solid warranty.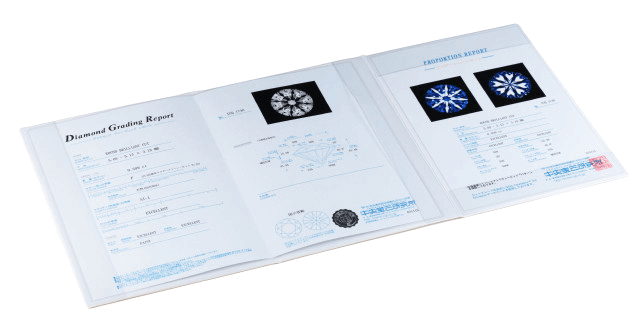 In the case of an expensive item with diamonds, such as an engagement ring, you may wonder if it is real. I think you may be concerned about whether it is genuine or not.
For those who do, we recommend purchasing an engagement ring that has a certificate of authenticity or sorting (simple appraisal).
Also, if worn for a long time, it may be damaged or soiled by an unexpected accident, or it may be lost.
In such cases, it is safer to choose a store where the customer's purchase information is securely retained and can be remade.
MITUBACI provides maintenance support for many years.
Please bring them in anytime for cleaning.
We offer an initial resizing service for free.
We also keep a complete history of all customer purchases.
Prices and quotes for custom-made online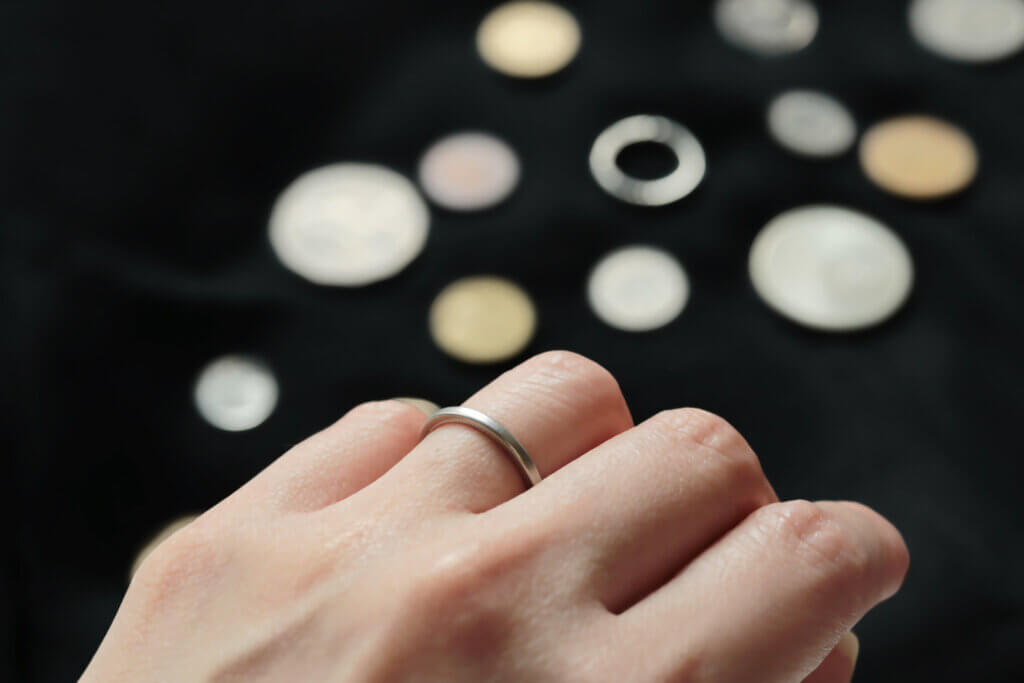 Do you think the selling price of custom-made wedding and engagement rings, which are made by experienced craftsmen according to the customer's preference, is too high? Some people may think that the selling price of custom-made wedding and engagement rings is too high.
The average price for a custom-made wedding band is about 280,000 yen, and about 250,000 yen for a semi-custom wedding band made from a combination of materials and finishes. This is a higher price than the average (100,000-150,000 yen) for a wedding ring that is handmade by the customer.
If the price is extremely lower than the market price, check the ring width and thickness carefully.
Since the ring will be worn for many years, it may become distorted if it is too thick and slender.
I think any design is wonderful as long as you like it, but I hope no one will be disappointed that the ring was cheaper than expected or too delicate....
At MITUBACI, you can purchase a custom ring made by a craftsman by simply adding 11,000 yen to the course fee for a handmade wedding or engagement ring as a substitution fee for the creation of the ring.
MITUBACI can make the simplest platinum and gold rings from 110,000 yen for a pair.
How was our introduction of wedding and engagement rings made to order on the Internet?
If you have any questions, by all means feel free to contact me!
Our craftsmen will make a ring for you and your partner with care.
Custom made online. Handmade wedding and engagement rings tailored by artisans.