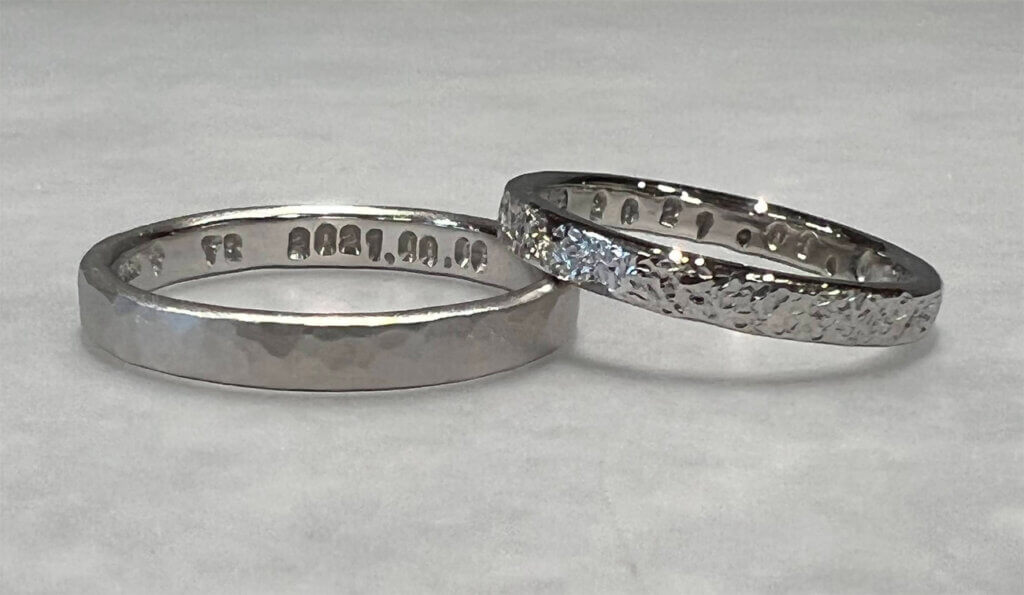 Ring details:
Left: 3.0mm width pt.950 platinum ring with matte hammered texture
Right: 2.5mm width pt.950 platinum ring with snowflake texture
Allow us to introduce K-san's wedding bands today. The couple had visited us to make new bands for their 1 year wedding anniversary.
While they had opted for the same base material of platinum, they each went for their own preferred texture and width.
Their rings complemented them really well.
They kindly left us with a message as well.
---
The artisan was very clear in their instructions. Also, they were were very humorous, making time pass by quickly.
I would love to come again if I had the chance.
☆The person who taught me was easy to talk to and explained things to me.
I'm glad I came because I could personalize it with a ring of my choice!
---
Thank you for visiting us, Mr. K. Fujimori, the craftsman in charge of the project, also enjoyed his time with us.
We have a variety of silver workshops available, so please come back and visit us both again!
*This article is published with the consensus of the customers.
Customer Review: Handmade Platinum Wedding Bands — Same Metal, Difference Textures