What is the most likely point of failure in making wedding rings by hand and how to avoid failure?
Since handmade wedding rings are at risk of failure, here are some pointers on what causes them to fail and how to prevent them.
To avoid mistakes in design
One of the reasons for choosing a handmade wedding band is to get "the only ring in the world". In many cases, this feeling is too strong, and this leads to failure. In general, a wedding ring is something that is always worn, and many people feel the desire to "put in all the decorations they want because it's so special," or to "make a design that feels special with all the care they put into it. However, if you are too particular about the one and only design in the world, you may end up with something that is not suitable for daily life.
It is a good idea for the two of you to first sort out the non-negotiable points and consult with our professional staff and craftsmen.
It is also important to note that there are cases where people stop wearing the watch because they feel it does not suit them as they get older. In terms of design, we recommend a design that is easy to wear in daily life and that does not affect the age of the wearer. In everyday life, you may change the image of your outfit depending on your mood of the day. Therefore, it is recommended to imagine a wedding ring design that is comfortable no matter what kind of clothes you wear and that is not affected by trends.
The finished ring may not be what you imagined.
It is not uncommon for people to look forward to the day when the wedding rings they designed are delivered, only to find that when they receive them, the finished product is not what they imagined. This is because handmade rings are created from design drawings or photographs. Since the design drawing is two-dimensional and the actual ring is three-dimensional, it may end up being different from the image. To prevent this from happening, it is a good idea to choose a workshop where you can see samples and try on rings. If samples are not available, trying on wedding rings at your favorite jewelry store will help you visualize a design that suits you.
Sometimes the choice of materials can be a mistake.
Even if you have successfully designed a wedding ring, there are times when you actually try it on and find that it is somehow different from what you imagined. This is often due to a failure in the selection of the material used for the ring. For example, the ring may not have the desired atmosphere when matched with the color of the skin, or the image may have changed due to matte finish.
For example, MITUBACI supports four types of gold (yellow gold, champagne gold, pink gold, and lime gold) and platinum.
Champagne gold is popular because it is easy to wear for both genders, but men sometimes wear pink gold, which blends well with the skin, and women sometimes choose lime gold, which is unique.
It is often the case that the impression you get when you actually try on the item will be different from the image you have of it, so please try it on for yourself.
There are various types of platinum.
MITUBACI adjusts the alloys it mixes to make them harder than the platinum alloys containing palladium that are commonly used.
The rings are produced using the forging method, in which metal is beaten and forged to achieve a thin but uniform width and thickness, resulting in a durable ring that is not easily deformed in design or structure.
Therefore, it is not suitable for a ring with a complicated design with many decorations like a fashion ring, but it is perfect for a wedding ring with a simple, clean design that can be worn all the time.
Because it is something that you wear every day, it is important to select a piece that is suitable for your skin and for the occasion in which you will wear it. In addition, since the hardness of precious metals varies depending on the manufacturing method, there is also the option of handmade jewelry using a manufacturing method that results in a high degree of hardness.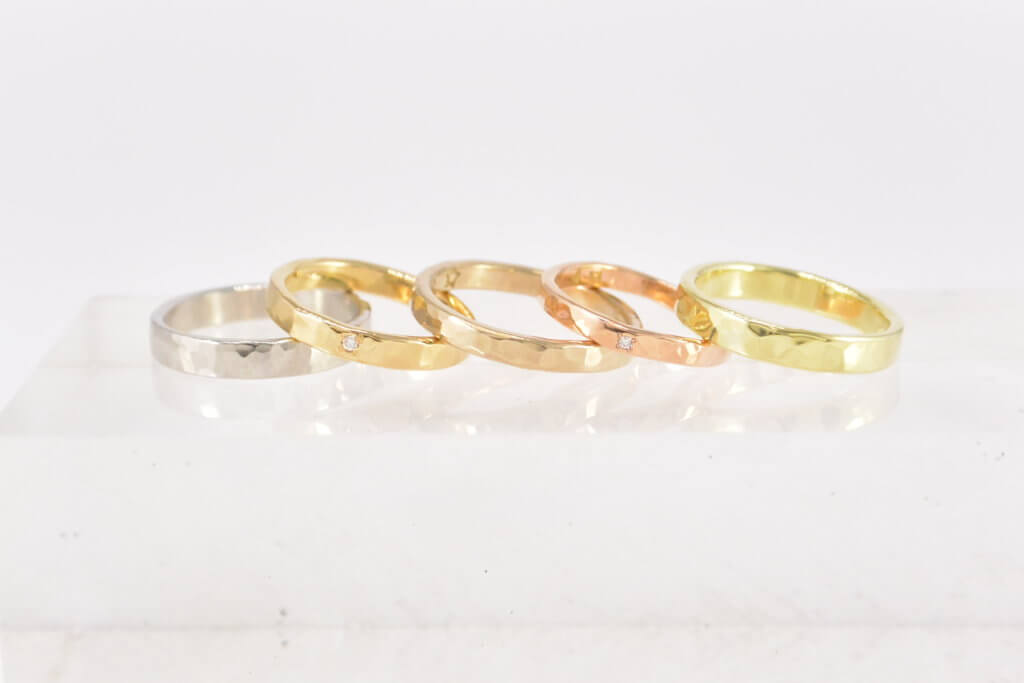 Let's see how they're manufactured!
There are two methods of manufacturing rings: forging and casting. Forging is a manufacturing method in which metal is forged by beating and stretching. This method is ideal for making simple and sturdy rings, and has the advantage that the finished shape can be easily achieved as desired. However, it is not suitable for complex designs, and it is labor-intensive and costly.
MITUBACI has chosen to use the forging method because we want our products to be worn without warping.
Casting, on the other hand, is known as wax or lost wax casting. A mold of a ring is made from wax, and the metal is poured into the mold and hardened, so many brands use the casting method. It is possible to create detailed designs, but because it is a wax process, it is difficult to achieve the desired shape. In particular, many customers say that the details and volume, which play a large role in the image of the ring, are different from what they imagined. It is advisable to check in advance which method is used by the workshop where the handmade wedding ring is commissioned, as the finished product may vary depending on which method is used.
How well will the craftsman follow through! Is the craftsman's background and skills okay?
Since the scope of their involvement differs depending on the workshop, it is better to confirm in advance what they can do in the production process and whether it is possible to receive full support from the craftsman. If there are many processes to be performed by the craftsman, there is no sense of handmade work or accomplishment, and the goal of an original wedding ring may not be fulfilled. If there are many areas in which they can be involved, choosing a workshop that provides friendly consultation before production can be expected to reduce the chance of failure.
It is important to note that in some cases, the staff members providing instruction in production are not experienced and skilled craftsmen, but are only trained as instructors. In such cases, it is difficult to get detailed questions answered and appropriate advice given, so it is a good idea to ask about the background and skills of the craftsman providing the instruction.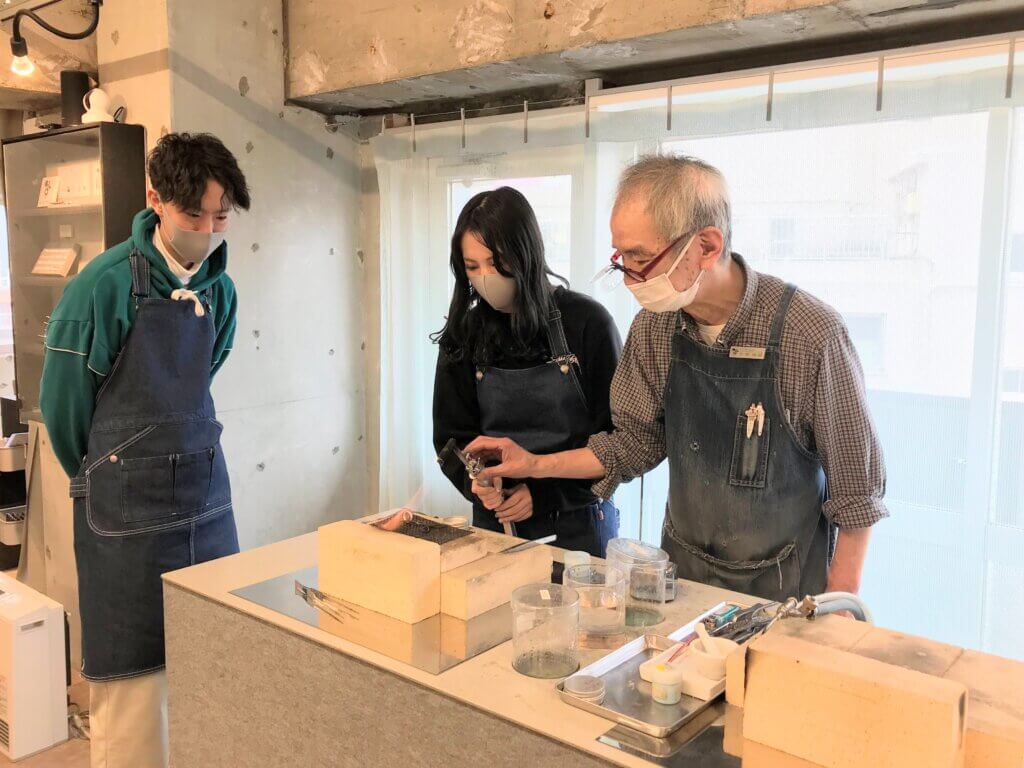 Also check the price and delivery time for follow-up services.
Since wedding rings are worn for many years, they may become scratched or damaged over the years. With this in mind, it is safer to confirm the nature of the support, whether or not there is free compensation and for how long, and whether or not it is handled by mail. As for free compensation, some workshops offer compensation for a long period of time.
If you are a major jewelry brand store whose branches are nationwide, you can take your jewelry directly to the store, but it is rare for a workshop to have such a nationwide presence. Therefore, if you moved after your marriage or traveled from another prefecture to your favorite workshop, you may not be able to get to the workshop when you need repairs. If you properly check what kind of support is available for such users, you will be able to take action when the need arises.
I would feel comfortable with a workshop that handles the correspondence by mail.
Find out how long it will take to maintain the ring if you want to refinish it before the wedding.
MITUBACI", where wedding rings can be handmade with the support of artisans.
MITUBACI" staff with more than 10 years of experience as craftsmen will thoroughly assist you in making your wedding rings by hand. At this workshop, wedding rings can be handmade using the authentic forging method, which takes about three hours. Since most of the processes, including lettering, molding, welding, surface treatment, and finishing, can be done by the customers themselves, the memories of making the handmade rings can be firmly etched in their minds.
If you have any concerns or mistakes during the production process, that's okay. They will listen to your requests and follow up with you.

In addition, the wedding rings produced can basically be taken home on the same day. As a follow-up service, we can also clean and resize the wedding rings we have made.
Try handmade wedding rings, with a few key points of failure!
It is not uncommon for wedding rings to fail, such as being too original, resulting in a design that is difficult to use in daily life, or not being finished as envisioned. You can reduce the probability of failure by having your ring handmade at a workshop where experienced craftsmen are available to give you advice. It is also important to check the after-sales service, such as free compensation and repairs. A handmade wedding ring will be a lifetime memory, so it is recommended that you take on the challenge with the points that will prevent you from making mistakes.
*HereA helpful column on choosing a ring: "A general ring story."are articles that have been interviewed and written by outside article writers
Know what you need to know so you don't regret it! Points to avoid mistakes in handmade wedding rings