The Best Time To Buy a New Wedding Ring and Points To Keep in Mind
Over time, your wedding ring is prone to scratches if you wear them daily, and its fit may no longer be the same. While one can send it for cleaning and maintenance and wear it for a lifetime, you may also choose to replace it. Here are some points to consider regarding whether or not to get a replacement wedding band.
Is It OK To Replace Your Wedding Ring?
In the first place, is it acceptable to buy a replacement wedding ring? Different people view wedding rings in different ways: as a sign of marriage, a symbol of love and commitment, or as a memento of their wedding ceremony.
Wedding Rings as Symbol of Marriage
If your ring is worn as a sign of marriage, any ring design (not necessarily the first wedding ring purchased) will suffice, as long as worn on the left hand's ring finger.
Wedding Ring as Memento of Your Wedding Ceremony
One of the most significant events at wedding ceremonies is the exchange of rings. Some people do not have a particular interest in jewelry and solely prepare wedding bands for this purpose. You may consider replacing them once the ceremony is over. In any case, it is up to the couple to decide if they want to get a replacement.
Pros of Replacing Your Wedding Ring
Something Fresh in Marital Life
Wedding bands are one of the fewer matching jewelry you will put on with your partner. With most wedded couples being busy with work and taking care of your child(ren), the chances for you to visit a jewelry store together may be reduced. For those who like to commemorate special occasions such as birthdays, anniversaries, or milestones, buying new and matching wedding bands with your partner could be an enjoyable and meaningful event! A new wedding ring also serves as a reminder of all the times spent with your partner, and could also bring new joy and energy to your married life.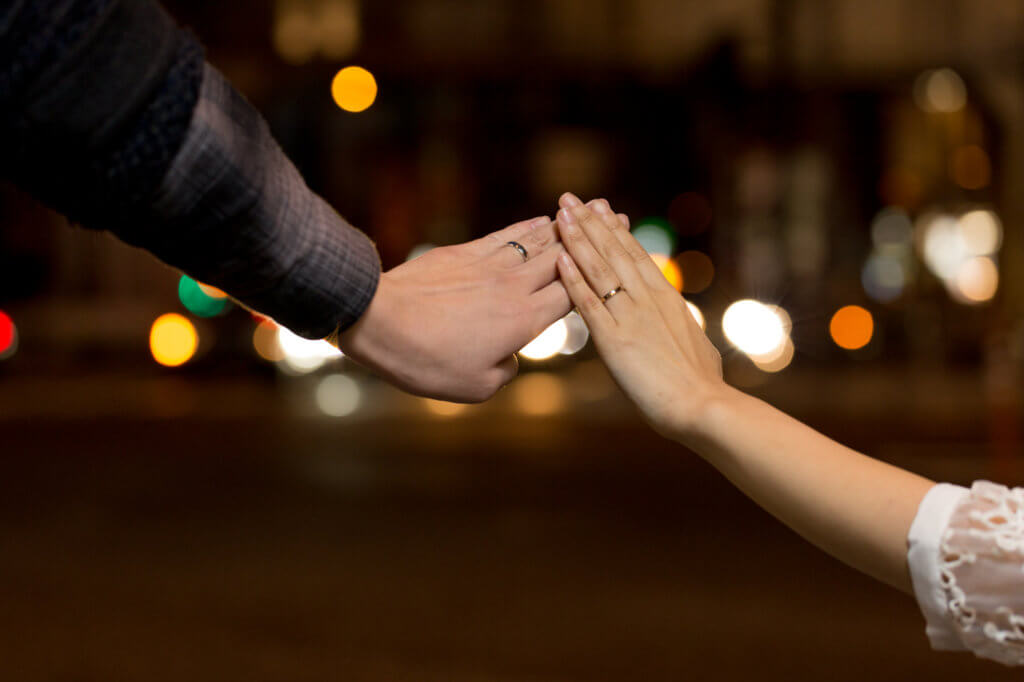 Getting a Design that Suits You
One can take this chance to choose a new wedding ring design that suits you at present. If your wedding ring was purchased 5-10 years ago, the design that suits you may change along with time. Although jewelry is less susceptible to change than clothing, the wearer is undergoing changes as we age, so naturally your taste will have changed. If that is the case, you may want to replace your wedding ring.
More Selections Available Today
Brands that did not interest you before or were out of reach at the time of your marriage may now be affordable. Some people also think that most wedding rings are, by default, platinum. There are no specific materials limited to wedding bands; while gold is more popular in the West, some prefer other materials. In such cases, you can also consider replacing your wedding ring.

At MITUBACI, we offer many different types of colored gold. If you are thinking of replacing your wedding bands, it is the perfect opportunity to try on more unique colors like our lime gold!
Click here to find out more about our material selection for wedding bands.
Those who first purchased their wedding bands at a store may not know that they can make their own wedding rings. With DIY becoming increasingly popular, some people prefer making their own wedding jewelry for a more personalized touch.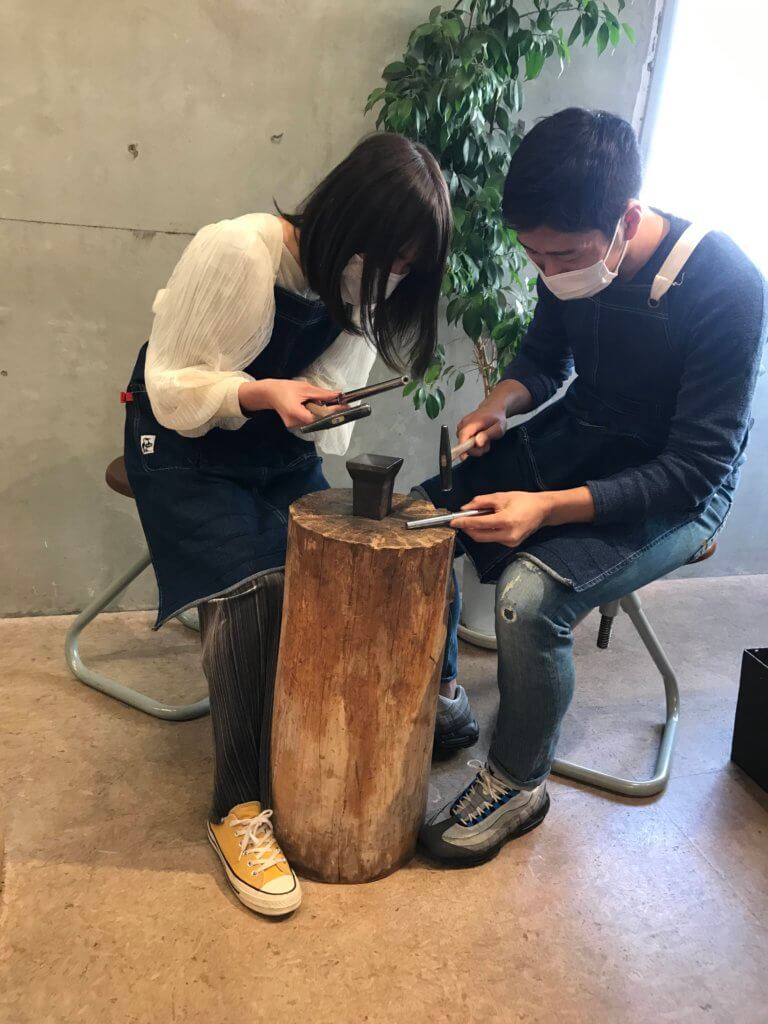 Learn more about MITUBACI wedding bands workshop here
Cons of Replacing Your Wedding Ring
Memories of Early Marriage May Fade?
For many people, the rings they put on at present are those they exchanged at their wedding ceremony. If they were to replace it, many would feel that the memories of wearing those rings would fade. However, you do not have to give up on your first wedding ring. You can stack your newly purchased wedding band on top of it, or if its size fits, you may also wear it on other fingers. We recommend wearing the original wedding band on your right ring finger as ring fingers are less likely to interfere with work or household chores.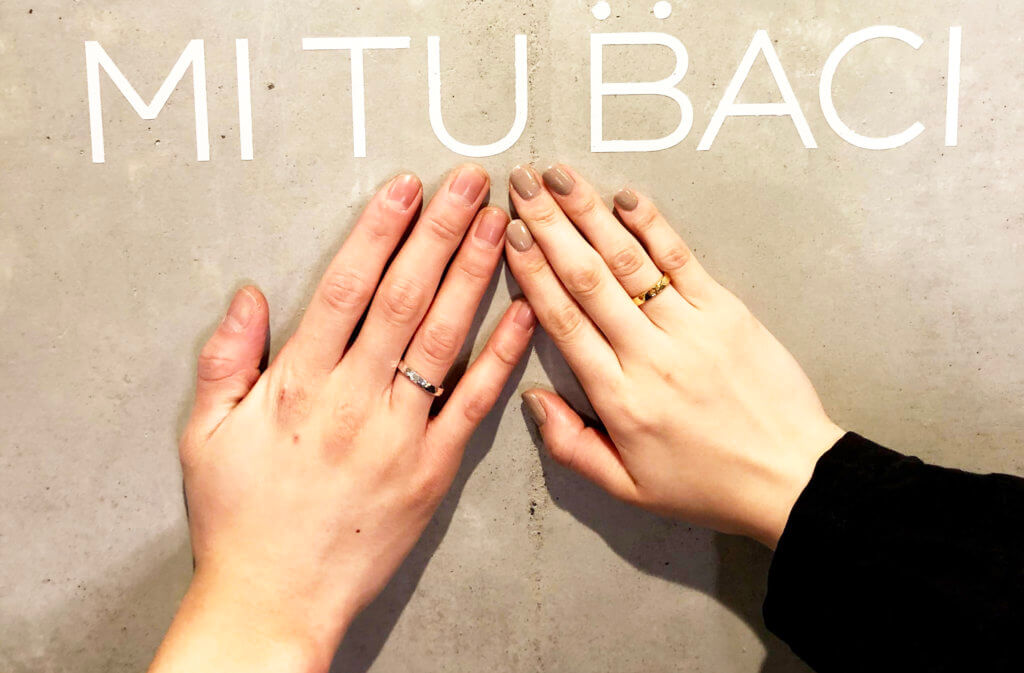 Points To Bear in Mind when Buying a New Wedding Ring
There are 2 things to bear in mind when replacing your wedding bands.
Choosing the Right Ring Size
The first thing to note is that even though your body weight has not changed, your ring size might. We have heard women say that before and after childbirth, their fingers have thickened, or that they lost weight and their fingers have shrunk. Others whose work involves physical labour have stouter hands over time. A change in lifestyle or diet also may affect the size of one's finger. The size of the finger is surprisingly a delicate thing. It changes with the seasons and our physical condition on any given day. Thus, please measure your finger size from scratch when buying a new ring!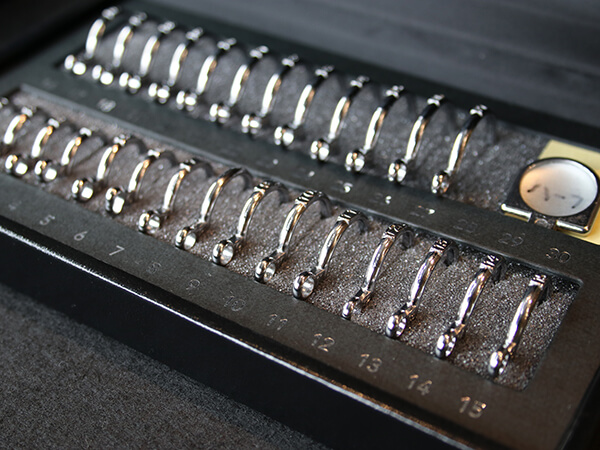 How Your Rings Look when Stacked
The second point to note is the design. This is especially important if you have the intention to stack your rings. If your original wedding band has a curved or slender look, it is recommended to stack slimmer rings. This balances out the effect of your stacked rings without one design overpowering the other.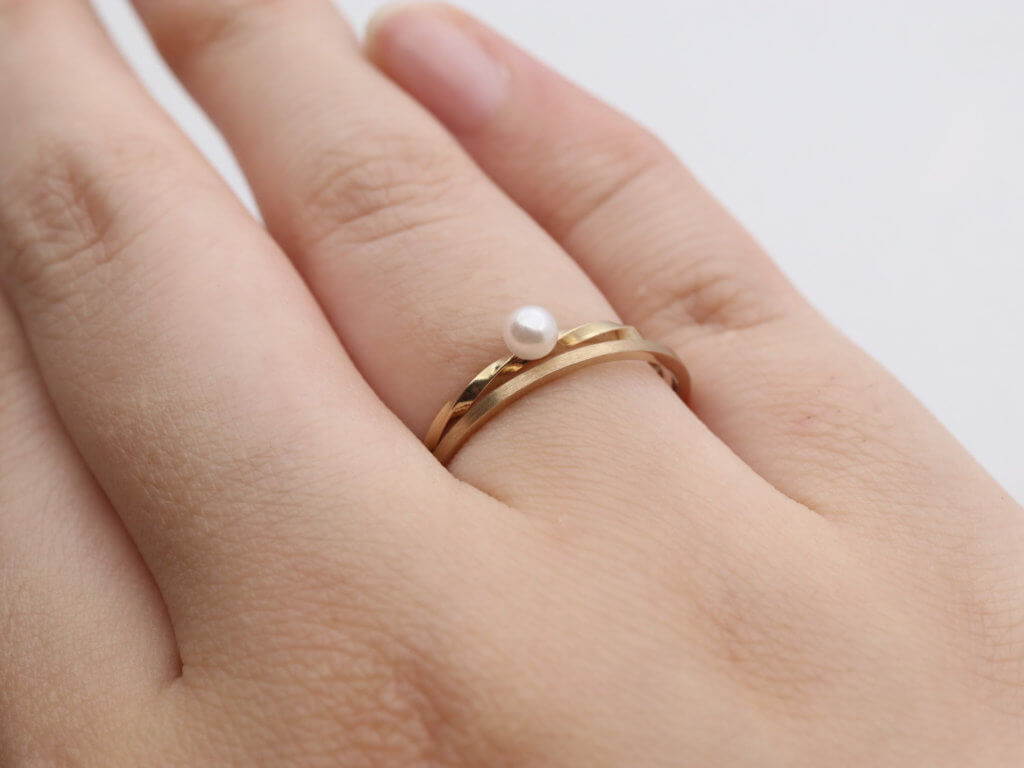 If your original wedding band is straight in design, it's easier to stack your new purchase over it.
There are two main types of "straight" ring designs: flat and oval. Flat ring designs have slightly squarish corners, while oval ring designs have rounded edges. Both "straight" ring designs are available at MITUBACI; our handmade wedding rings are flat, and our artisanal collections are oval.
Here are some stacking combinations we have tried with our flat and oval rings.
Flat x Flat
This ring stacking combination exudes a sense of unity as the borders of the ring blend to give a voluminous and luxurious look.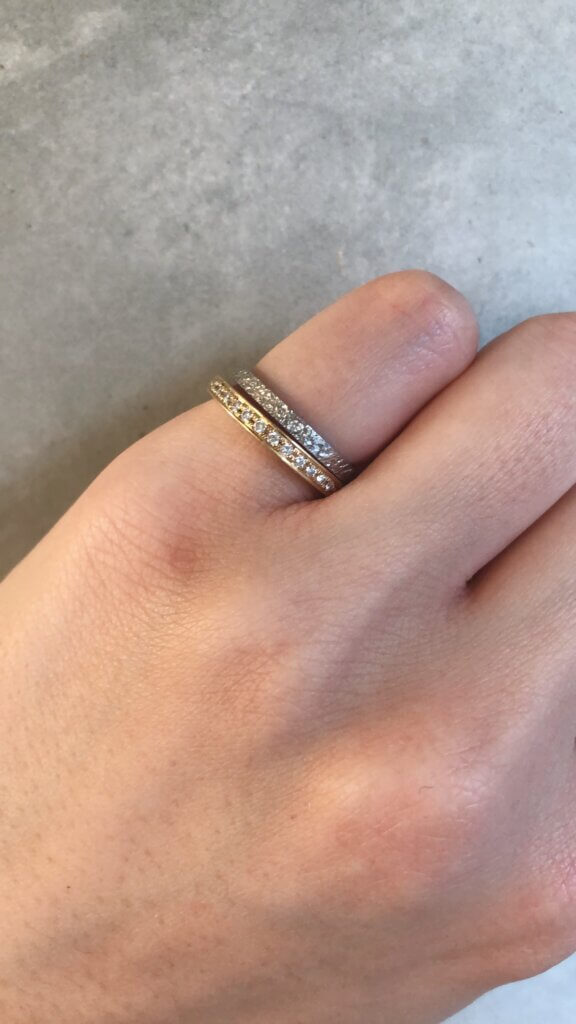 Flat x Oval
With differently shaped borders, this ring stacking combination augments the layering and produces a wide range of expressions depending on your ring designs. If you're looking to experiment, we recommend pairing different kinds of base metals together too!
Oval x Oval
We find this combination the trickiest. When stacking two oval rings, we recommend choosing ring designs that are slim and simpler.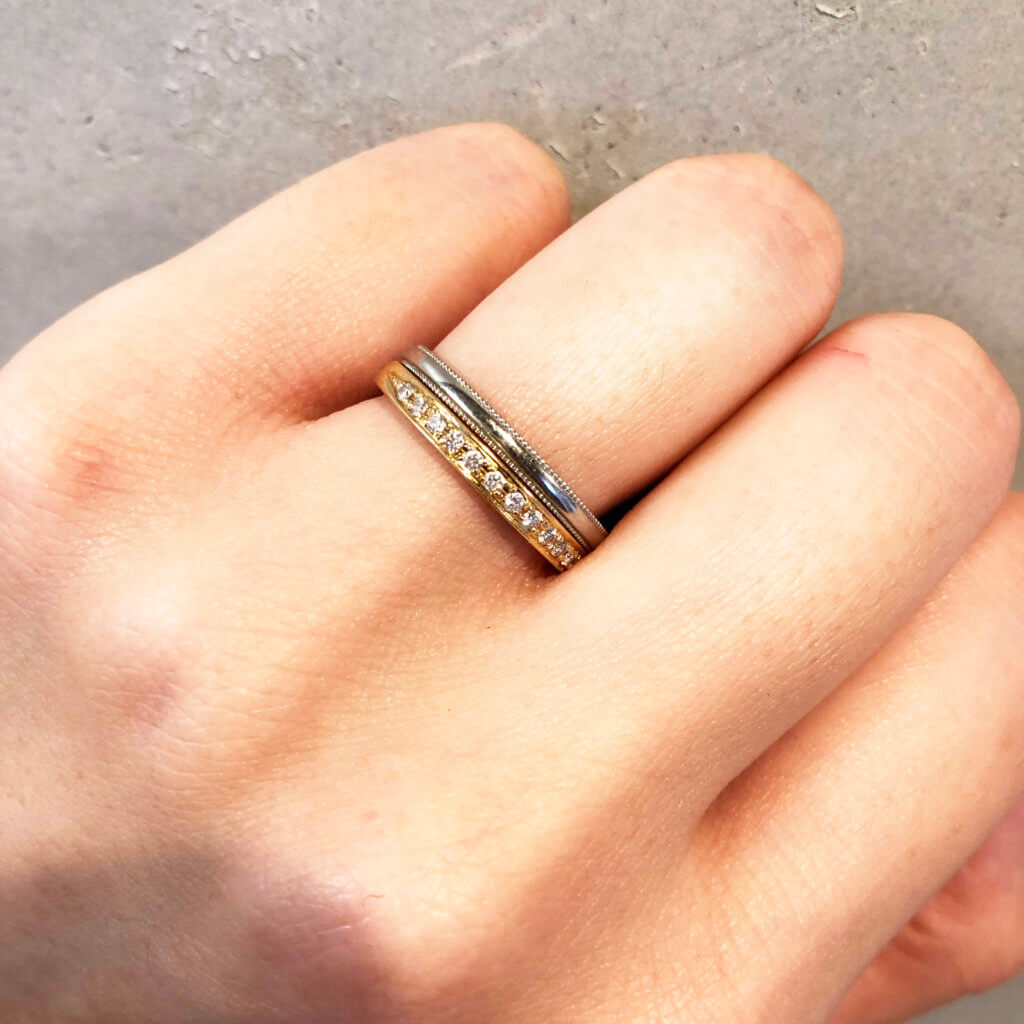 When Is the Best Time To Replace My Wedding Ring?
Is there a "right timing" to replace your wedding bands? If you have the intention to do so, you may want to consider the following:
Wedding Anniversaries or Other Meaningful Dates
There are many causes for celebration. One would be commemorating major milestones such as your 10th or 20th wedding anniversaries. You could also engrave something on your ring that indicates the milestone or reason for celebration!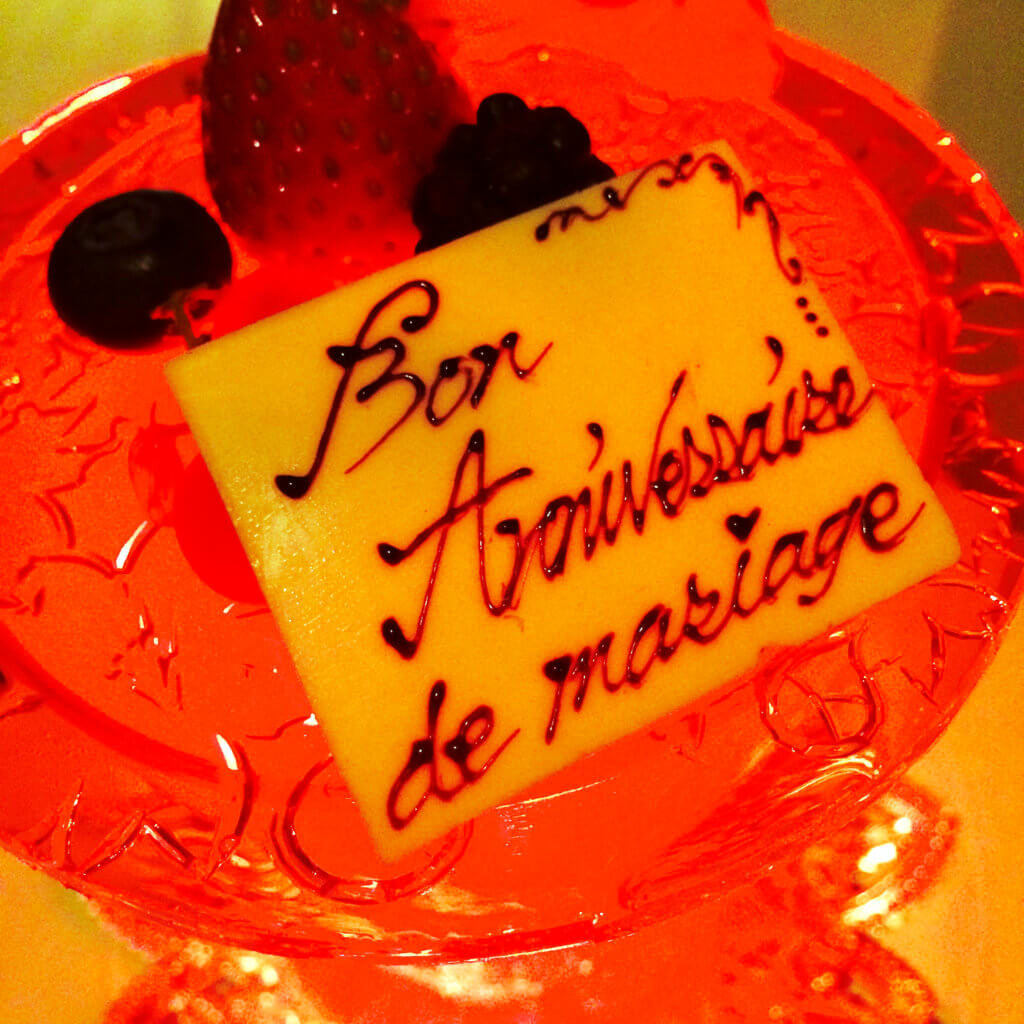 When Your Ring No Longer Fits
Many people continue to wear their wedding rings even though they no longer fit. If your ring is loose, it can come off unnoticed and be lost easily. If it is tight, it puts pressure on your blood vessels, which can cause your hand to swell, and if it does not come off, you may have to cut your ring as a last resort. We strongly do not recommend wearing ill-fitting rings. Bear in mind that some ring designs and materials cannot be resized. Most rings are resizable, however, commonly up to ±3 sizes only. If your ring is any of the above described, now is the time to replace your wedding bands.
When Either You or Your Partner Lose Your Ring
It can be traumatizing to lose your wedding ring. Rather than brooding over it for too long, we suggest that you take this chance to get a new one. Consider choosing a design that is easy to match or stack. Even if you found the lost ring after purchasing a new one, you can rejoice in its reappearance and that you have one more favorite piece of jewelry.
When You Have New Members in Your Family
You may also consider replacing your wedding bands when your family grows. Some jewelry boutiques offer birthstone setting or engraving services. Instead of adding to your existing ring, you could make a whole new ring, insert the initials of the whole family and add birthstones!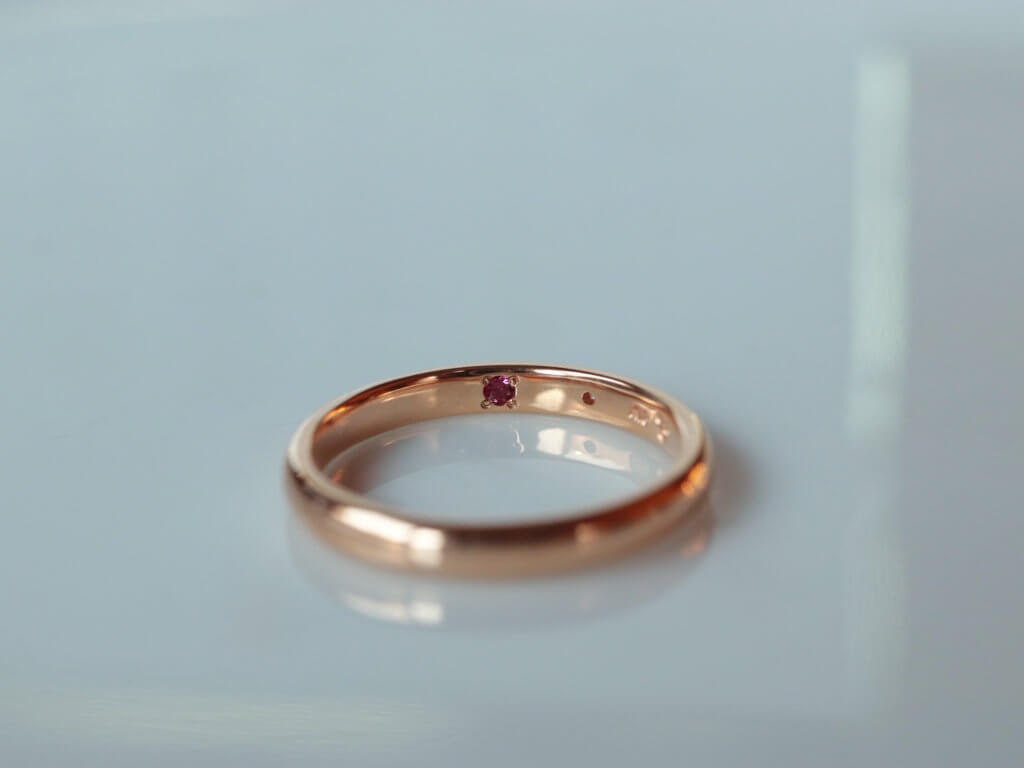 Generally speaking, you can replace your wedding bands at any time to your liking, but you may want to find a great opportunity to replace them and give them more reasons to be cherished.
Discuss with Your Partner!
Before getting a new ring, you may want to discuss it with your partner. If your partner is unwilling to change his or hers, you may consider replacing just one instead of both. Hope these tips are helpful!
The Best Time To Buy a New Wedding Ring and Points To Keep in Mind