Choosing Materials for Wedding Bands
Picking the "perfect" material and color is exciting but often a tough decision. While platinum has been an all-time favorite, some shades of gold have become increasingly popular.
MITUBACI handmade wedding rings celebrate individuality by providing the wearers with the freedom to choose what they like. Read on and find out which material suits you best when you sign up for our handmade wedding bands workshop.
Materials at a Glance
■ What materials are available for the handmade wedding bands workshop?
Our material selection comprises platinum and four shades of 18k gold: champagne gold, yellow gold, rose gold, and lime gold.
Discover and compare the properties of each metal to help you decide better!
Platinum
Platinum has a strong and beautiful shine and is well-loved by many. Its silvery-white hue complements the image of a wedding, and the durable metal does not fade or change color.
This material is used in many wedding rings.
Platinum, with its silvery-white color, fits the image of a bride, and its metal properties also make it resistant to tarnishing, making it suitable for wedding rings that will be worn for a long time.
The component of platinum differs from store to store; some provide platinum800 while others platinum900. At MITUBACI, we offer platinum950. This means that the metal is made out of 95% platinum and 5% alloy (palladium, copper etc.,) to increase durability of the main metal so that the jewelry can last a lifetime.

Platinum 950 is made from 95% platinum, mixed with palladium and copper to make it strong enough to be worn forever as a wedding band.
If you have platinum allergy concerns, we can provide platinum999 metal instead, also regarded as pure platinum internationally.
Although it is internationally determined that a pure metal should be labeled "999," it is safe to assume that it is pure platinum.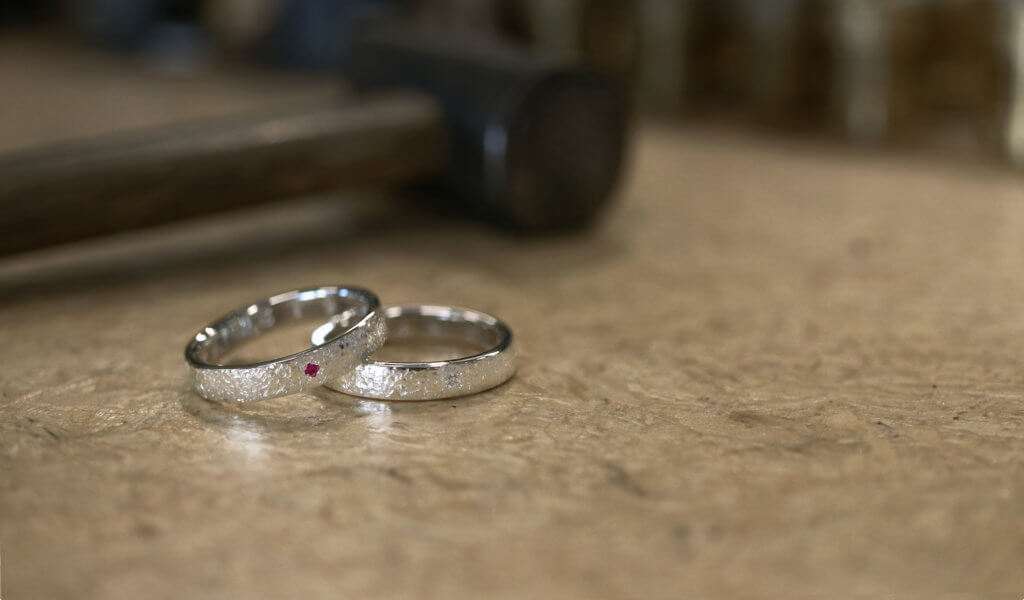 18k Gold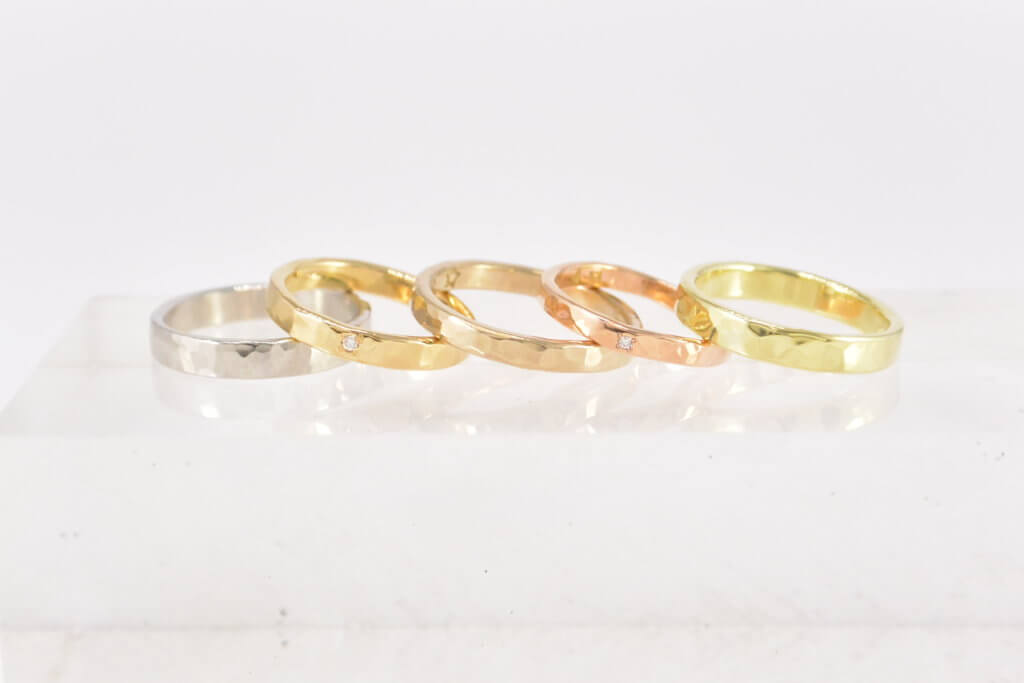 K18 gold handmade wedding rings are easy to use in everyday life and come in a variety of colors. Gold wedding rings are overwhelmingly popular in Europe.

Gold wedding bands seemed to be more popular in Europe. MITUBACI 18k gold selection comes in various shades that are easy to match with everyday styles and great for stacking. While plain and shiny rings are beautiful, textured finishes are also unrivaled.
It is also easy to stack with your existing fashion jewelry.
(In fact, I have a standard style of stacking gold wedding rings + rings with small gems or pearls on them.)
18k gold comprises 75% gold as its main component. The other 25% can be of different metal combinations to give the metal its unique color. For instance, MITUBACI's 18k yellow gold comprises:
For example, MITUBACI yellow gold is
75% gold + 12.5% silver + 12.5% copper
Increasing the portion of copper and silver give us 18k rose gold and 18k lime gold, respectively.
As with other metals, 18k gold is more durable than pure gold. The alloy atoms mixed with the gold are of different sizes, making it more difficult for the layers to slide over one another, thus less malleable and more durable.
Champagne Gold
After many experiments, MITUBACI has formulated its original champagne gold that comes in a gender-neutral color, making it the most popular choice of all time.
MITUBACI's 18k champagne gold comprises gold, silver, copper, palladium, and zinc.
Yellow Gold
Generally, when we think of gold, we think of yellow gold.
When people mention gold, more often than not, yellow gold is the first shade of gold to come to mind. This is no surprise, as yellow gold has been prominent since ancient times. This shade of gold for wedding bands is still widely favored all over the world.
It is also a popular material for wedding rings overseas.
MITUBACI's 18k yellow gold comprises gold, silver, and copper.
Rose Gold
This pinkish hue of gold suits the skin colors of many Japanese. This shade is also widely used in everyday fashion jewelry. As the color of rose gold differs across brands, we highly recommend trying it on before making your purchase.
It is often used in fashion rings and you may like it. The color of pink gold varies from brand to brand, so please try it on before purchasing to see how it matches your skin.
MITUBACI's 18k rose gold comprises gold, silver, and copper.
Lime Gold
Like our champagne gold, we experimented and formulated our original shade of lime gold.
Our 18k lime gold leaves quite an impression on people because of its unique greenish tint. We highly recommend the hammered texture with this color as it brings out the character of the lime gold.
MITUBACI's 18k lime gold comprises gold, silver, and copper.
View the different shades of gold here.You can view it at
Reasons We Don't Use 24k Gold or Pure Gold
24k gold, also known as pure gold, is softer and more malleable. It is not ideal for wedding bands as it is likely to go out of shape with frequent wearing. As many people have the intention to put on their wedding bands regularly, MITUBACI only offers more durable metal selections.
Other
Other than the metals mentioned above, it may be challenging for customers to handle different materials at our handmade wedding bands workshop. Nonetheless, we do work with silver and titanium for our other merchandise.
Titanium
Titanium is an alternative choice for people who have gold allergy. It is durable, lightweight, and resistant to rusting.
It is a strong, lightweight, and rust-resistant metal.
Silver
Silver is more affordable and offers versatility in design. However, as it is considered a soft metal, it may wear out quicker than other metals. In addition, silver is prone to tarnishing and darkens easily, thus require regular care and cleaning.
However, because it is a soft metal, it is easy to feel the use of the product and darkens by oxidizing in the air, making it difficult to care for.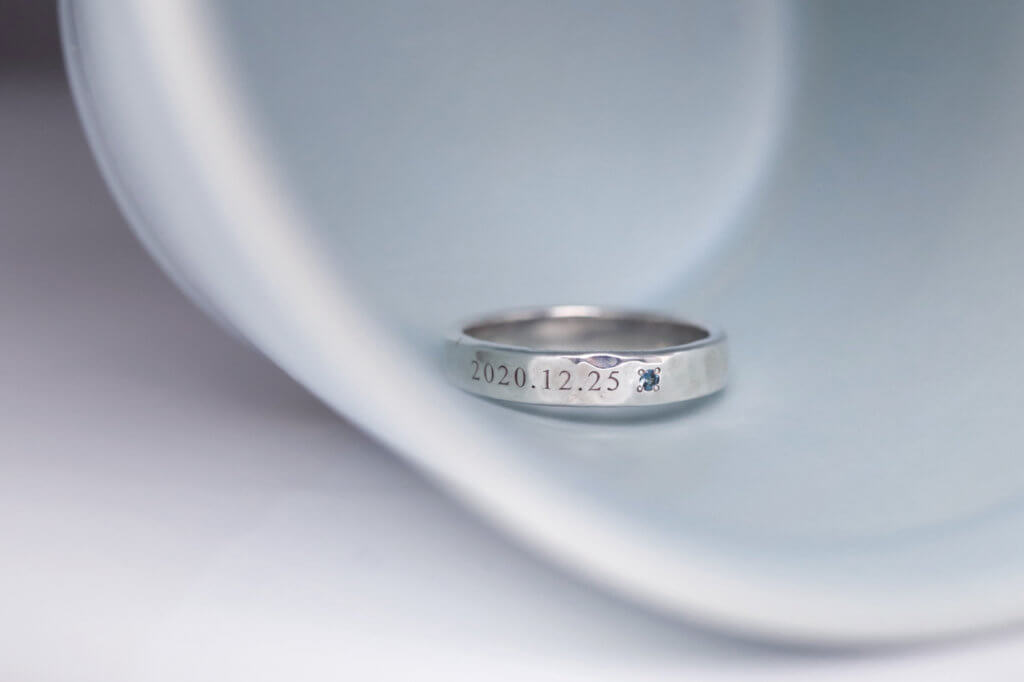 Things To Consider when Choosing Your Wedding Band Metal
Now that we have explored different metals available for wedding bands, here are some points that will help you narrow down your choice and find your perfect ring.
Does the Ring Color Suit My Skin Color?
Always try on rings in various colors as they leave different impressions when viewed on their own and worn. The look and feel of the color combination of the ring and your skin may surprise you.
The atmosphere changes depending on the combination of skin tone and ring material, so you may discover something unexpected when you try to match them.
Share Your Thoughts and Preference with Artisans
Whether they are concerns about allergy or your day-to-day lifestyle, please feel free to share with our artisans to provide their professional advice. If you are uncertain if you have any metal allergy or hypersensitivity, we can lend you test rings to find out.
We will recommend a material that meets your needs.
For those concerned about allergies, test rings are available for loan.
Seek Your Partner's Opinions
If you have little to no prior experience of wearing jewelry, it is always good to seek opinions from someone you trust and whom you think understands you well. Also, your partner may wish to have a matching ring in design and color, or they may not mind at all.
Also, your partner may have a preference, such as "we both want to match," so it would be good to discuss this once in advance.
Ring Textures and Surface Finishes
Textures are the surface finishes applied to rings. Let's take a look at how surface finishes changes the impressions of the rings below.
The ring on the left has a plain surface finish, while the one on the right has a hammered texture with matte finish. Both are platinum rings. However, they exude different vibes and the metal color also appeared different—the matte ring (right) looks whiter.
The combination of material and texture will change the way it looks, so I think it is best to try it on and see for yourself.
For example, a platinum ring will look whiter if it is matted.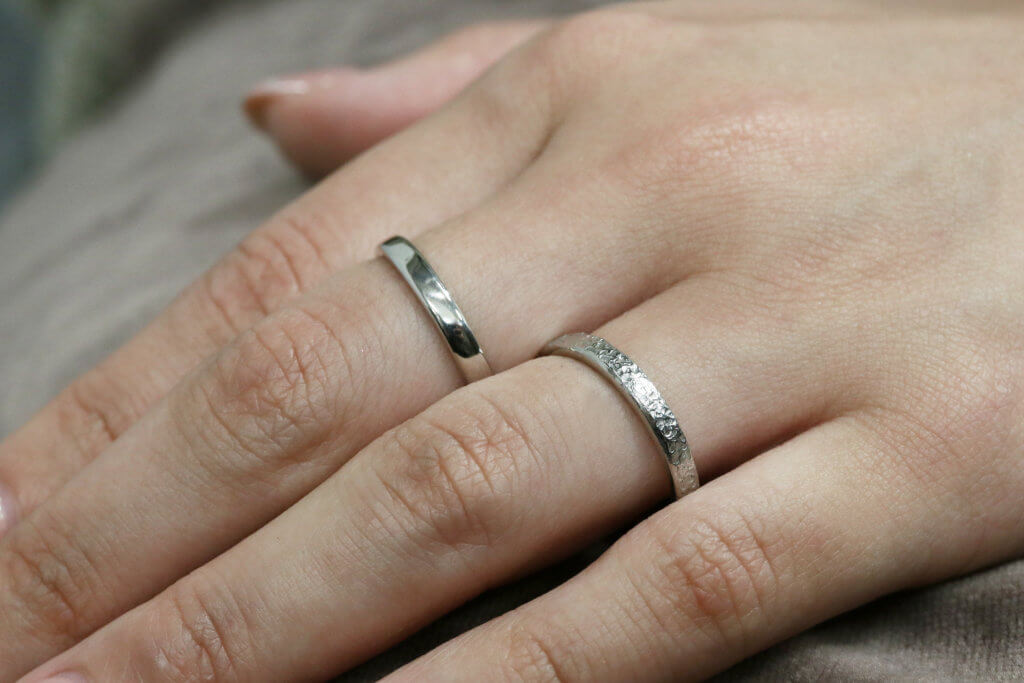 The difference is more prominent with gold rings. Both rings have the same hammered texture, but the left has a matte finish and the right a polished finish.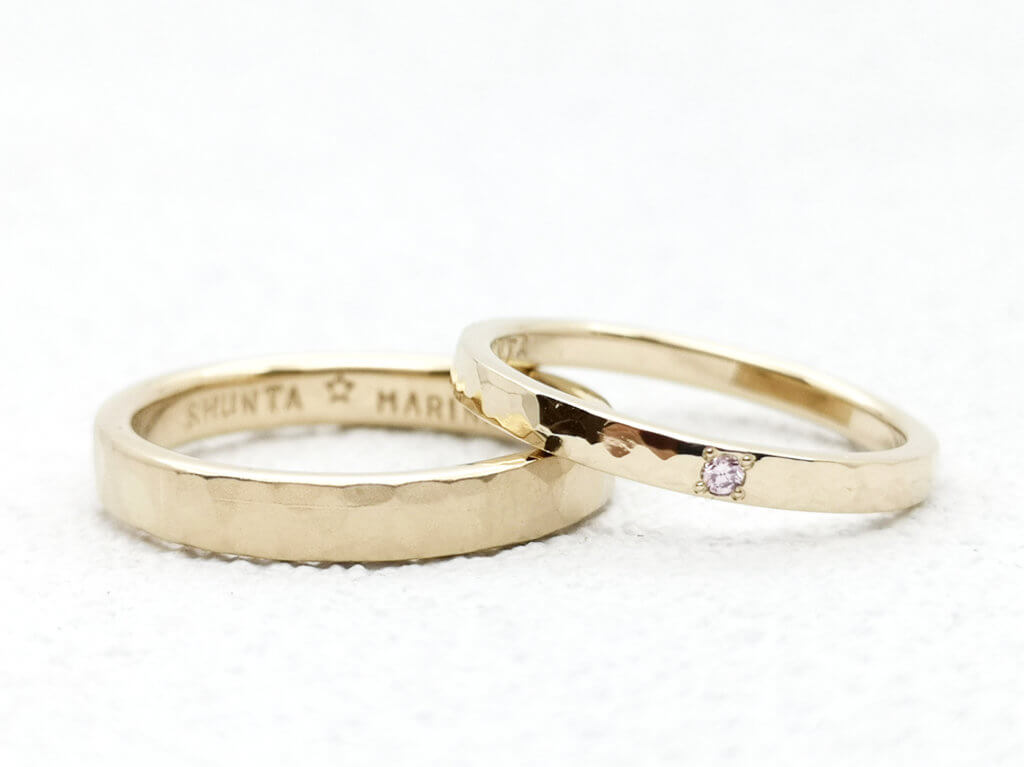 Should Wedding Bands Be the Same?
The decision is up to the couple; some may prefer their wedding bands to look similar while others prefer to choose what they like and not necessarily be identical. Ultimately, we recommend you decide what you want best because the sentiments of the wearer matter most.
We all have our own ideas, such as "I want a platinum wedding ring," or "I want a gold ring that blends easily with my skin.
We recommend that you choose a ring material that you like so that your partner will not wear it.
Choosing the same material on top of that is also very nice for a matching look.
The trick to making a pair of wedding bands match is to share at least one same element—it could be color or texture.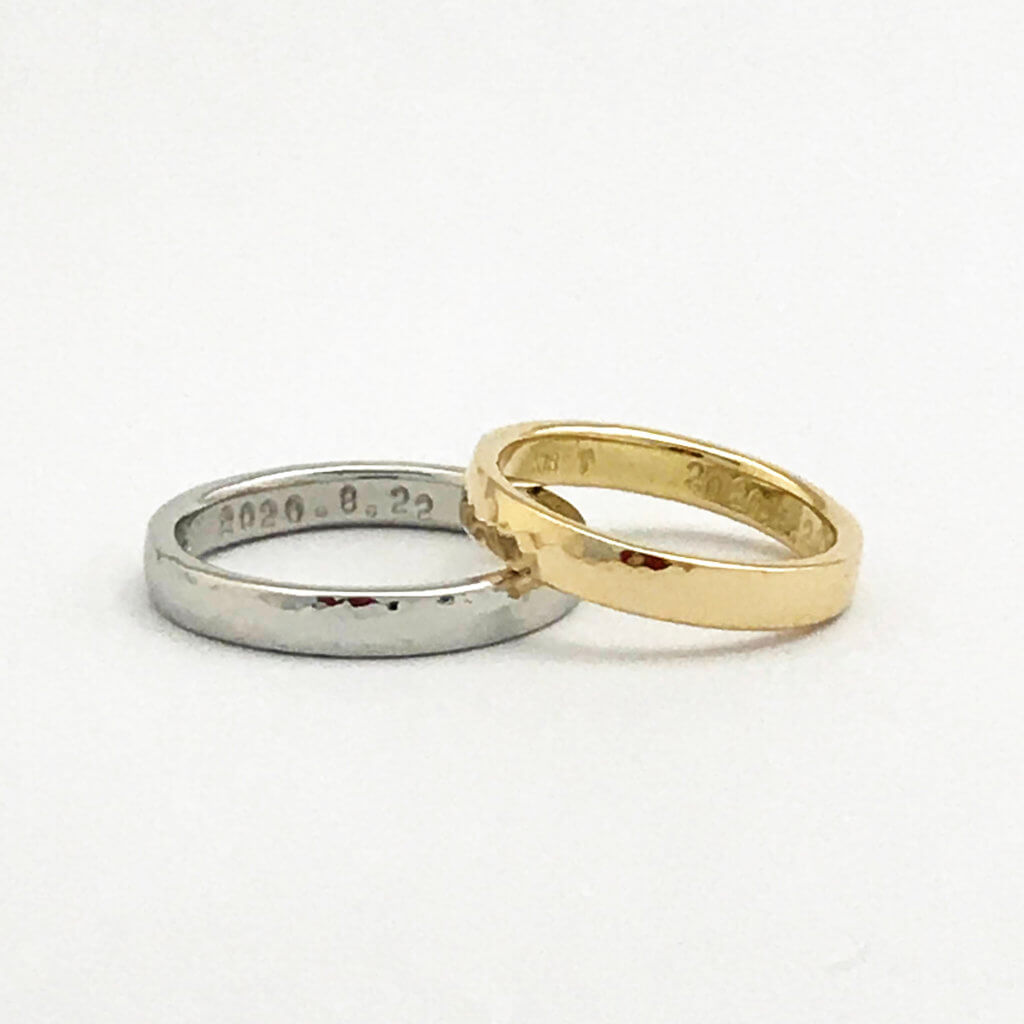 Is Gold Ring Suitable for Men?
Of course, men's wedding rings can also be made of gold.
Yellow gold, often the first shade of gold that comes to mind, may appear to be "too loud in color" for some. Hence, we formulated our original champagne gold hue (a hue between platinum and yellow gold) for those who wish to opt for a subtler but still accented color on their finger.
Additionally, in a similar vein, rose gold, often thought to be favored by women, is sometimes chosen by men for its subtlety and compatibility with skin colors.
The hammered pattern and surface texture give it a subdued appearance.
To achieve a softer look of your gold ring, we advise opting for the hammered texture. If you wish to subdue the "loudness of the gold" but have a plain surface finish on your ring, we suggest keeping your ring width thin.
Read about our customers' experiences with gold rings from the handmade wedding bands workshop.
The Cost of Wedding Band Metals
It is fun to think about different combinations of materials and finish textures. This is where the difference in price by material becomes a concern.
MITUBACI keeps the cost of gold and platinum the same. However, platinum may cost a bit more than gold at most places.
However, platinum is generally more expensive by a few thousand yen to 10,000 yen more.
Many of our customers start by sharing with us their preferred designs and or textures. From there, we discuss together how we can work towards their budget.
Metal Allergy
You may be worried about wearing wedding bands if you have known metal allergy or if you have experienced redness, itch, discomfort upon contact with metal. In general, platinum and titanium metals are hypoallergenic—less likely to cause an allergic reaction. People may misunderstand their allergic reaction to the metal compounds for the primary metal. For instance, one is not allergic to platinum, but the palladium compound mixed with the platinum (primary metal). If you have sensitive skin or have ever experienced allergic reactions to metals, please seek medical advice before purchasing your wedding rings.
In a Nutshell
How was it?
We hope we were able to address some questions and concerns you have about our handmade wedding bands. Please feel free to contact us for other inquiries you may have. We also hope to help you achieve your desired wedding bands for you to treasure for a lifetime.
Our staff will be happy to assist you in finding the right ring material for each of your handmade wedding rings that you will wear for many years to come, so please feel free to contact us!
Choosing Materials for Wedding Bands